Business Management and Human Resource Management BA (Hons) student Kamila Narzullaeva shares her top tips for studying at London Metropolitan University – and what she's most passionate about in life.
Tell us a little bit about yourself.
I'm from Uzbekistan and have lived there for my whole life – 18 years. I moved to London when I turned 19.
What brought you to London Met?
London Metropolitan University was offering a course which was suitable for me – I was specifically looking for human resource management (HRM).
The University is in a perfect location, which is not far from Camden Market, where I like to spend time with my friends after long lectures or during lunch breaks.
I chose London Met after I visited on an open day, where we had a tour around the campus and discussed the courses that we were interested in. I really liked the vibe at the University.
What has studying at London Met meant to you?
It has provided me with wonderful opportunities to develop myself in many spheres, to gain friendships as well as learning to be comfortable delivering speeches (which I never felt that confident about before). It also has taught me how to be engaged with a group, work in teams and how to help each other out.
What is your biggest passion in life and where did that passion come from?
I'm passionate about helping people, supporting them with everything they need, and I'm a good listener too. Maybe that's why I've chosen HR management – I like working with people and making their lives easier.
What drives you?
I love learning new things, being responsible for something important, helping people and knowing that I've made someone else's life easier and better.
What's the proudest moment in your life?
Maybe it's going to sound ridiculous, but my proudest moment was when I overcame my stage fear and started speaking up – it wasn't an easy job for me to do back in the day, I would get frightened. London Met helped me to overcome my fear.
Did you do any work experience as part of the course?
We have done work placements for one of our modules during the semester, where London Met provided us with placement opportunities from various sectors. One was a group work-based placement, for which we needed to come up with a business plan. I really enjoyed working with other people and coming up up with new ideas.
Tell us a little bit about your interests outside of uni.
I enjoy reading books on psychology as well as thrillers and fiction. I also enjoy visiting different art exhibitions and galleries. I also love travelling, exploring new places and new cuisines, new culture and meeting people.
What's next in your career?
Pursuing my studies in HRM with a master's degree, as well as starting my path to HR management.
What's your favourite spot in London and why?
I have many spots in London that I like, but my favourite one is next to Tower Bridge. I especially like it during Christmas, when the lights are lit up – it's got a spectacular view, there is also a food market where you can get any type of cuisine and enjoy the scenery.
What surprised you about London Met?
What positively surprised me is the diversity – London Met has so many diverse students and staff from different cultures, so many people like me coming to study all over the world. But the surprising fact is that I never met a person from my country at London Met.
How did you find the lecturers at the Uni?
They were all amazing, I received so much help regarding my studies as well as my career.
I have to mention Dr Eleni Meletiadou who was always supporting us as our course leader, leading us to the right path and overcome our fears regarding our career, giving us advice which I'm really grateful for.
Do you have any advice for anyone else considering studying at London Met?
My most important pieces of advice are:
don't ever leave your assignments until the deadline – do them on time, otherwise you don't want to know how hard it is to manage everything at the same time...
ask your lecturers outstanding questions regarding your studies and your career, they are all helpful and super friendly
use all the opportunities that the University provides you with!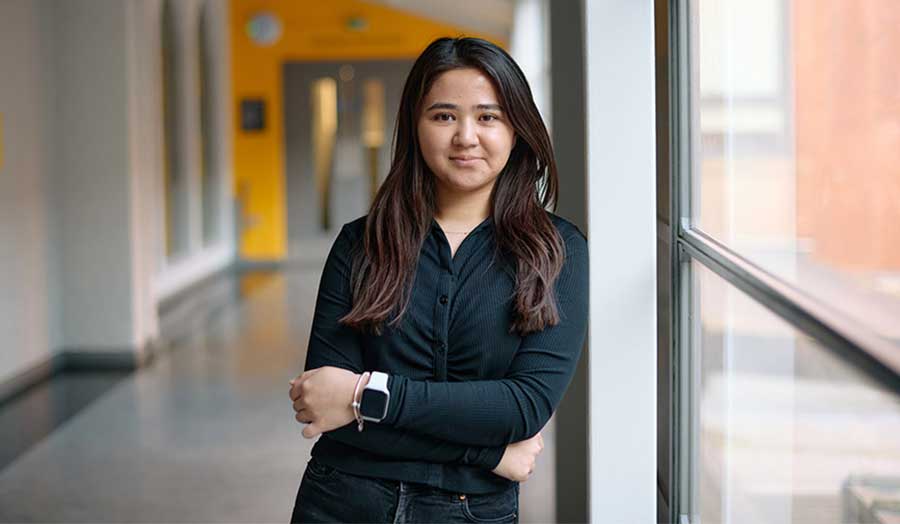 "I'm passionate about helping people, supporting them with everything they need, and I'm a good listener too. Maybe that's why I've chosen HR management – I like working with people and making their lives easier."