Cybercrime, security incidents and data breaches are all on the rise – one PhD candidate who is contributing to cutting-edge research to combat this crime with the help of London Met's Cyber Security Research Centre is Dipo Dunsin, a graduate in London Met's Computer Networking and Cyber Security MSc.
What brought you to London Met initially?
The novelty of the Cyber Security Research Centre, as well as London Met's track record of industry-relevant research and high teaching standards.
How did you feel when you found out about the PhD scholarship award?
I am passionate about cyber security and contributing to pioneering research in the field, so hearing about the scholarship award was nothing short of divine timing. Having completed my master's in Computer Networking and Cyber Security and graduated with a distinction, the opportunity to continue my studies here at London Met made this decision even easier.
Why do you want to pursue a PhD?
I chose to do my PhD for many reasons, including my passion for cyber security, my desire for professional development and exchange of knowledge, and my goal to become an expert in the field. I am excited about finding answers to the cyber security industry's challenges, and I am looking forward to making an original contribution to cyber security research.
Can you explain more about your PhD topic and what applications you hope your research will have in the real world?
My PhD research is on an Artificial Intelligence (AI) Based Digital Forensics Framework. This research aims to create an innovative conceptual framework that will guide developers and manufacturers in developing profoundly intelligent and automated tools to aid and improve digital forensic investigations beyond what is currently available.
Tell us a little bit about your teaching experience and your PGCert in Learning and Teaching in Higher Education.
As part of my PhD, I teach and facilitate workshops in Digital Forensics, Ethical Hacking, Network Forensics and Incident Response, Digital Investigation and E-Discovery, Computer and Mobile Forensics, and other modules approved by the head of school. Completing the PGCert while teaching has equipped me with the understanding and teaching skills necessary to support face-to-face, online, and/or blended learning, assess and give feedback on student work in ways that are effective, efficient, reflective, scholarly and professional.
I understand you also did an MSc in Computer Networking and Cyber Security at the University – what were the highlights and challenges of this course?
One of the highlights of the MSc in Computer Networking and Cyber Security was securing a position at the London Met's Digital Forensic Laboratory (DFL) while completing my MSc dissertation. I had the privilege of working alongside Dr Mohamed Chahine Ghanem and Professor Karim Ouazzane, gaining invaluable experience. Another highlight was exploring the most innovative, cutting-edge digital forensics tools and techniques for conducting digital forensic investigations in a contained environment. Another highlight of the programme was gaining remote access to the Cyber Security Research Lab and Digital Forensic Laboratory (DFL). This allowed me to practice and conduct research on digital forensic investigation using various forensic tools outside of lectures.
Tell us about your work in setting up London Met's Digital Forensic Laboratory (DFL) – what exactly does the lab do, and what was your role?
I was hired as a digital forensics analyst. I was responsible for setting up a lab investigating computer-related crime (cybercrime), including data breaches, security incidents, and other online criminal activities and misuses of personal data. This also involved identifying and implementing intelligent software agents that streamline and minimise the time it takes to conduct forensic investigations. All investigations are conducted in the strictest confidence, following the Association of Chief Police Officers (ACPO) guidelines.
What's your favourite piece of University computing equipment or your favourite space at London Met and why?
My favourite part of London Metropolitan University is the state-of-the-art Cyber Security Research Centre. It's where my ideas come to life. The PhD reading room is another space that I love. It is the perfect place for quiet and focused study.
How has Covid affected your study/life?
Covid hasn't had any adverse effects on my studies. The department was well resourced and made online learning available to all. In addition to online learning, one of the advantages was the ability to replay recorded lectures and access the cyber security remote lab.
Tell us a little bit about your interests outside the university and why they are important to you.
In my spare time, I enjoy developing applications. I also enjoy going for long walks and engaging in mindfulness meditation. Meditation is excellent for centring oneself and disconnecting from the stresses of daily life.
Did you get involved with any clubs or societies at the university? Tell us more if so.
I'm a member of the Postgraduate Research Society at London Metropolitan University. We get together to connect, socialise, promote and develop the London Met University research community, which includes people from all backgrounds and studies.
___
Read Dipo's conference paper on The Use of Artificial Intelligence in Digital Forensics and Incident Response in a Constrained Environment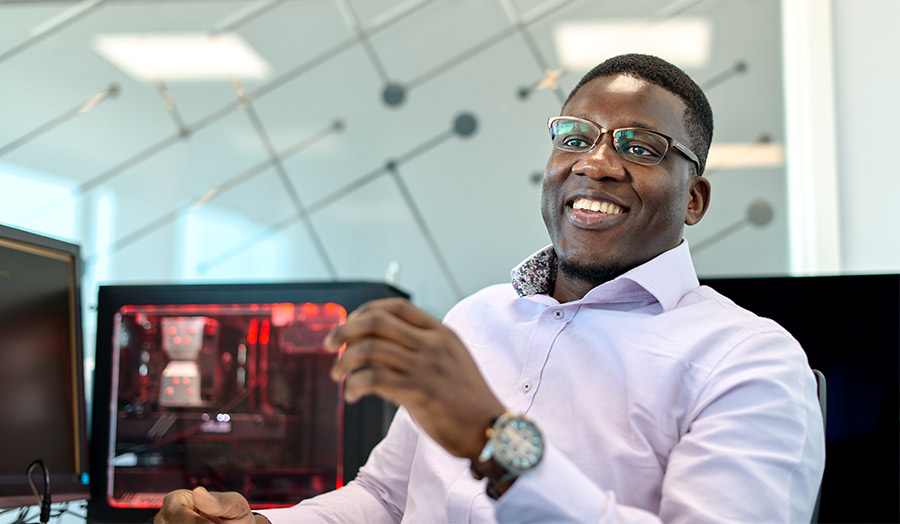 "I am excited about finding answers to the cyber security industry's challenges, and I am looking forward to making an original contribution to cyber security research."
Contact Dipo
You can email Dipo if you have any queries relating to his research.