We recently caught up with Creative Writing and English Literature BA (Hons) graduate, Daniel Redford. Daniel's now working as a Subtitle Editor at Deluxe, as well as pursuing other projects as a freelance writer, editor and metadata creator. He's also starting an MA in Creative Writing at Royal Holloway.
Why did you decide to study at London Met?
From what people had said about London Met online it sort of became a no-brainer decision. Being a mature student and living somewhat local to the University meant that it was the perfect blend of interest, expertise and convenience. The fact that the Creative Writing and English Literature course offered by London Met is a course designed to be interdisciplinary, working with the visual and performance arts, ticked all of the boxes I needed.
I hear you applied through Clearing – can you tell us about that?
Without getting into too much of a sob story, I needed a change in my life after years of mental health issues. Applying to London Met through Clearing was one of the best decisions I could've made and it was all, basically, down to timing – at the time I looked around for universities it was solely through Clearing. Originally, I had some trepidations about it but I'm so glad I went through with it.
My experience of Clearing was absolutely flawless. Within a couple of hours, I had received confirmation of my application from London Met and was well on my way with filling out the necessary forms and doing the necessary applications. I can't fault the process no matter how hard I try.
As someone who had been out of education for a large number of years, I had all sorts of doubts about whether or not it was the right fit for me but with the way the process of actually applying through Clearing played out, it really helped me in being reassured that this was the correct choice. If I had to advise people on what people should be aware of, I would say that, no matter what doubt you may have, you will not be the only person who has ever had these doubts so the staff on the other end of the phone or the other end of an email chain will have had experience with any queries you have – you'll be in safe hands.
Do you think studying in London was helpful for your studies?
In my first year, definitely. My second year started in the pandemic so the access to museums and theatres and such was obviously restricted, which was a shame because it is definitely helpful being in London. You're surrounded by the arts and you're never far from somewhere that can inspire you or increase your knowledge and interest in the arts.
Did you feel supported by the lecturers on your course?
The lengths they went to during the pandemic to give us as much information as possible and deliver their lessons as best as they could in these strange times was incredible. On a personal level, the lecturers have constantly pushed me to take more risks with my writing, to experiment and have fun with language and structure.
Do you have a favourite author or literary work?
This is like asking someone to pick their favourite child! The author that got me heavily interested in reading and writing was Lemony Snicket, who wrote the A Series Of Unfortunate Events series. As I got older, I gravitated towards Edgar Allan Poe and HG Wells. My favourite literary work, however, is The Sorrows of Young Werther by Goethe. It was one of those books that comes along at the right time in your life and you instantly connect to it.
What inspired you to study creative writing at university?
It's a bit of a cliche, really, but writing is one of the things that I've been doing for as long as I can remember. When it came time to change some things in my life, it just made sense to study something I both loved and wanted to push further.
Did you work on any personal projects alongside your studies or have you done any work experience while studying?
I tried to work on personal projects alongside my studies but they usually got put to one side when the assignment and reading ramped up. The last thing I worked on of any substantial size was a novel. Well, 90% of a novel.
What was favourite project or piece of work you've done in your degree?
For the last assignment in my first year, I wrote a 2,000-word short story as a response to watching a university production of Ghost Sonata by Strindberg. My tutors really liked it and it was featured in the end-of-year summer show, being read out by one of my tutors.
While it may be the luck of the draw, the fact that my cohort at London Met was so diverse, in nationalities, race, age ranges, backgrounds and ability levels was incredible. As a mature student, being able to learn from people of my generation as well as those from an older and younger generation, really helped broaden the scope of my education.
Do you have a favourite place in London?
I live near the William Morris Gallery in Walthamstow, so I would have to say that place and the park behind it. It's my favourite place to write!
I've lived in London all of my life and since becoming a student in London I've fallen more in love with the city, as cliché as that sounds. The campus is situated really close to a lot of the young art scenes, while also not being too far from the heart of historical literature in areas such as Bloomsbury. Given the interdisciplinary nature of my course, being so close to various art galleries and theatres helped adapt the theoretical practices delivered on the course into creative practices. Until becoming a student, I took it for granted how beneficial London is to a creative, but not anymore – I cannot recommend it enough.
Why did you pick London Met and particularly your course over other institutions or courses?
This course appealed to me because of the course structure and syllabus. It is one of the only ones offering creative writing, English literature and a dedicated publishing module. Graduates of the course had also gone on to do well in the industry so it seemed the best place to be and the best course to study.
What was the most challenging or interesting idea you've come across so far on your degree?
One of the most interesting ideas that has helped me reframe how I think about writing is the idea that every piece of art or literature is in conversation with the art that came before it. It's one of the ideas that keeps coming back to me over and over.
Any tips for new students who might be thinking about studying Creative Writing and English Literature at university?
I think the biggest tip I could give is to be as open minded as you can, even if it's uncomfortable. You will be given writing tasks that push you out of your comfort zone, as well as being given set texts to read that may be so far removed from your usual tastes — do not dismiss them. They say "never judge a book by its cover", and this course is designed to really push you into a wide range of genres and styles to give you as many tools as possible.
Do you know what you'd like to do in the future or which career path you'd like to take?
I would like to become an English teacher. My English teacher at GCSE-level was incredibly supportive and really pushed and encouraged me. It would be good to be able to, in a way, pay her back for all of that.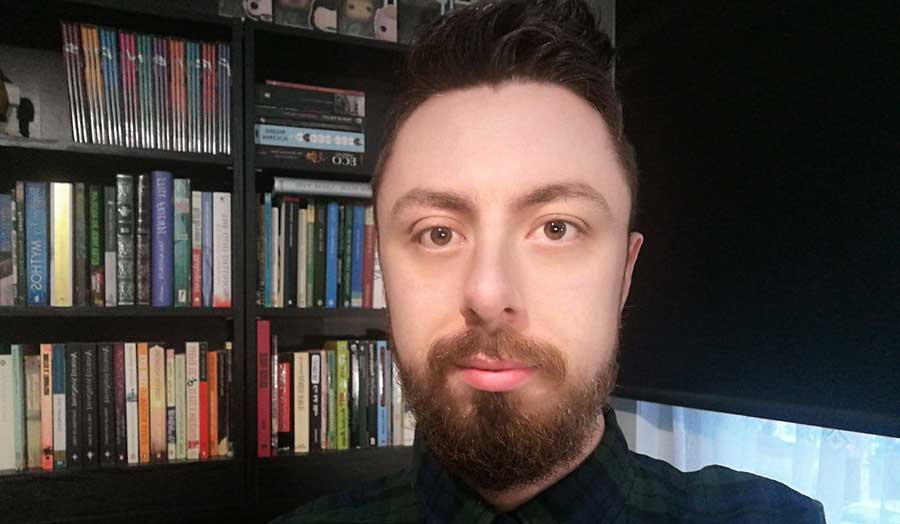 "It is one of the only courses offering creative writing, English literature and a dedicated publishing module. Graduates of the course had also gone on to do well in the industry so it seemed the best place to be and the best course to study."