Anastasiya Kichigina successfully completed her PhD in Public Administration and Governance as well as a master's programme and most recently, a Postgraduate Certificate in Learning and Teaching in Higher Education at London Metropolitan University. Now Senior Research Programme Manager at NIHR (the National Institute for Health Research), Dr Kichigina has also guest lectured at University College London, London School of Hygiene and Tropical Medicine and London Metropolitan University where she has taught students on project management, international development and public management modules.
Anastasiya has also worked as a Project Manager on the FCO Human Rights and Democracy Programme, aiming to make a difference to people's lives, and helping to build infrastructures for governments and civil society to promote and protect human rights.
What made you decide to leave Russia to study abroad?
"Not everyone in my administration is fortunate enough to have the ability to study abroad. Therefore, I took the challenge to go abroad and gain expertise in the international practice of public administration to bring this back to my region so I would be able to implement changes that will seriously improve our standards of services for our residents."
Anastasiya took a one-year sabbatical with the full support of her government and managed to secure the Ford Foundation International Fellowship Programme, a highly competitive scholarship covering all tuition fees, living expenses and flights. Anastasiya was given one year to find a suitable course and she researched various appropriate courses for her professional needs.
What made Anastasiya choose London Met?
She learnt from reading London Met's student profiles that many people had come from developing countries to study the course and returned home to implement policies for social change. The final deciding factor was the work placement module, something that could prove extremely informative and expose her to real-life situations and examples of managing public services under international standards.
"My purpose in studying abroad was my wish to gain useful knowledge in order to implement what I had learnt and train staff back in my home administration."
Tell us a bit more about the work experience on the course...
"The work placement module was extremely rewarding and informative. I worked at the London Borough of Havering in Romford and this team is very similar to the one I managed back home. I had a chance to participate in all seminars and meetings with the service providers. I also had a chance to experience first-hand the theories we had learned in the classroom; in particular, the implementation of outcome-based accountability. This approach is not yet used in Russia; however, I have started to implement this to raise our standard of quality to ensure that we are held accountable and seen to be learning and improving from past experience."
On graduation, Anastasiya returned to Russia to develop and implement a large-scale strategy and a long-term development programme.
A year on from this work, Anastasiya decided to further her research into this area and applied for a PhD at London Met. She received a VC Scholarship to study a PhD in performance management and the challenges of implementing performance management system to the Russian Social Services, using Krasnoyarsk as a case study.
How has the course helped you in your career?
"It is difficult for everyone to have this opportunity to push for social change and I feel that I have a unique chance to really make a difference. I feel like I am a vehicle through which social policy is transferred from one country to another".
Whilst studying for her PhD, Anastasiya worked as a part-time project manager for a project funded by the Foreign and Commonwealth Office (FCO). The operator of the project was the Media Diversity Institute (MDI), a London-based charity that supports media around the globe in their efforts to provide public debate on all issues relevant to all citizens, regardless of their political, social or cultural background.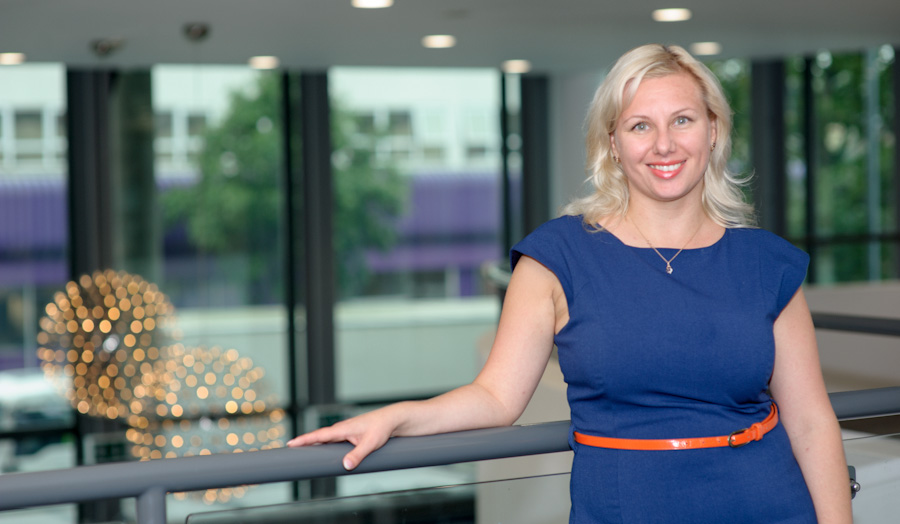 "I am so grateful to London Met for this opportunity."