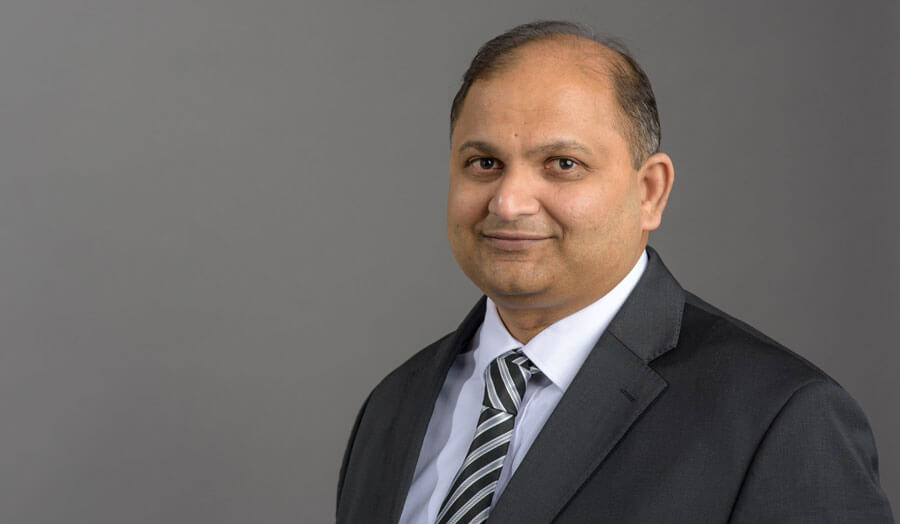 Pancham Shukla
Dr Pancham Shukla holds PhD in Electrical and Electronic Engineering from Imperial College London, MPhil in Electronic and Electrical Engineering from University of Strathclyde (Glasgow, UK), ME in Electronic and Computer Engineering and BE in Electronic Engineering from Sardar Patel University (India).
Prior to joining London Met in 2007, Dr Shukla worked as a Research Fellow in The Applied Digital Signal and Image Processing Research Centre (ADSIP) at the University of Central Lancashire and as a Research Associate in Communications and Signal Processing (CSP) group at Imperial College London. While pursuing his MPhil in Centre for Signal and Image Processing (CeSIP) at the University of Strathclyde, Dr Shukla was involved in tutoring postgraduate courses in mathematical signal processing. Dr Shukla has been involved in teaching and research in India and UK since 1996.
Dr Pancham Shukla has supervised a broad range of projects and published papers in signal and image processing, electronic and communications systems. In recent years, Dr Shukla has been focusing on applications of signal and image processing in computer vision, machine leaning, robotics, internet of things and cyber security.
Dr Shukla has been involved with projects and PhD supervision and examination associated with School's research centres: Centre for Communications Technology, Cyber Security Research Centre, and Intelligent Systems Research Centre.
Dr Shukla is a Vice Chair of the Research Student Progress Group and PhD Degrees at the School of Computing and Digital Media (from 2021).
Dr Pancham Shukla has designed, coordinated, and taught a broad range of undergraduate and postgraduate modules including work related and project-based modules for electrical and electronic engineering and computing related degree programmes since 1996. In recent years, he has been involved in delivering modules such as: Electronics Systems, Signal and Systems, Signal Processing, DSP Applications and Control Theory, Logic and Mathematical Techniques, Introduction to Robotics and Internet of Things, Design and Communications Skills, Work Related Learning, Final Year Projects.
Currently he is developing two distinct Computer Vision modules – one for theComputer Systems Engineering and Robotics BEng course and the other for the Robotics with Artificial Intelligence MSc course.
Dr Shukla has been a cluster course leader for a portfolio of undergraduate engineering courses since 2013 and has a holistic knowhow of course curriculum design, course validation/periodic reviews, professional accreditation, and current higher education practices.
Selected publications:
Yalsavar, Maryam, Karimaghaei, Paknoosh, Sheikh-Akbari, Akbar, Shukla, Pancham and Setoodeh, Peyman, Support vector machine and its difficulties from control field of view. Transactions of the Institute of Measurement and Control. ISSN 0142-3312 / 1477-0369 (Accepted, 9 Nov 2020),
Mariyanayagam, Dion and Shukla, Pancham, Smart, secure and sustainable robotic hand. In: 4th World Conference on Smart Trends in Systems, Security & Sustainability, 27-28 July 2020, Holiday Inn London - Kensington Forum, London, UK (July 2020)
Ruiz, Natasha, Shukla, Pancham and Kazemian, Hassan, Cybersecurity Index for undergraduate computer science courses in the UK. Journal of Applied Security Research. pp. 1-14. ISSN 1936-1629 (2020)
Alibakhshikenari, Mohammad, Virdee, Bal Singh, Shukla, Pancham, See, Chan, Abd-Alhameed, Raed, Falcone, Francisco and Limiti, Ernesto, Meta-Surface Wall Suppression of Mutual Coupling Between Microstrip Patch Antenna Arrays for THz-Band Applications. Progress In Electromagnetics Research Letters, 75. pp. 105-111. ISSN 1937-6480 (2018)
Vekkot, Susmitha and Shukla, Pancham, Gaussian filter based à-trous algorithm for image fusion. Proceedings of the Third International Symposium on Women in Computing and Informatics, Pages 330-334 (Aug 2015)
Vekkot, Susmitha and Shukla, Pancham, A novel architecture for wavelet based image fusion. World Academy of Science, Engineering and Technology, International Journal of Computer, Electrical, Automation, Control and Information Engineering, Volume 57, Pages 372-377 (2009)
Shukla, Pancham and Dragotti, Pier Luigi, Sampling schemes for multidimensional signals with finite rate of innovation. IEEE Transactions on Signal Processing, Volume: 55, Issue: 7, (July 2007)
Shukla, Pancham, Complex wavelet transforms and their applications [MPhil Thesis], University of Strathclyde, Glasgow, UK (2003)
Other publications can be found through the London Met Repository.
London Met rescaling research fund for "polymorphic security for IoT enabled hardware nodes" under Quality-Related Research (QR) funding for improving existing research infrastructure and develop PhD researcher, 2020.
Beacon-based Authentication (research contract, Innovate UK, 2018). Main participants: Dr Vassil Vassilev, Prof Karim Ouazzane, Tony Phipps, Matthew Lane and Dr Pancham Shukla.
Recipient of Vice Chancellor's award for outstanding commitment to Learning and Teaching (London Met Staff Awards, Dec 2019).
Recipient of Student Union's award as an outstanding member of academic staff (May 2018).
Served as an external PhD examiner for Universities in the UK and India. Some examples include: Leeds Beckett University, Staffordshire University, Nirma University, and Gujarat Technological University.
Reviewer of peer-reviewed internal journals and conferences such as IEEE Transactions on Signal Processing, IEEE Access, IET Image Processing, Transactions of the Institute of Measurement and Control, International Journal of Electrical and Computer Engineering, PeerJ Computer Science, International Conference on Image Processing (ICIP), IEEE Wireless Communications and Networking Conference.
Member of the Technical Programme Committee for MIC-Signals 2021 Tracks of the Global Mosharaka Congress on Electrical Engineering (GMC-ElecEng 2021), technically co-sponsored by Universitat Politecnica de Valencia (UPV).
Member of Technical Program Committee for Third International Symposium on Women in Computing and Informatics (WCI-2015) Kochi, India, August 10-13 (2015).
External examiner for: Advanced Computer Networks MSc (2017-2021) and Computer Networks BSc (Hons) (2019-2021) at Sheffield Hallam University, Robotics and Automation BEng (Hons) and Robotics and Automation MEng at Leeds Beckett University (2018- 2022).
External member of the panel in the validation of Electronics MEng degree programme at Birmingham City University (2014).
Academic Liaison Tutor (ALT) in facilitating a portfolio of top-up engineering and computing degree programmes for the collaborative partner ESoft, Sri Lanka (2015-2016).
Professional memberships
Dr Shukla strongly believes in working with students as partners and co-creators of knowledge resulting in joint publications with taught undergraduate and postgraduate students, best student project awards within and beyond University, and appearance in professional newsletter (IET Partner News, Issue 44, Autumn 2020, Page:15) with the global impact.
Invited Session Chair, Third International World Conference on Smart Trends in Systems, Security and Sustainability (WS4 2019), London Metropolitan University, London, July 30 - 31, 2019.
Invited Session Chair, Fifth International Congress on Information and Communication Technology (ICICT), Brunel University, London, February 20 - 21, 2020.
Dr Shukla was a member of advisory committee for the International Conference of Technology, Management and Social Science (ICTMS - 15), London, 29-30 December (2015).
Dr Pancham Shukla
School of Computing and Digital Media
London Metropolitan University
166-220 Holloway Road
London N7 8DB
Tel: 020 7133 2113
Email: p.shukla@londonmet.ac.uk