Jane is a choreographer, dance practitioner and director of Turning Worlds with extensive experience working within dance, theatre, film, interdisciplinary and sci-art arenas.

Further information about Turner's work can be found at janeturner.net where a full CV and Chapter may be downloaded.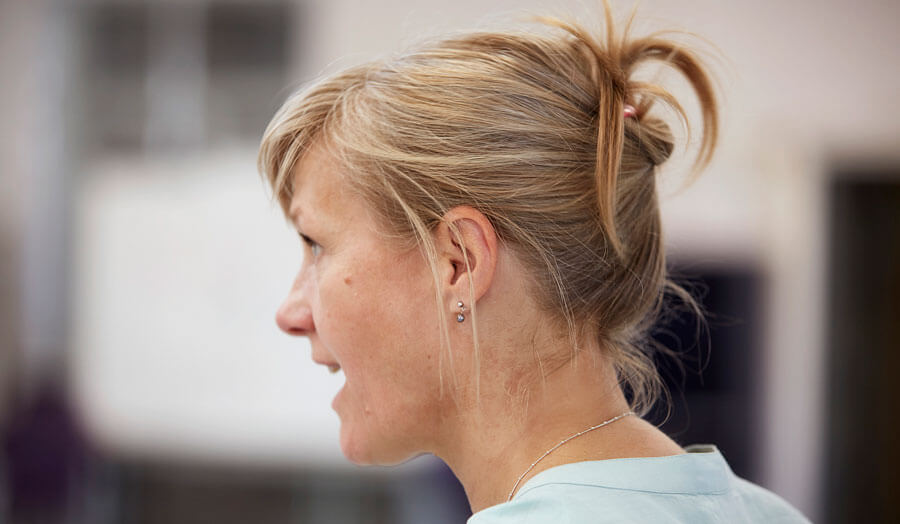 Jane Turner
Choreographer Jane Turner is a performer, choreographer, researcher and senior lecturer working within the Art, Architecture and Design at London Metropolitan University. She began her career as a dancer with the Scala Ballet in Barcelona, before working with the Hallmark Theatre company, touring devised children's theatre, and leading a community dance organisation before setting up her own dance company TURNING WORLDS. She has extensive professional experience as a choreographer working on TV commercials, theatre and film.
A Senior Fellow of the Higher Education Academy, Jane has a research-engaged approach to teaching which provides students with rich, meaningful and highly creative learning experiences. With multiple professional connections, Jane facilitates external projects with organisations such as Duckie, the Conway Hall and the National Portrait Gallery, finding new ways to work with dance, choreography and performance in responsive ways, whether audiences, client groups, environments, and making new film documents that help articulate the student learning journey in the process:
Her research interest in self-organising systems, complexity and emergence has involved numerous collaborative interdisciplinary projects that investigate the interface between art, science and new technologies in diverse environments through choreographic experimentations. Awarded a PhD for her research by the University of Chichester in 2012, she has pioneered cutting edge interdisciplinary research in collaboration with leading organisations including: Cambridge University Computer Laboratory; EU Culture 2000 supported projects involving the ICA London, CAMAC France, Professor Igor Alexander at Imperial College; guest artist researcher at the Arts, Science, Technology–Innovation event hosted by the Science and Innovation Office of the British Embassy,Warsaw; presenting interdisciplinary performance work Quantum at the Festival of Science, Technology and Innovation at the Contemporary Art Museum Barcelona.
Jane's written, performative and multi-modal research is disseminated at academic conferences, online and in public venues using interconnected multi-modal media with her dance theatre company TURNING WORLDS, and is regularly supported by the Arts Council England. Recent professional choreographic engagements include Highbury Whispers (2018), a large-scale young people's performance project at Hitchin Music Hub, with Goldfield Productions, directed by Caroline Clegg; working with Kent Opera in Swaleside men's prison; and working as choreographer/rehearsal director on Assisted Suicide The Musical, (2016-7), a devised production exploring euthanasia, disability politics presented at Colchester Arts Centre, the Royal Festival Hall, Glasgow's Tramway Theatre, Liverpool's Unity Theatre and Melbourne Comedy Festival, Australia.
Jane is external examiner to the MA Performing Arts Creative Practice and Leadership course at the University of Bedfordshire and the BA Dance at ESART Barcelona, and has experience as a PAR PhD examiner.
2020
2019
Performer/choreographer for Valerie Ross's new music composition The Cusp of Life at The Centre for Intercultural Musicology at Churchill College's International Conference on Musical Intersections in Practice (MIP2019), 25-26 October 2019 Cambridge.
Taking Turns with TURNING WORLDS at Ashwell at Home, Baldock Arts Festival, and the Posh Clubs in Hastings, Hove, Crawley, May-June.
2018
Dancer with Passage for PAR, a large scale performance for 30 women by choreographer Rosemary Lee for the Groundwork Festival, Cornwall, commissioned by CAST.
TURNING WORLDS presents The CFC Cabaret at First Manoeuvres, the Junction Arts Centre, Cambridge, 14 March.
Dancer with the Big Sexy Show for over 60s Posh Clubs England, Hastings, Hackney, Hove, Elephant and Castle, Crawley, produced by Duckie, supported by a Celebrating Age grant from Arts Council
2017
Semaphore#Selfies at Conway Hall on 1 March and Colchester Arts Centre on 8 March with TURNING WORLDS and Dr Richard Hoadley (Anglia Ruskin University).
2016
Semaphore#Selfies at the New Cut Arts Centre, Suffolk, 7 May with TURNING WORLDS and Dr Richard Hoadley (Anglia Ruskin University).
Choreograms as the opening performance at the Early Dance Centre Biennial Conference, Terpsichore and her Sisters: the Relationships between Dance and other Arts, 8 April, Anglia Ruskin University, 23 April, Clear Cut, Globe Theatre Cardiff, 6 October and at the Chelmsford Festival, 12 November with TURNING WORLDS Dr Richard Hoadley (Anglia Ruskin University).
Choreographer/performer for dancefilm A Rare Glimpse garnering the Pavilion Dance South West's Joie de Vivre Bronze Award July 2016 presented as part of Art of Age II programme Lillian Baylis Theatre, Sadlers Wells December 2016.
Upcoming
Taking Turns presentation at BODY IQ, On being human in a world begging for our passion, compassion and action. Berlin, November 2019
2019
Phase Transitions : Self-organising systems in participatory and performative dance. An interactive workshop seminar at Tacit Engagement in the Digital Age, A joint conference by the 'Re-' Interdisciplinary Network (CRASSH) and the AI and Society Journal University of Cambridge Centre for Music and Science University 27 June
Performance as Place, London Metropolitan University, The Research series lead presentation on 14 February
2018
Shapeshifters: Self-organising systems, migration and repetition at the intersection of traditional and popular dance in choreography and improvisation at PoP Moves conference: Memory, Migration & Movement. Performance Seminar with Dr Ruth Pethybridge (Falmouth University) and Jo Parkes (Berlin), 7 December in Paris
Choreographing Phase Transitions TaPRA CfP Theatre, Performance and Philosophy Working Group, 5-7 September, Aberystwyth University
2017
Phase Transition at 'BODILY UNDOING: Somatic Activism and Performance Cultures as Practices of Critique', Bath Spa University, 16 September
Chalk Digital Ecologies and the Anthropocene, Bath Spa University, 28 April with director Chris Frazer Smith
2016
"Working with Complex Systems towards Dialogic, Transhistoric Choreographic Appropriations" paper presentation at the CORD and SDHS (Society of Dance History Scholars / Congress of Research in Dance) conference, Pomona College, LA 3-6 November
Semaphore film presented as part of Lightworks Festival of Screen Dance, 3-6 November, Limerick, Ireland with director Chris Frazer Smith
Semaphore and Choreograms at the AHRC Commons first national event at University of York, 21 June with TURNING WORLDS and Dr Richard Hoadley (Anglia Ruskin University)
Semaphore Performance and talk at Embodied Intelligence in Music – Live: Trans-disciplinary research in creative performance with TURNING WORLDS and Dr Richard Hoadley (Anglia Ruskin University) at deMontfort University, Leicester on 4 April
Poster presentation/talk Chalk at Strata: art-science collaborations in the Anthropocene at Aberystwyth Arts Centre/University 15 January