Hazel is the course leader for the Master's in Business Administration (MBA) and the MBA (Global), a Senior Fellow of the Higher Education Academy, a University Teaching Fellow and an Academic Liaison Tutor for university partnerships in the UK and overseas.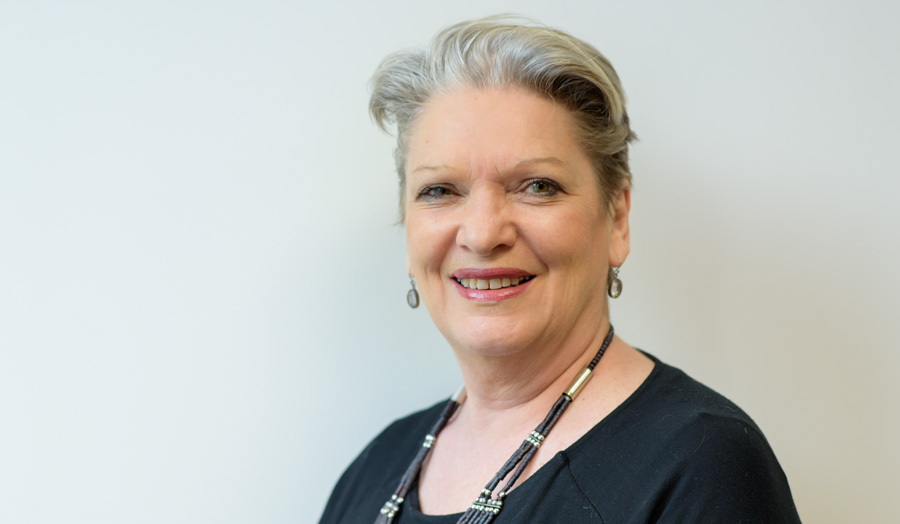 Hazel Messenger
Prior to joining the Guildhall School of Business and Law as a Senior Lecturer in 2011, Hazel worked for the University of Hertfordshire and the University of Middlesex in roles that included educational development, academic partnerships, work-related learning, teaching and research. In those roles she became particularly committed to the potential that higher education has to transform individuals and communities, a commitment that she has maintained since joining London Met.
In 2016, she lead the development of a revised MBA which emphasised the collaborative nature of leadership development, something that has been commended by her peers in higher education. This course has proved to be popular internationally, and she is delighted that its graduates are having a positive influence in countries including Sri Lanka and Nepal. She is currently developing an MBA (global) with an overseas partner which is particularly designed to meet the needs of a local context.
Hazel was awarded a University Teaching Fellowship in 2016, in recognition for excellence in teaching. She is involved in teaching undergraduates and postgraduates, specialising in critical management studies, research and personal development subjects. She has been nominated seven times by students to be 'lecturer of the year'. As a doctoral supervisor she now has six successful completions and specialises in leadership development, organisational analysis and qualitative, ethnographic and action research approaches.
Externally, Hazel is an experienced external examiner in the UK and overseas, has acted as external adviser for a number of validations and is a member of the Partnerships and Collaborations Group for Association in Learning Development in Higher Education (ALDinHE). She was the external adviser for a British Council project in Uzbekistan, advising on the development of a programme for senior university managers aiming to improve the quality of research.
Hazel is an active academic researcher, with particular interest in student development, TNE, leadership development and creative research methods. She is a frequent presenter at academic conferences where she also delivers practical workshops. Her doctoral thesis was entitled 'The creation of transformative learning cultures in higher education', an ethnographic study of college-based higher education. As a doctoral supervisor she would be interested in hearing proposals from prospective candidates who are interested in ethnographic, qualitative and action research methodologies, making use of visual data including photography and also those who are interested in researching education contexts.
In addition to her own activities, Hazel acts as a mentor and assessor to colleagues wishing to gain formal recognition for their practice through Fellowships, as a mentor to early career researchers and for the Aurora programme.
Messenger, H. and Bloisi, W. (2020, publication August 2020) Experience, skill and competence: boundary spanning capabilities for leadership and management of transnational education. Innovations in Teaching and Learning International
Fakhr, Z. and Messenger, H. (2020, publication September 2020). Being a female academic in a patriarchal society. Innovations in Higher Education International
Messenger, H. (2016). 'Something old, something new: learning and developing through the zigs and zags of an improvised career'. In Jackson, N. (ed). Exploring Ecologies for Professional Learning [online].
Messenger, H. Warren, D. & Bloisi, W. (2016). 'Home and Away: a case study analysis of a learning and teaching programme supporting the development of a 'transformative' partnership with a private HEI in Sri Lanka'. In Blessinger, P.& Cozza, (eds). University Partnerships in Higher Education. pp141-157 Emerald Group Publishing book series Innovations in Higher Education Teaching and Learning.
Messenger, H. (2016). 'Drawing out ideas: visual journaling as a knowledge creating medium during doctoral research'. Creative Approaches to Research. 9(1) 129-149.
Messenger, H. (2015). 'The identification of a value–based pedagogical pattern promoting student development in higher education'. Teaching in Higher Education, 20(7), 738-749.
Coleman-Schoels, B. and Messenger, H. (2015). 'If at first you don't succeed…: a critical review of a newly developed dissertation module'. Investigations, Volume 10, Spring 2015. London Metropolitan University.
Messenger, H. (2013). The Creation of Transformative Learning Cultures in Higher Education.
Messenger, H. Relph, A. Glass, L. and Aris, J. (2011) Collaborative Action Learning to Support the Development of 21st Century Students. Final Report. Teaching, Research and Development Projects 2010/11, Higher Education Academy.
Hazel Messenger
Senior Lecturer
h.messenger@londonmet.ac.uk