Student Mental Health Newsweek: Will we bounce back after Covid?
Students Simone Limbu and Sahra Sancar report on the latest Newsweek event.
Date: 27 January 2022
Issues surrounding students and mental health were highlighted at the Journalism BA debate held at London Metropolitan University last night.
The panellists emphasised that, while progress has been made in raising mental health awareness among students, it has not been enough. Many young people continue to suffer in silence, and the panellists stressed the importance of government funding, more NHS staff and more information in improving students' mental health.
Amara Howe, a mental health recruiter who graduated from London Met in 2017, said: "They [the government] have got the money. The wages of people working in the mental health sector are not the best so staff are leaving the NHS, as there is more money in other sectors."
Sean Fletcher, BBC presenter and an ambassador for Young Minds charity added: "More money needs to be invested in mental health. Services are overstretched, underfunded and overworked, there is not enough staff."
Fletcher said how the pandemic has been a backward step for people with mental health conditions, including OCD. Staying at home 24 hours a day with intrusive thoughts with no distraction and treatment can be very detrimental to someone suffering from OCD, including his young son, he said.
Talk openly
Mental health can be difficult to discuss openly because it carries a stigma and people are afraid of other people's reactions. The panellists advised the students to talk about their struggles and not be scared to seek help.
Fletcher said: "My son has OCD. I hadn't said it to anyone outside the family, you want to protect him, you feel like you'll be judged and your son will be judged."
He recalled an experience at the London Marathon, when he blurted out the fact that his son had OCD to Prince William. That was the first time he had told anyone: "It was the best thing that happened, the weights were lifted off my shoulders."
The panellists also discussed the importance of seeking professional help rather than self-diagnosing, which has become somewhat of a social media trend.
Panellist Aaron Patel, editor-in-chief of Mental Magazine and a London Met grad, said: "I don't tend to look at social media anymore because of the misinformation; you should get professional help to know what step to take next."
Stereotypes and prejudice
Fletcher added that specific communities find it harder to access treatment than others. There are certain prejudices about the Black community in particular, he said, as people are often stereotyped and put into a box as being aggressive and associated with criminality.
"I've had to be better than everyone else to have the same opportunity as someone who is white," he said, adding that this kind of experience can "have a detrimental consequence on the mental health of Black men and women".
Newsweek is a regular part of the BA Journalism course, where students put together TV, radio and online packages around a specific event. The next Newsweek will be on sustainability and fashion in March.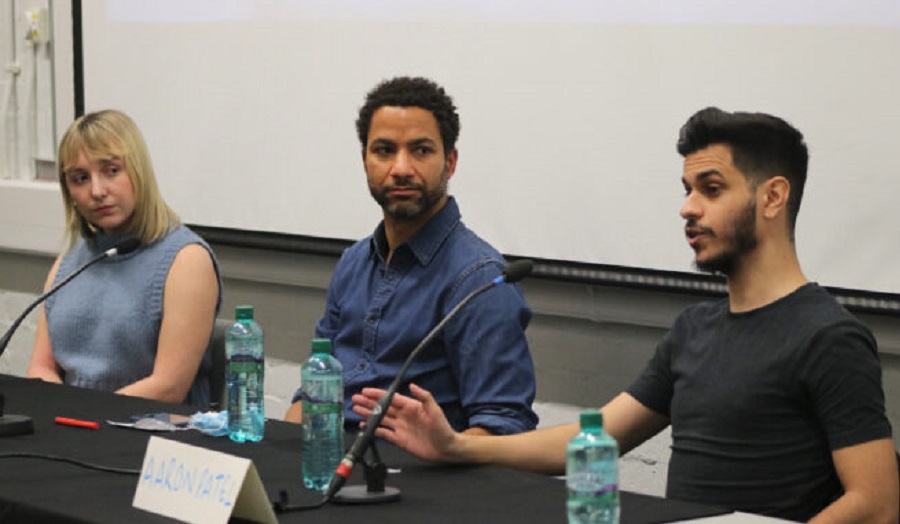 The panel from left to right: Amara Howe, Sean Fletcher, Aaron Patel. Photo by Photojournalism BA student Florentina Cercel.