Yinka Ilori unveils stunning new Dulwich Pavilion design
Cass alumnus worked with architects Pricegore to create the Colour Palace on the lawns of the Dulwich Picture Gallery.
Date: 14 June 2019
The 'Colour Palace' – designed by Pricegore with Furniture and Product Design alumnus Yinka Ilori – has been unveiled as the second edition of the Dulwich Pavilion at Dulwich Picture Gallery.
The outcome of an open design competition organised by the London Festival of Architecture, the world's biggest annual architecture festival, and Dulwich Picture Gallery, the Colour Palace serves as a temporary outdoor structure for summer 2019, gracing the lawns outside Sir John Soane's iconic gallery.
Pricegore and Yinka Ilori's Colour Palace is a testament to universal themes of colour, pattern and celebration. The design finds parallels between African and European cultures to create a building that reflects the diverse cultural experience of south-east London. The Pavilion draws on many shared traditions of geometry and pattern in architecture, and the common solution of raising storage buildings on straddle stones.
Raised on monumental feet, the lightweight pavilion is assembled from thousands of individual pieces of hand painted timber. The combination of these elements creates layered facades of bold geometric pattern that shift and merge according to viewpoint recalling the fabric markets of Lagos, Nigeria.
Yinka Ilori said: "The beauty of the Pavilion's design is that it stands bold and proud surrounded by the history of Sir John Soane's iconic building, celebrating history and culture. Its patterns and shapes calmly welcome you from a distance until you get closer and closer, and you're blown away with an explosion of colour that immediately demands your attention.
"I'm so excited to see how people react to The Colour Palace and how it will bring people from different cultures and communities together. I'm hoping to see people arrive and leave with a smile on their faces – what could be better for the summer!"
Tamsie Thomson, Director of the London Festival of Architecture, said: "I'm thrilled to finally see The Colour Palace: from the moment we first saw Pricegore and Yinka Ilori's proposals we knew it would be something special. As one of the highlights of the 2019 London Festival of Architecture, this amazing project is the embodiment of what happens when you transcend architectural and artistic boundaries, and I'm looking forward to spending time there alongside thousands of people this summer."
Find out more on the London Festival of Architecture website.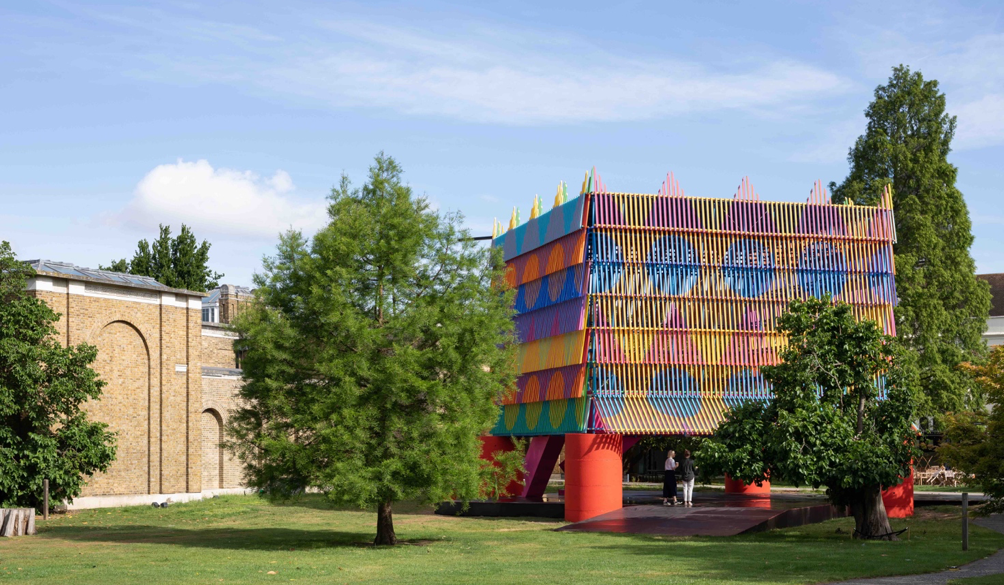 Colour palace picture courtesy of the London Festival of Architecture