Triumph over University College London in national mooting competition
Two Common Professional Exam students have beaten University College London in the second round of a national prestigious mooting competition.
Date: 09 March 2020
Two Common Professional Exam students from London Met have earned a place in the last 16 of a prestigious national mooting competition after beating University College London, in the second round this month.
Alison Fredericks and Paul Cellier-Clarke are representing London Met in the 2020 ESU-Essex Court Chambers National Mooting Competition. In taking part in a moot, students do not just show their knowledge and skill in handling legal materials, but also their ability to practise the art of forensic and persuasive argument in a concise and effective manner.
Alison said: "The moot question was related to privacy, and my ground of appeal concentrated on assessing the issue of whether or not the claimant had a reasonable expectation of privacy. I really enjoyed learning about this area of law and formulating my legal argument.
"It was interesting to meet barrister Ben Gallop, a specialist in media law who judged the moot, and hear his thoughts on the likely outcome of the case in court as well as individual feedback regarding our performances."
The ESU–Essex Court Chambers National Mooting Competition is one of the longest established national mooting competitions in the UK. The winning team is presented with a silver mace and the two winners take away £1,000 each and a further £1,000 for their institution. Runners-up are awarded a cash prize of £750 each with a further £500 going to their institution.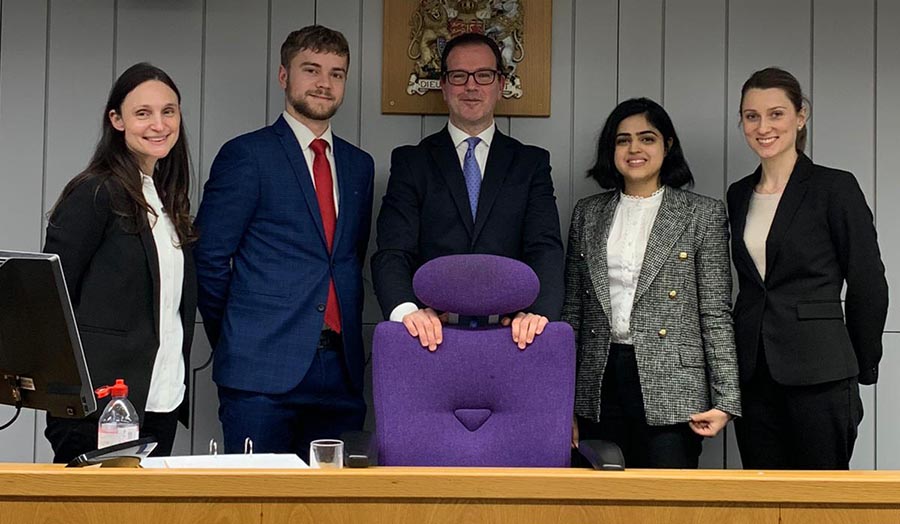 What's a moot?
A mooting competition simulates an appeal court hearing, in which participants analyse a problem, research the relevant law, prepare written submissions, and present an oral argument. Moot problems are typically set in areas of law that are unsettled or that have been subject to recent developments and usually involve two grounds of appeal, argued by each side.