More than 150 people attended the online debate on the urgent topic of food poverty, made all the worse by the Covid-19 pandemic. Here is what our Journalism BA students had to say.
Date: 21 January 2021
By Shaelyn Stout, Francesco Fiori, Ole Ho Christiansen, Andreea Gabriela Totoasa and Efstratia Naioula
--
Students, staff and special guests at London Metropolitan University participated in a remote discussion regarding food poverty called 'Hungry London' on Tuesday 19 January, as part of the Journalism department's first Newsweek for the year.
A panel of seven charity workers and food poverty campaigners joined the remote Collaborate meeting to share opinions. Students across all the years produced online stories, TV and radio podcasts as part of the event.
The debate covered the recent school meals scandal, how Covid-19 has impacted food poverty rates and why more people than ever need help to feed themselves and their families.
One of the most poignant moments came when Tiffanie Cummings, 38, a university student, healthcare worker and mother of three, shared her own experience of growing up in poverty.
Commenting on the impact poverty can have on children's mental health, she said: "This has always been happening; Covid has just highlighted it. I've lived through poverty and know how it can affect learning and personal growth."
Leon Aarts from With Compassion, a social initiative which has made more than half a million free meals since the pandemic began, added: "Children who go to school hungry can't concentrate well, study well, do their work well. If that goes on for a longer basis it affects their mental health."
Tiffanie herself received a government food parcel for her teens. There was not enough to last her children for 10 days. She expressed gratitude but reiterated she's lucky to fill the nutritional gaps on her own dime. Many families cannot.
"When you are the child getting free school meals, everybody knows you come from poverty, that you are poor," she said.
Founder of Magic Breakfast, Camel McConnell, said how fortunate many kids who are part of Magic Breakfast would be if they had a mother like her.
Anne Elkins of The Felix Project, which redistributes food from suppliers to food banks and other charitable organisations, noted: "[The food provided by the government in free school meals] is not enough. And likewise, the quality of that food is not where it needs to be."
All agreed that without speaking to those in need, politicians who have never experienced poverty will not provide support. "This government is so out of touch," said the founder of Brixton Soup Kitchen, Dr Mahamed Hashi.
Unsurprisingly, food banks have met their highest demand since the pandemic hit last year. With many being made redundant, poverty levels are expected to increase.
The discussion ended with possible solutions. The guest speakers agreed that food banks can and will continue to help those in need, but that the lasting solution lies in policy change.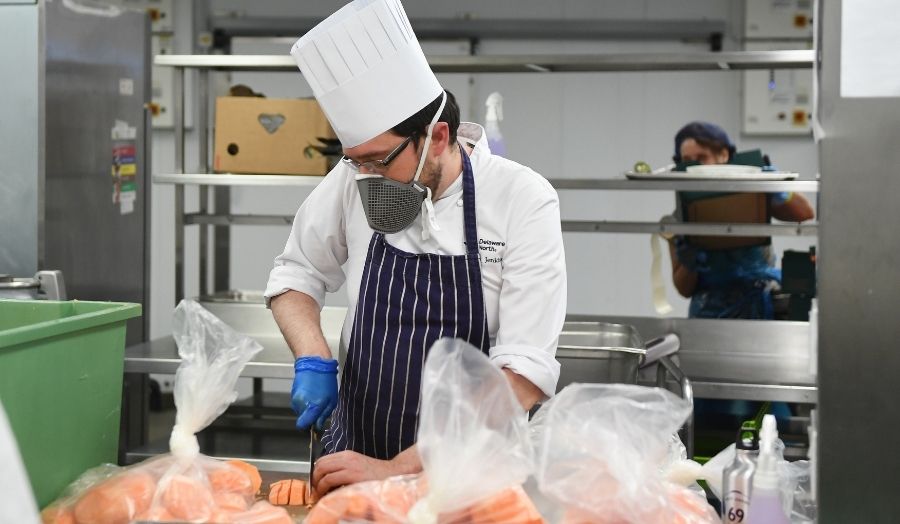 For more student coverage, please see Holloway Express.
Photo courtesy of With Compassion. A volunteer chef makes meals to feed the hungry.