Textile Awards and Alumni Tea Party
Friday 14 Feb award ceremony
Date: 4 February 2014
Three alumni from the BA Textile Design Course recounted their experiences since leaving, for students on Friday, 14th February at an Award Ceremony for final year students.
Their experiences gave the students a real insight into the industry, and their top tips for graduates provided great advice for the final months of their degree.
The alumni:
Jo Williams, now runs Flock, a furnishing fabric company producing the work of a group of design graduates, including another alumni, Lucy Rainbow. Stockists for Flock fabrics include Heals and Liberty, as well as selling to contract customers.
Frankee Lahiri Langley now works for Intraport Plc, as print designer, supplying high street stores including Marks and Spencer with printed fashion clothing. She gave a fascinating talk on her very busy and successful career, showing samples of garments, plus describing her own freelance work.
Beth Kaye graduated only last year, and is working for Custhom Wallpapers, having won the Camac wallpaper competition while still studying. She is gaining valuable experience, being involved with the designing, printing and has recently returned from a Paris trade show with the company.
Textile Awards
Four awards were presented by Charlotte Gorse, Head of School, and two awards presented by Simon Boot, from Accelerator.
The award winners:
Two Commercial Future Awards sponsored by Accelerator
Guaranteed place on the Hatchery Programme with all the support that gives to new businesses, plus £150.
Eerika Leino
Amelia Rees
Design Travel Awards
Students were recognised for their work this year with the following awards, and £200 each to encourage them to travel to trade shows and industry visits.
The award winners:
For Sketchbooks / Design Development (2 awards)
Camilla Boler
Camila has explored her ideas using creative mixed media techniques. The sketchbooks take us into her world of dark, gothic imagery enlivened with humour and always under pinned with her incredibly strong drawing skills.
Nikita Jackson
Nikita has a natural flair for sketching her ideas as an intrinsic part of her design process. Although she works in knit, she also explores through collage, leading to highly original outcomes.
For progress this year (2 awards):
Libby Keizer Shalom
Libby's work has delved into the body, in the most graphic and forensic detail. She has managed to find a beauty in body parts, functions and oddities that have inspired exciting development work for projects. This has seen her work expand in range and to use new media and materials.
Sophie Jackson
Sophie has taken her work to a new level in the exploration of imagery through experimental digital techniques. Her use of colour is exciting, and contributes to very strong designs for interior fabrics, and she has also expanded her networking contacts in the industry.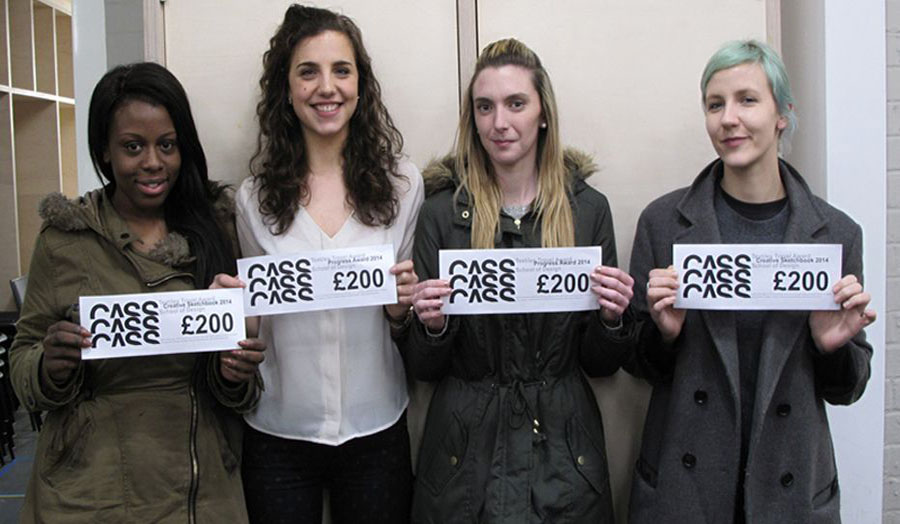 News details
Date: Friday 14 February 2014
Images
Alumni Frankee Lahiri Langley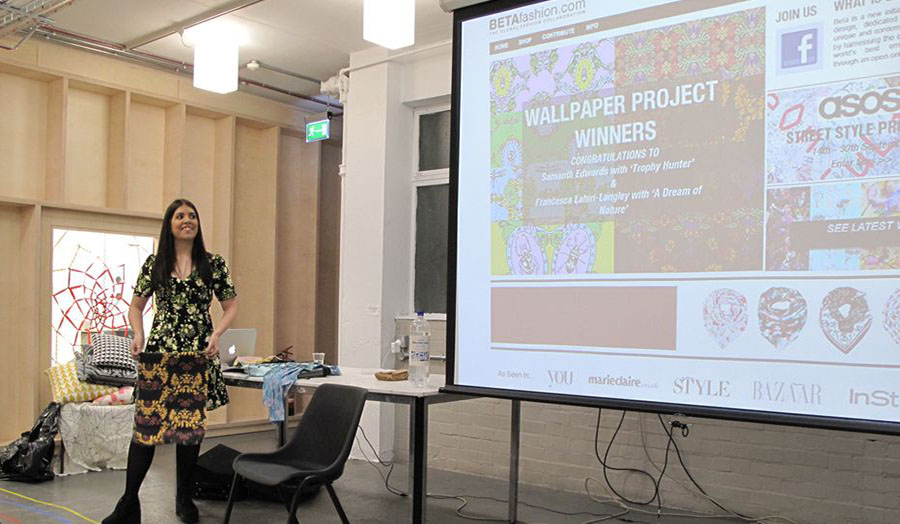 Alumni Jo Williams from Flock