Rhizomatic exhibition showcases The Cass lecturer's work
An exhibition of photography by The Cass lecturer Dr Nick Haeffner in Central House foyer.
Dr Nick Haeffner, Senior Lecturer at The Cass, will have his work displayed in a photography exhibition, entitled Rhizomatic, in the Central House foyer until 6 May.
Rhizomatic comprises a series of photographs of Epping Forest that invites the viewer to explore the hold that forests have on our imagination. For centuries, northern Europeans have lived in or near forests that have provided food, shelter, fire wood and a hiding place for fugitives (as well as being the site of bitter political struggles over ownership and access). Of course, forests have also been the site of real and imagined fears. In our own time, the power of forests to generate fearful imaginings remains undiminished as witnessed in the paintings of Peter Doig and the centrality of forests to horror films such as The Evil Dead (1981), The Company of Wolves (1984), Twin Peaks (1990), The Blair Witch Project (1999), Antichrist (2009), The Witch (2015) and the TV series True Detective (2014).
The photographs in Rhizomatic draw on the eighteeth-century romantic tradition, especially the fog-drenched scenes painted by Caspar David Friedrich. Art students are often taught that romanticism in art is an outmoded and reactionary attitude, whose temptations should be guarded against. Much of this criticism is justified; yet there are many sides to romanticism, including so-called romantic irony, in which romantic impulses are both expressed and undercut. The presence of a mobile phone mast disguised as a tree in the series is one such moment of romantic irony in Rhizomatic. Forests function in one sense like this phone mast, transmitting stories that mediate our experience of the forest, but they also generate new stories and connections in a root (rhizome)-like formation that extends underground in an ever-spreading network.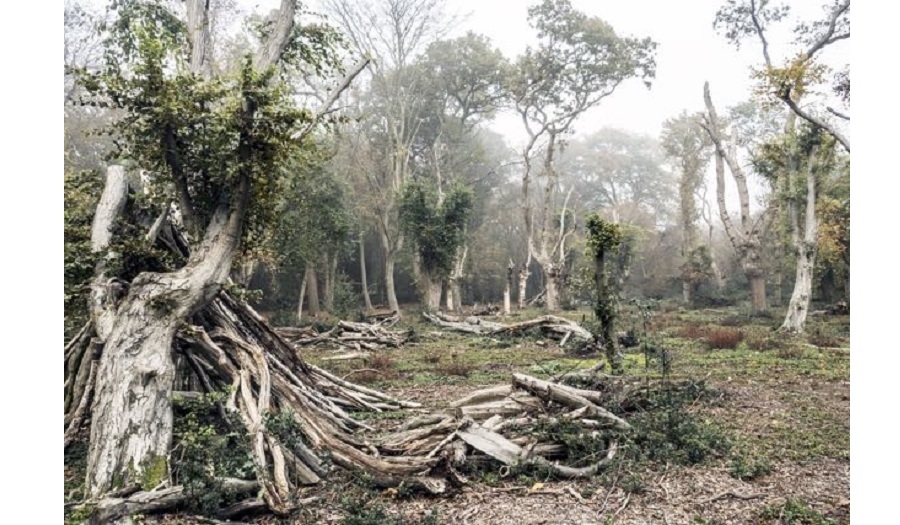 News details
| | |
| --- | --- |
| Dates | 18 April - 6 May |
| Location | Central House Foyer Gallery |