Remembering Gabriele Oropallo
Dr Gabriele Oropallo will be remembered for his intellectual curiosity, his passion for research, his commitment to his students, and his sense of humour.
Date: 4 November 2021
We are sad to announce the death of Dr Gabriele Oropallo, a Senior Lecturer in Critical and Contextual Studies at the School of Art, Architecture and Design.
Garbriele joined London Met in 2017, where he focused on his interests in design and environmental humanities, as well as visual and technological cultures. He was a recipient of a Marie Skłodowska-Curie research fellowship for his work on the history of socially committed design, and a co-investigator on a major research project on the history of sustainability in design.
His friend and former PhD supervisor, Kjetil Fallan, wrote in an obituary for the Design History Society, "With the untimely passing of Gabriele Oropallo, the international design history community has lost a cherished contributor and a tireless ambassador—and many of us have also lost a dear friend and colleague.
"The way in which the tragic news has rippled across the globe is testament to his vast network and the indelible impressions he has left on people wherever his many journeys took him. He was such a kind and gentle person, with a contagious enthusiasm for the field and boundless empathy for its practitioners of all shapes and sizes."
Gabriele published widely on his areas of interest; including chapters in books such as Craft Economies (Bloomsbury, 2018), and Design Culture (Bloomsbury, 2019), as well as contributing to international design magazines Form and the Bloomsbury Design Library.

His most recent research was part of the Back to the Sustainable Future project at the University of Oslo. His work examined the history of ecologically committed design practice and eco-consumerism to argue that their emphasis on individual action curbed the potential for collective action on the environment. He served as a Scientific Consultant on a project on service design and AI hosted by the University of Oslo and supported by the Norwegian National Library.
He was also a founding member of critical design practices Repair Society and Arquipélagos Urbanos, with which he participated respectively for the Istanbul Design Biennial and São Paulo Architecture Biennial.
In addition to his role at London Met, he served as a Trustee of the Design History Society between 2017-2020, a member of the Executive Committee of the Swiss Design History Network, and as an expert member of the Reprise review panel for the Italian Ministry of Universities and Research.
At the time of his death, Gabriele had just started a three year sabbatical from London Met to pursue a three year research fellowship with the Max Planck Institute for the History of Science.
Gabriele's project intersected design studies and critical material science, and examined the biotechnological and ethical implications of the contemporary use of materials of animal origin.
The offer of the fellowship came about as a result of Gabriele's spell as Visiting Scholar at the Max Planck Institute of Colloids and Interfaces when he was on research leave last year.
Gabriele, with his fellow Critical and Contextual Studies colleagues, used to take their students on many study trips that crossed London both geographically and chronologically, from the hidden Temple of Mithras in the City, to Kenwood House and to Tate Modern.
He will be remembered for his intellectual curiosity, his passion for research, his commitment to his students, and his sense of humour. He is survived by his partner, Thais, and their young son Nicolas.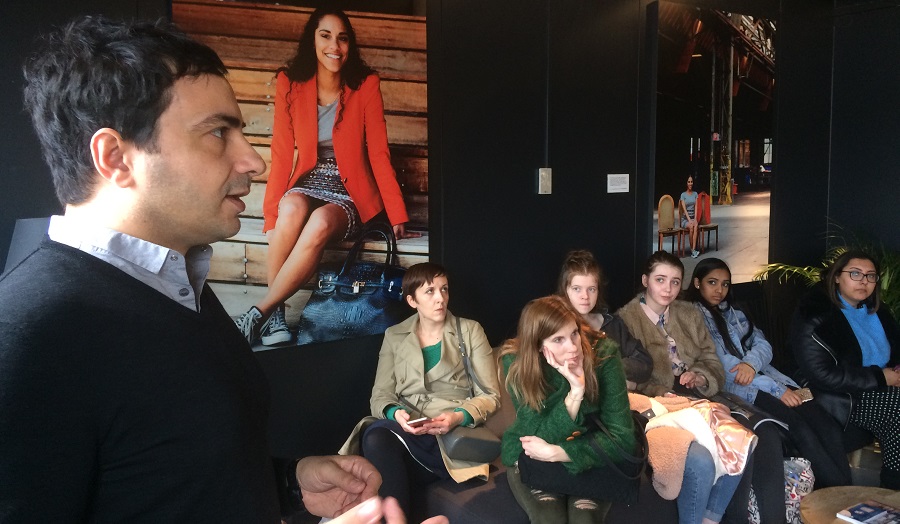 Gabriele with his students