Rebuilding a fairer economy: new partnership to help young people back into work
A partnership between London Met and Hackney Council will help rebuild an inclusive local economy, as part of the long-term response to the pandemic.
Date: 17 September 2020
Hackney Council and London Metropolitan University have formed a partnership to offer a range of programmes to improve employment opportunities for students across the borough.
The partnership forms part of a long-term response to the COVID-19 pandemic and the work to rebuild an inclusive economy to help Hackney residents into work during and after this difficult time.
By working together the two organisations will co-design solutions particularly among groups facing employment disadvantage by bringing high-quality education, training and paid work to the borough.
The Council has already begun to implement this approach with a new digital service, giving residents exposure to a variety of opportunities with some of Hackney's most groundbreaking tech, digital and creative businesses; along with establishing a network of university partners alongside a cluster of Hackney-based institutions.
Philip Glanville, Mayor of Hackney said: "As part of our manifesto commitment we are working towards creating an inclusive economy which includes accessible job opportunities for our young people.
"We are dedicated to working with our local partners like London Met to ensure that young graduates have access to the available employment and training opportunities available to them. We are proud to launch this partnership and look forward to helping young people across the borough achieve their dreams and ambitions.
The partnership will facilitate links between the University and employers within Hackney, by creating meaningful introductions with Hackney school careers teams and building a strong link between London Met and the Council's employment and skills programmes."
Professor Lynn Dobbs, Vice-Chancellor at London Metropolitan University said, "London Met is one of the capital's vital civic institutions and we are committed to driving opportunity for all. The London Borough of Hackney shares in our ambition to foster the best work and employment outcomes for its residents.
"We're delighted to be contributing to the boroughs skills strategy and working with them to develop an innovative range of programmes, placements, networks and projects that will improve life chances across Hackney.
Through this scheme and its broader work to rebuild an inclusive economy, one of the primary trends the Council is aiming to tackle is the growth in both highly skilled and low skilled entry-level positions in the borough, but a comparative decrease in intermediate-level roles.
The partnership will work to ensure residents have the skills required to access these higher-level roles and that pathways are in place to enable residents to access opportunities."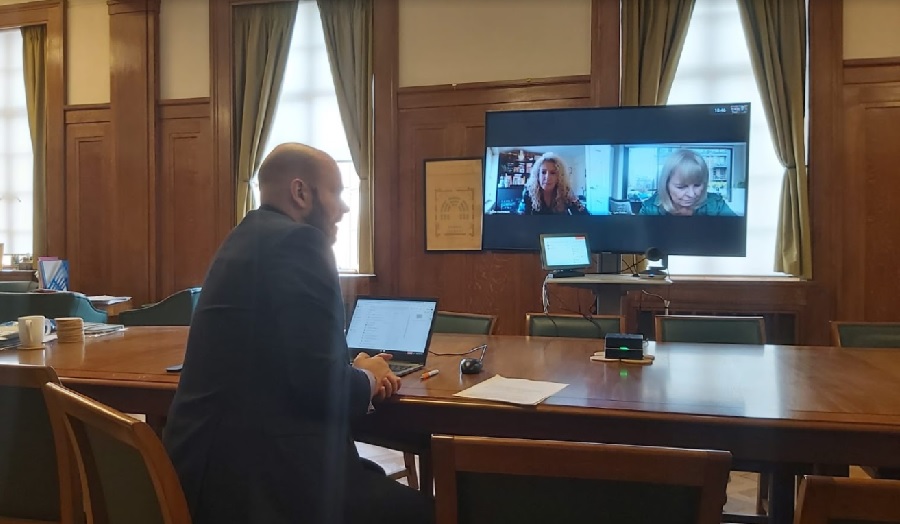 Pictured: The Mayor of Hackney, Philip Glanville, signing the Memorandum of Understanding in a virtual meeting with London Met's Vice-Chancellor Professor Lynn Dobbs and Director of London Engagement, Sophie Cloutterbuck
Find out more about our partnerships with local organisations through the London Met Lab: Empowering London