London Met's marketing team wins gold at the Heist Awards
The Real London brand campaign also received a silver award at the highest profile awards ceremony for marketing teams in the United Kingdom higher education sector.
Date: 17 July 2023
London Metropolitan University claimed the top award at the prestigious Heist Awards in Manchester last week, receiving gold in the 'Marketing Team of the Year' category.
For over 30 years, the Heist Awards have recognised excellence and innovation within the higher education sector. Known as higher education's answer to the Oscars, Heist celebrates outstanding university marketing teams across the UK.
"We are over the moon to be awarded gold at this year's Heist Awards," commented London Met's Director of Marketing and Communications Deon Butler. "It's a really important moment for us – so much hard work and dedication has gone into the past year, and I couldn't be prouder of my team right now. Recognition at such a prestigious awards show is a huge confidence boost and confirmation that we're heading in the right direction."
London Met's award submission highlighted a programme of strategic innovation in the 12 months from October 2021 that has generated some impressive results including a 16% increase in year-on-year brand searches, a 19% increase in click-through rate from organic search, and an incredible 8,000+% increase in engagement across the University's social channels.
Commenting on their decision, the Heist judges said: "The London Met marketing team blew us away with their creativity, focus on measurement and evaluation and their willingness to take risks and try new things. They've changed their media strategy and have delivered fantastic results and improved value for money. They were able to demonstrate their great team spirit and can-do culture. The competition in this category was very high, but the London Met team were worthy winners"
The Real London and a real star
In addition to achieving Gold in the team category, London Met also saw off competition from a number of larger universities, including institutions from the Russell Group, to claim a silver award in the 'Best Brand Campaign' category. Judges praised The Real London for being 'a brave but necessary campaign that was authentically London Met'.
Finally, there was recognition for the University's Social Media Officer, Nicole Hemming, who was nominated in the 'Rising Star' category. Despite only being at London Met for less than a year, she has played a significant role in London Met achieving a 911% increase in social media engagement in 2022, compared to the previous year, alongside other significant statistics.
Kate Stanbury, Head of Marketing at London Met, said "Nicole has made a huge impact, and I am so proud that she was shortlisted. Working with the guidance of our Content Manager, Hannah Aldwinckle, Nicole has turbocharged our social media presence, especially on TikTok, helping us become one of the most popular UK university accounts on the platform with more than 500,000 likes."
Commitment to diversity
In their social media post to announce the gold award, the Heist judges praised the London Met team's commitment to creating a team that reflected its student body and the wider population of London.
London Met's marketing team has evolved from having only 8% Black, Asian and Minority Ethnic team members in 2021, to 46% today in an effort to more closely match the diversity in the University's wider student body. "For the past two years this team has daringly embarked on a journey of operational and cultural change," remarked Deon Butler. "They've embraced this change by smashing targets, pushing boundaries, working tirelessly to curate purposeful content and most importantly creating a pipeline of talented diverse leaders."
Over the next 12 months, the marketing team intend to continue to innovate as they support the continued growth of London Met, and they hope to be back for Heist 2024!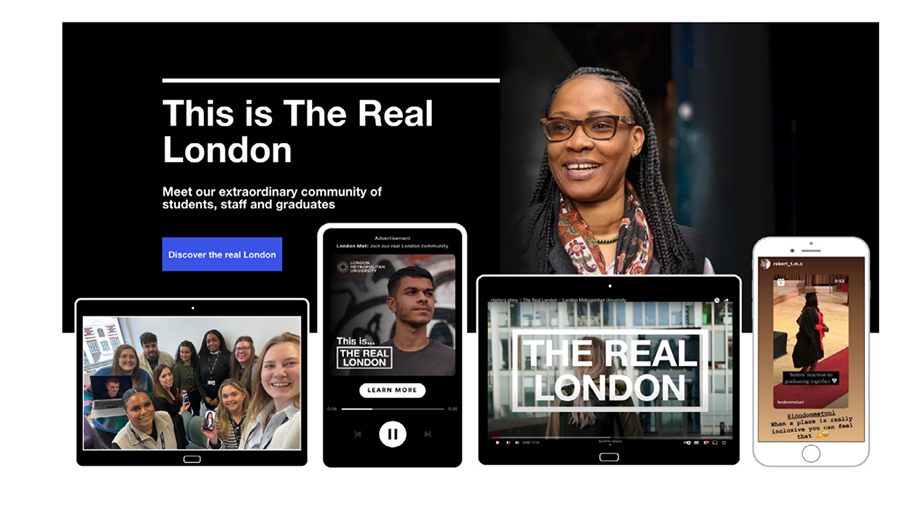 A montage of the Marketing Team's work, including a creative team photo.