London Met, Lavazza, and Arsenal help Islington residents to Learn To Dream at community event
The 'Learn To Dream' event, held in collaboration with the prestigious coffee company and world-renowned football club, was a roaring success.
Date: 10 May 2023
Islington locals, London Met students, staff members, and Arsenal representatives all came together on Friday 5 May to celebrate the 'Learn To Dream' initiative, which encourages and supports North Londoners in pursuit of their dreams and ambitions.
The concourse outside the iconic Emirates Stadium provided a perfect view of the newly painted mural, which marked the start an ongoing partnership between London Metropolitan University, Lavazza UK, and Arsenal FC.
Event organiser and Director of London Engagement at London Met, Sophie Cloutterbuck said "It was brilliant see everyone having such a good time at the event. London Met is a truly civic University, and we are committed to supporting the local community and creating opportunities for our students and the people in our local communities. I look forward to working with Arsenal and Lavazza for years to come."
A team of expert baristas from the Lavazza and Arsenal's 'Cup of Learning' programme were serving delicious coffees from a vintage coffee van, and local restaurant Juss Jerk enticed hungry visitors with their Caribbean delicacies.
Local children were particularly hooked by the presence of Gilbert Giggles, 'The One-Man Party Machine', an entertainer with serious comic timing and an extensive list of parlour games. Even rain couldn't slow the party down, as Mr Giggles had come prepared with a large parachute under which the kids sheltered.
The VIP attendee, the legendary Arsenal mascot Gunnersaurus, also turned up on the Emirates concourse to entertain both children and adult Arsenal fans alike. Many of the attendees had their faces painted with the iconic Arsenal cannon logo, courtesy of Emily's Entertainment, a party supply business. Visitors also had a chance to receive nutrition advice, business clinics, and even a chair massage from London Met students, and purchase souvenirs from design course students.
Islington Councillor Roulin Khondoker also attended and thoroughly enjoyed the event: "What a fantastic initiative! In Islington we value our local organisations coming together to support and enable building greater bonds with each other and residents, and what a wonderful example of this to see both through the mural itself and the lovely community event."
"Messages such as the Learn to Dream mural are so important to share with each other and I hope our local community are just as inspired as I am by it. Thank you to London Metropolitan University, Arsenal, Lavazza and all those involved for their motivating partnership and community spirit.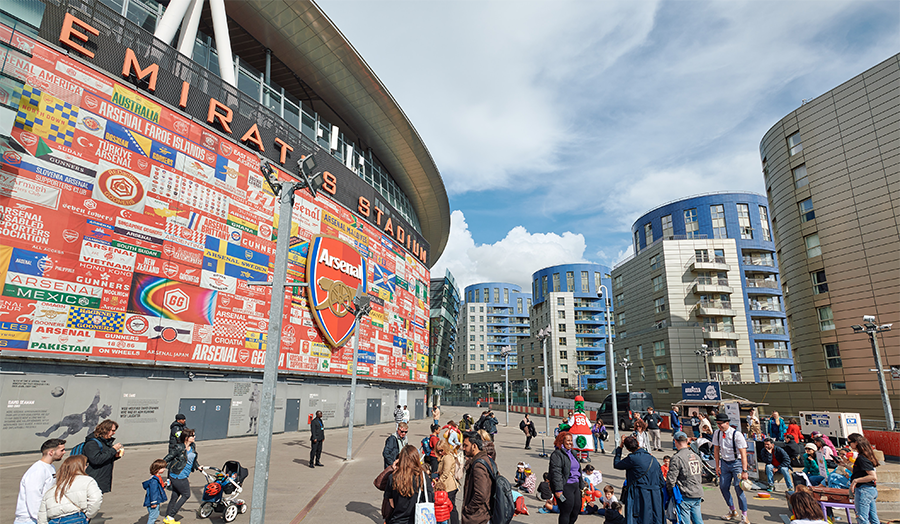 London is the greatest city in the world, but while Londoners enjoy some of the highest standards of living anywhere in the world for many others in the capital it is a different story. Through our civic network, we are on a mission to tackle the inequalities facing London, to improve people's lives and to deliver social justice.
Led by Sophie Cloutterbuck, Director of London Engagement, alongside our staff, students and partners, we are bringing our academic expertise to co-design solutions to the social challenges which disproportionately affect the communities that we serve.