London Met alumni join BBC's Waterloo Road
Jesse Quinones will be Lead Director of the series; while Vincent Jerome will be a new leading cast member; and Jake Yates will work on the production team as a storyboarder.
Date: 15 February 2022
Three London Met graduates have joined the new series of Waterloo Road, as filming on the new series begins in Manchester.
Jesse Quinones, who studied Creative Writing BA (Hons) and Film and Broadcast Production MA at London Met, as well as being an Associate Lecturer on the Theatre & Film BA, will be the Lead Director of the highly anticipated BBC One school drama; while Vincent Jerome, who studied on the Theatre Arts programme will be a leading cast member, playing Lindon King, joint Deputy Head with James Baxter. Additionally, alumnus Jake Yates (Film and TV Production BA) has joined the production team, working on the storyboards.
Jesse spoke highly of his time at the University, saying, "London Met was really significant in terms of what I'm doing today in that it prepared me by giving me access to the equipment – I could get my hands on cameras and facilities and make films.
"Classmates at my university ranged from 19-year-old fresh-faced people coming after A levels to people that were 50 who were mothers and hadn't studied in 25 years but wanted to get back in. I loved that kind of environment."
Executive Producer of Waterloo Road Cameron Roach said, "We're incredibly excited to announce our new cast, and we believe that we're creating some new iconic characters for the next generation of Waterloo Road. We look forward to the audience joining them in the staff room."
Shortly after graduating from London Met, Jesse's film, Calloused Hands, won an array of awards including Best Feature Film at the Fingal Film Festival (2014), the Hearts Mind and Soul Award at the Rhode Island International Film Festival (2013), and the Best Actor (Andre Royo, Luca Oriel), Best Actress (Daisy Haggard), Best Screenplay and Best Cinematography Awards at the Golden Door International Film Festival (2013). His feature film, Cagefighter (2020) which Jake Yates also worked on as storyboarder, starred Gina Gershon, Jonathan Good, Chuck Liddell, and Brenna Coates.
Vincent has had a varied and vibrant acting career since graduating London Met, including parts in films Wonder Woman 1984, Transformers: The Last Knight; and has a number of TV credits. He will also feature in soon-to-be-released productions, The Cloaking, The Payday, and Finding Forever.
London Met's theatre courses, which were named number one in the country for student satisfaction in 2020, were recently highlighted by industry magazine The Stage in a feature about the additional value that university theatre degrees can offer students over traditional drama schools.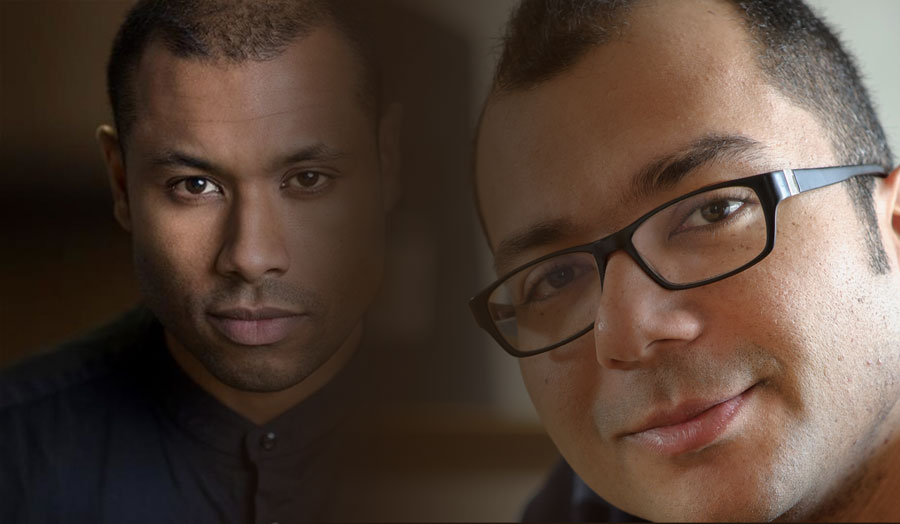 L-R: Vincent Jerome and Jesse Quinones