'Absorbing the ideas of my father made me who I am today'
New graduate Ewan Thomas remembers the lessons he learned from his father Henry, former Deputy Chair of Governors of London Met, who had a huge impact on the University.
Date: 28 July 2020
Ewan Thomas, the son of former deputy governor of London Metropolitan University Henry Thomas, has graduated from the University with a first-class Business Information Technology BSc. He described London Met as "a fantastic place to learn from a student's perspective. The level of dedication behind the scenes from all staff is fantastic and I'm proud to have been a part of it. I hope I can always touch base with the University and its staff – studying here has been a great experience."
He added, "I would never have guessed that I would have gained an extended family in the staff and students here at London Met."
Ewan returned to higher education as a mature student, which he says helped him in many ways: "I return with life experience and focused ambition. Education is for all and I hope all people can take advantage of their local educational hubs to better themselves and learn. Now, I am considering my journey forward and plan to focus more on IT in my next role. My initial intent for attending university was to obtain a degree in a field that would strengthen my career portfolio. A first-class degree finds me successfully achieving my goal."
Students and alumni of the University may recognise Ewan's father's name as they may have had lectures in, or passed by, the Henry Thomas room at the Holloway Road campus – named as an act of commemoration after Henry died suddenly in 1998.
Ewan spoke about the community he found at the University and its importance to his family, saying of his father: "I remember he was incredibly hard-working and dedicated, always showing interest in organisations that he believed would make an impact on society. Living with and absorbing the ideas of my father made me who I am today.
"His sister – my auntie – Lydia Simmons OBE became the first Black woman to hold a mayoralty position in England when she was elected Mayor of Slough. I always like to believe he would have gone down a similar political route if he'd stayed alive."
Louise Slater, who works in Special Collections in London Met's library knew Henry well and said "I was really happy to hear that Henry's son had become a London Met student - a continuing link with the Thomas family is a lovely piece of continuity between the past and the present!
"It's not an easy job being a Governor - it's entirely voluntary and can take up significant amounts of your personal time, depending on the level to which you're prepared to get involved. And if you have a full-time job as well, as Henry did, that's real commitment to public sector higher education."
In addition to being governor of the University for 14 years, Henry Thomas was vice-chair of the university's governing body. He was a science teacher for over 20 years and at the time of his death, was deputy head of William Penn School in Dulwich. He was committed to the principles of equality of educational opportunity and widening participation in education.
Henry was also a prominent member of the Caribbean Teachers' Association (CTA), chairing it for ten years. CTA's purpose was to support Caribbean teachers, and Henry was involved in their Saturday school offering extra tuition. CTA dealt with the achievement gap of ethnic minorities in schools and contributed to a book, Reading into Racism: Bias in Children's Literature and Learning Materials by Gillian Klein.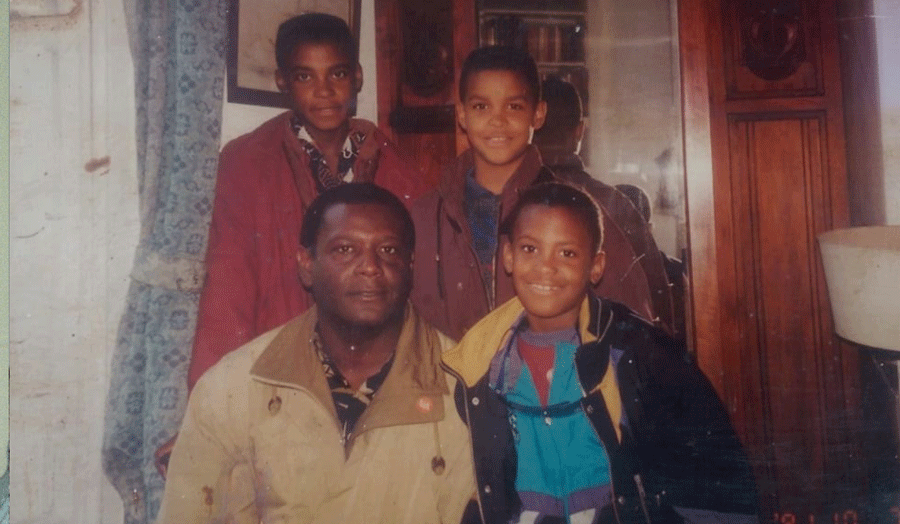 Henry Thomas with his sons, Ewan, Julian and Ivor.