Learning by Play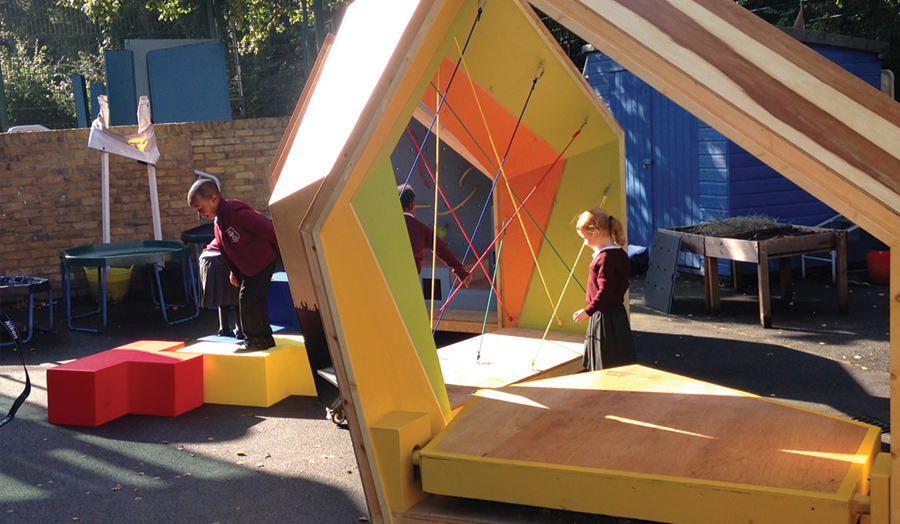 MA students build flat-pack educational space
A group of cross-disciplinary students explore play through design and discovery.
Students from Play Studio, a cross-disciplinary MA design studio in The Sir John Cass School of Art, Architecture and Design, have designed and built two playhouses for the pupils of Christchurch Primary School in Shooters Hill, London.
The two projects were created by a multi-disciplinary team of postgraduate students from The Cass, including fashion, furniture, interior, jewellery and product design graduates.
The project brief was to create a flat-pack, active educational space, useful for both pupils and staff. At the start of the year, the Studio was organised into six design teams, each of whom pitched their ideas to Christchurch Primary School.
The school was so impressed with the quality of the design ideas that the headteacher commissioned two winning designs, Blocbox and Growth.
Blocbox is an adaptable outside structure that can be configured into a number of different positions. The playhouse is made of four movable parts, including a hide-and-seek window, a flexible maze, a performance stage, a storage block and an exterior blackboard painted in the shape of the London skyline.
The Growth team created an outdoor installation that provides space for the pupils of Christchurch Primary School to plant, grow and observe how plants develop. The space has been transformed using computer-aided design and computer-aided manufacturing into an external learning and teaching space for Year One primary school pupils.
The installation includes shelves and a planting table, along with thirty growth pods. Each pod is made using a transparent bowl, which allows the pupil to observe the roots of the plants. The whole structure has an irrigation system and a wooden frame for the plants to cover and change during the seasons.