Journalism students celebrated at the London Met Magazine Awards
Five magazines competed for 15 awards, including Best Use of Multimedia, Best Profile Piece and Best News Feature.
Date: 5 May 2022
The annual London Met Magazine Awards went off with a bang on Wednesday as students in the third-year Creating Packages magazine journalism module received accolades - and mini Oscars - for their tireless work putting together magazines in print and online over the course of a year.
Five magazines competed for 15 awards, including Best Use of Multimedia, Best Profile Piece and Best News Feature. Head of the School of Computing and Digital Media, Chris Lane, said it was a "real privilege" to see how hard the students had worked and watch them get rewarded for their accomplishments.
It was a particular thrill to watch the students in action as last year the ceremony was digital due to Covid, said Module Leader Wendy Sloane. "It was so nice to teach everyone face-to-face and see them here today, and to really feel the excitement in the room," she said.
The five magazines that competed were: Sane; about good mental health, Skin; which details everything you need to know about sustainable skincare, Sleeveless; about ethical artisanal fashion, Kultur; which gives the low-down on London life, and UFC & Me; which provides an intimate look inside the Ultimate Fighting Championship.
UFC & Me won for Best Brand/Most Commercial Potential, with Judge Libby England, the Senior Student Enterprise Manager at Accelerator, saying it had a "very clear focus and mission" with a "nice range of pieces to engage, inform and entertain". These included quizzes, work-out tips and articles on current events and fighters.
The award comes with mentoring from Accelerator, including £250 in start-up expenses and access to hot-desking spaces in the business incubator's co-working space in Shoreditch. UFC & Me, along with the two runners-up – Sane and Sleeveless – also received spots in a six-part online bootcamp to help them learn to commercialise the magazine.
The other judges included Joel Chernin, the former art director of Hello! Magazine; Adam Goff, who was Chief Picture Editor at New Scientist for 25 years, and Lloyd Bradley, a magazine veteran and one of the UK's leading Black music experts and cultural commentators.
Lloyd particularly impressed the students with his knowledge of the magazine industry. "A good profile introduces the reader to the subject, a great profile gets the reader so interested in the subject they have to check out their work and do so with greater understanding. This is very much the latter," he said, explaining why he chose BA Photojournalism student Alex Cimpeanu as winner of the Best Online Profile Piece award for an article about painter Aleksandra Durman.
His praise for Alex didn't end there, as he also picked her as the winner for Best General Feature. "Nobody in the world isn't going to read a feature sub-titled 'Clowns that cut your hair for what you can afford', he said. "It doesn't let the reader down with the perfect tone of ridiculousness and information – the 'average price of a haircut' box is a stroke of genius."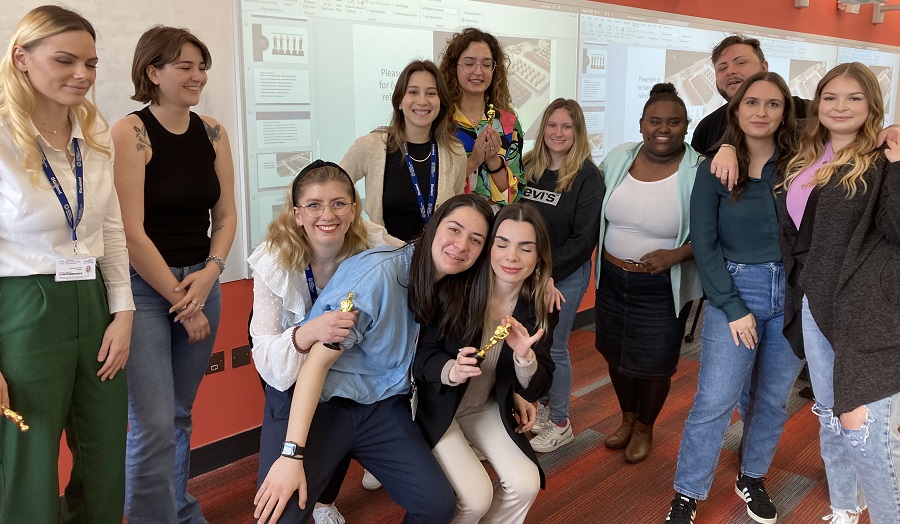 More information on: