Join London's careers-focused university this autumn
There's still time to get your place at London Met through Clearing. Hear from our students about what we have to offer. and call our dedicated Clearing hotline on 0800 032 4441.
Date: 10 August 2021
Going to university is one of the biggest decisions you will make in your life, and one of the most exciting too. Clearing offers you an opportunity to pursue a university education if you didn't meet the conditions of any existing offers; you want to apply after the UCAS deadline; or if you've had offers, but no longer wish to accept them.
It might seem daunting, but it really needn't be. London Met's dedicated team are on hand to help and support you through the Clearing process, and to help find you a place on the course that's right for you.
Subi Darbhanga, Head of Academic Services at London Met explains, "Clearing can take you down a path you weren't expecting and ultimately lead you onto something which makes you happier than what your original choice may have done. Some of our students who joined London Met through Clearing have gone on to really successful and fulfilling careers."
Aleema Iqbal, who has graduated from London Met with a Pharmaceutical Sciences BSc, was one student who has achieved major success after coming to London Met through clearing. She said "After I decided I wanted to study pharmaceutical science, I applied to five universities through UCAS and received conditional offers. But on results day, my plans changed slightly so I applied to London Met through Clearing.
"I have to say, it was by far the best decision I've ever made. During my time here, I've achieved a first-class honours degree, taken part in the Society of Chemical Industry National Undergraduate Competition and received an award from the Academy of Pharmaceutical Sciences.
"This wouldn't have been possible without the support from the lecturers at London Met. I've grown as a person, become a lot more confident, discovered my passion and met many amazing people. The three years I've spent at London Met have been some of the best years of my life."
Sophia Allwood, who studied a Biomedical Sciences BSc similarly went through Clearing after changing her plans, and deciding to do a gap year after college. She said, "It's scary ringing at Clearing because you have a battle of emotions inside - you're wondering what you're going to do with the next three years of your life.

"I then came to see London Met over the summer and that's when I realised I should have applied here instead. I chose this Uni mainly because of the course and the really impressive lab."

As for her advice for anyone going through clearing this year, she offered, "I'd like to say don't panic but that's never going to happen! Seriously, I really feel like it's going to work out in the end for you – I believe everything happens for a reason. I'm really really glad I came here for the people that I met, and the experiences I had."
One of London Met's driving forces is its careers focused ethos - every student here is offered the chance to do a work-based learning module as part of their degree, meaning everyone can graduate with CV-enhancing work experience.
Kyle Dougherty, Events Management and Public Relations student, has benefitted from this - he did a sandwich year as part of his degree, working as a marketing assistant. He said, "The events management degree gives students hands-on experience in planning their own events. Whether the event is a success or failure, it gives the students an opportunity to do it themselves and learn from it – which is not just great experience but something you can add to your CV.
"London Met has lecturers who have been where you want to be, and who have the experience and knowledge to share with you and help you grow along with your studies. They are always willing to help and provide their advice whenever you need – this doesn't happen a lot in other universities. Not only this but the opportunities that the University provides students are great, they offer jobs and placements and study abroad programmes to help students get the best experience while studying."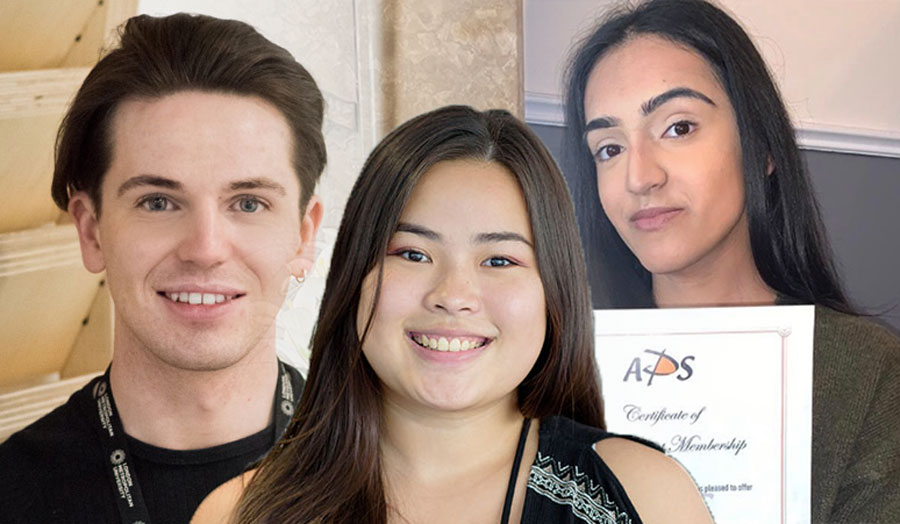 L-R: Kyle, Sophia, Aleema