Graduate Stories | Messay Shiferaw
From Ethiopia to a first class degree in Computer Networking, Messay Shiferaw takes us through his journey
Date: 08 August 2019
More than 1300 London Met students gathered at the Barbican, London, for their graduation ceremonies at the end of July. In our Graduate Stories series we share a selection of their stories and find out what they plan to do next.
---
by Messay Shiferaw
I have always strongly believed that education is vitally important in life, keeping the brain active and challenging oneself. Having grown up in Ethiopia, to then live in Germany and now living in the United Kingdom, I have taken advantage of the incredible educational opportunities at London Met to fulfil my dreams and ambitions.
'Equal representation of the world'
My dream was to study computing, and the Computer Networking BEng course available at London Met seemed perfect for me. But what really drew me to study here was the wide diversity of the students and staff. It is one of the few universities that offer an equal representation of the world.
At first, I was a little worried about studying as a mature student but quickly found it to be no problem at all. I had a clear idea of what I wanted to gain from my studies and I was able to really focus on the work. All of this stemmed from the life experience I have gained.
'Incredible support'
My life was a bit hectic during the last three years of studying. Between working night shifts and family responsibilities, I also did work for the political and community services in Ethiopia, my native country.
Juggling all of these commitments was really difficult and physically demanding, but out of sheer determination and incredible support from my lecturers, I got through the course and came out successful, being awarded a First class degree.
Graduating was made all the more special by the fact that my twin daughters also graduated this summer. Both studied Master's in Accounting and Finance and graduated from the University of Lincoln, and Brunel University.
Now that I have graduated and realised my dreams, I plan to continue studying and apply for a master's degree in the near future.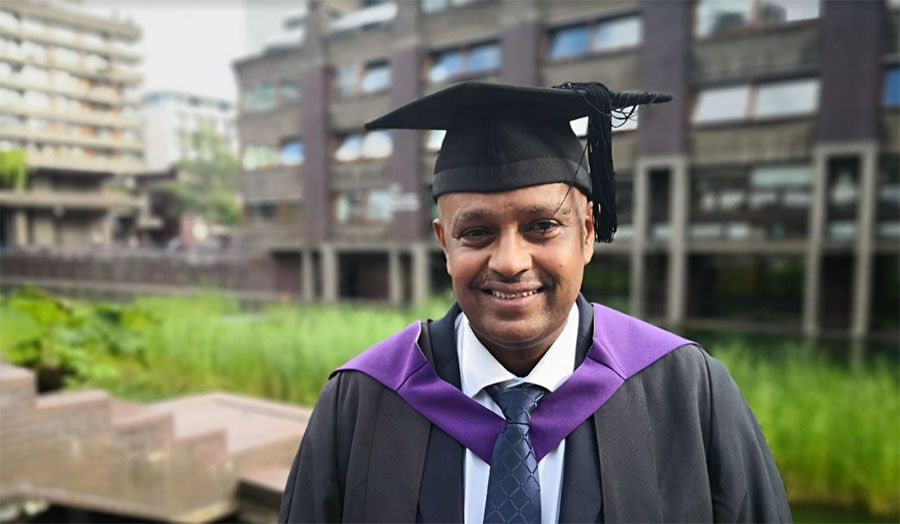 Read more inspiring stories and view highlights from graduation by searching #LondonMetGrad on Twitter and Instagram