Getting a foot in the door of journalism
Senior Lecturer in Journalism Simon Cadman reports on the wide variety of placements students are enjoying this year, in part thanks to the London Met Journalism Diversity Network.
Date: 6 April 2022
From the Farmers Guardian in Preston to the Delta State Government in Nigeria, Journalism BA students are heading out to do their three-week work placements.
Twenty-two students will be testing their skills, and learning new ones, at a wide range of employers, both in the workplace and working from home.
The course's London Met Journalism Diversity Network has also helped students get a foot in the door at organisations such as the Camden New Journal, WHYTT magazine and Black Hair and Beauty magazine.
Three students, Ismail Reddy, Amalia Radu and Tsvetelina Stancheva, have found placements in broadcasting, at Eman Channel (TV), Times Radio, and TRT World (TV) respectively.
Other placements include the Eastbourne Scope, Ilford Recorder, Black PR, The Travel Magazine, and The Staff Canteen.
Megan Morgan has already completed a week at Camden New Journal.
She said: "I am actually quite sad to be leaving my 'paper people' as I had named them. I bought a card after work to thank them for the opportunity and for being so considerate with my working hours too. Tom [Foot] did say that I would be welcome back another time too, which was nice. I enjoyed the placement a lot more than I thought."
Ismail Reddy has reported back on how it's gone so far at Eman TV Channel: "I realised that I really enjoyed the chaotic buzz of the TV studio. I didn't do much but answer calls, but it was very new and exciting."
Meanwhile, Bianca Jashnani has been rubbing shoulders with Michelin-starred chefs at a major restaurant and catering event at ExCel London – and interviewed the CEO of UKHospitality about Rishi Sunak's Spring budget.
As Journalism Work Placement Module Leader, I would like to say many, many thanks to Course Leader Wendy Sloane for all her support with the Diversity Network placements, and also to Tanweer Eddoo, SCDM Employer Engagement Administrator, who helped students find placements at Arieli Beauty and Better Safer Communities.
I am immensely proud of this group. They have worked hard to get these placements, and never gave up, just like professional journos.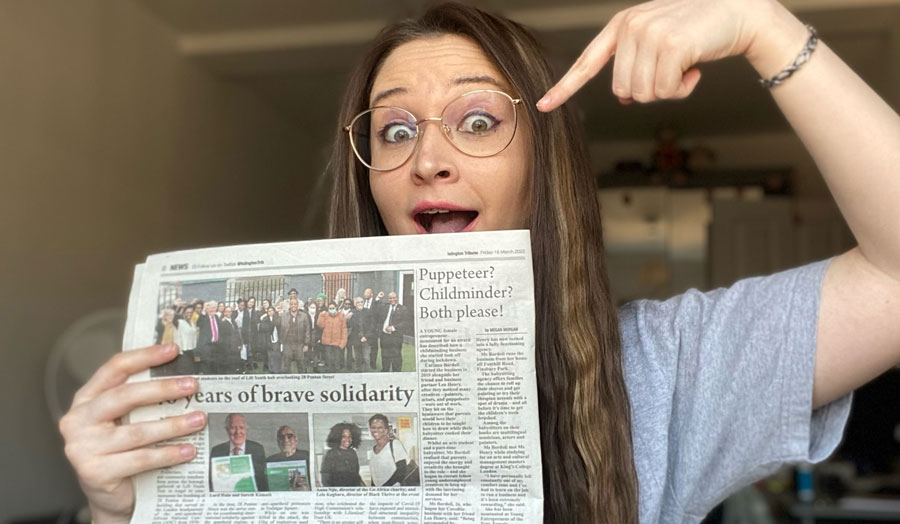 More information on:
Pictured: Megan Morgan with a copy of the Camden New Journal