An exhibition, curated by MACC alumna Cristina Ramos, that brings together visual art and contemporary writing in an attempt to perform criticism in a different way.
Date: Thu 5 Mar, 7-9pm
"'Seeing' says John Berger, 'comes before the words.'
-
Wrong! Says the evangelist. 'In the beginning was the Word.'
-
'Both wrong!' says the poet Shelley, refuting the very notion of priority. Not the seeing before the Word, not the Word before the seeing, but a simultaneity of perception and creation; the thing outside no sooner apprehended than it has become the thing inside. [...]
-
To the modernist question - Is there anything out there before the artist puts it there?
-
Shelley offers, for my money, the only rational answer: yes and no.
-
'And that's the story of this exhibition,' proclaimed the Exhibitions Secretary of the Royal Academy of Arts in a recent interview: "how America seized the leadership of the discourse of art, the international discourse of art, the language. [...]"
An extract from 'Seeing with the Ear' by Howard Jacobson, 1993: Claridge Press.


Feel the Discourse! is an exhibition that brings together visual art and contemporary writing in an attempt to perform criticism in a different way to the one usually encountered in the art gallery - principally by divesting the author from the task of reviewing the whole exhibition; instead the writers are invited to turn their attention to a single artist.

The exhibition will begin with the display of the artworks without any written context. Then the writings will be presented in a setting designed by furniture maker Tiago Almeida. This will be followed by an introduction to the exhibition by Sebastian Rozenberg and a performance by Tamara Kuselman.
The exhibition aims to create a space of consciousness in Guest Projects, inviting the viewers / readers to participate in the meaning-making, as they are aware that the works on show will be written about.

Ultimately, a publication will be produced in collaboration with the book-maker Patricia Vega, leaving a trace of the exhibition and of its writing.
Feel the discourse! is curated by Cristina Ramos and features artists, including: Babi Badalov, Cornelia Baltes, Tom Benson, Sarah Jury, Astrid Korporaal, Michael Lawton, Fran Meana, David Price, Sebastian Rozenberg, Koen Sels, Kerry Tyrrell, and Madalina Zaharia.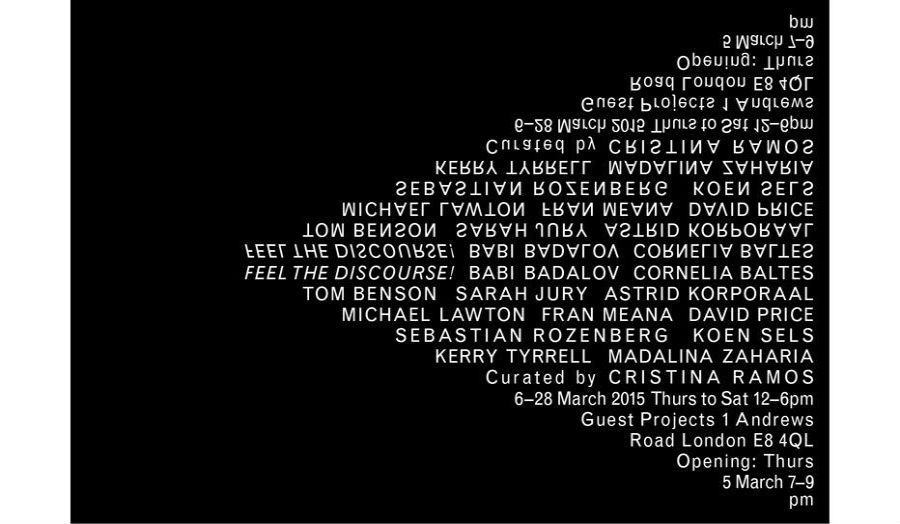 News details
| | |
| --- | --- |
| Opening | Thursday 5 March 7pm-9pm |
| Dates | Fri 6 March-Sat 28 March |
| Times | Thu-Sat 12pm-6pm (Closed Sun, Mon, Tue and Wed) |
| Veneu | Guest Projects, 1 Andrews Road London E8 4Q |
| Talk | By Sebastian Rozenberg, 12 Mar 19:00 |
| Performance | By Tamara Kuselman, 28 March running throughout the day |