Media law students heard from barrister Nick Doherty about the crisis facing the UK's criminal justice system, which has a backlog of around 60,000 cases.
Date: 1 March 2022
Barrister Nick Doherty spelled out the chilling extent of the crisis currently gripping the criminal justice system in the UK during a guest speaker appearance for London Met's media law students.
"If what is happening in the courts was happening in the NHS there would be rioting in the streets," said Doherty.


The financial squeeze imposed during the government's austerity plan, plus the impact of the pandemic have created a backlog of around 60,000 cases, and a wait of up to four years for a case to heard at trial.

Students will be writing about the crisis in the courts for their next assessment.


Second-year student David Ashford said: "It was a pleasure to meet barrister Nick Doherty with his down-to-earth approach to the criminal justice system.
"I found it really interesting to hear his take on the current crisis in the courts, it was really useful hearing him speak so openly about his own experiences which I will use as quotes for my feature."
Media Law and Ethics: Public Administration is a core module for those in journalism-related courses, as everyone in the media needs to know the intricacies of the system. It covers what students need to know about how Britain works and the place of journalism within debates about ethics and the legal system.
Classes look at the ethical and judicial frameworks and constraints which control the reporting of legal matters, including crime and its contexts. Students explore these subjects from the viewpoint of industry, whilst also concentrating on sourcing and developing stories within Britain's social and political landscape.
Court visits are a required part of this module, while other site visits to places of interest - pandemic permitting - also form a key part, as well as talks from guest speakers.

Photo by Steve Blunt.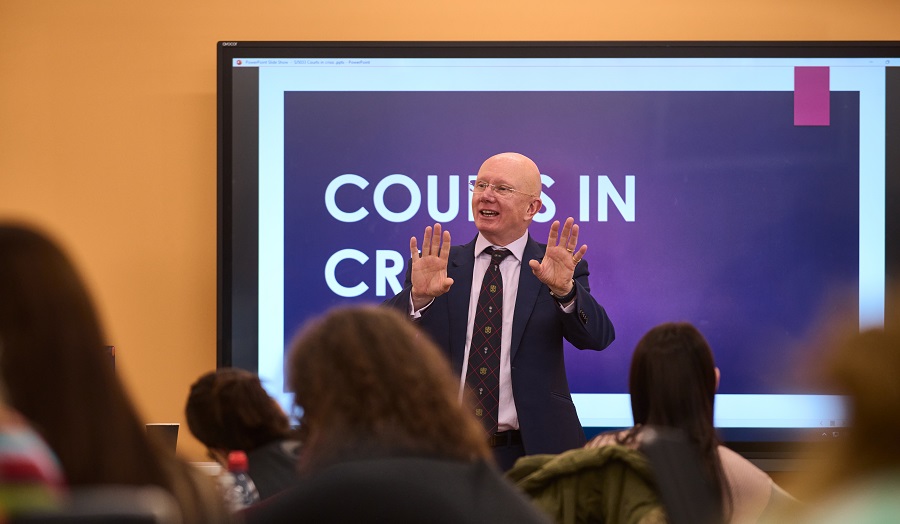 More information: