Big Idea Challenge goes global
London Met's Accelerator partners with the British Council to create international competition as part of the Creative Spark: Higher Education Enterprise initiative
Date: 15 September 2019
A team of students from Lviv Polytechnic National University in Ukraine overcame competition from more than 10,000 other students to be named global champions of the inaugural international edition of London Met's Big Idea Challenge at the British Council's Creative Spark conference in Oxford on 3 September.
The winning idea, PiPillow, is an innovative smart pillow with built-in tech to aid sleep and relaxation. Students Oleksandr Shymanko, Serhii Dmytrenok and Andrii Zhydeko will share £25,000 of cash prizes with the seven category winners and benefit from individual business support. A further fifteen teams will receive business mentoring from London Met experts.
Helping creative sparks fly
The Big Idea Challenge international edition formed part of the British Council's Creative Spark: Higher Education Enterprise programme, a five-year initiative to support international university and institutional partnerships to develop enterprise skills and creative economy across seven countries in Central Asia (Kazakhstan, Uzbekistan, Kyrgyzstan), South Caucasus (Azerbaijan, Armenia, Georgia) and Ukraine through UK support.
In just 12 months, the Creative Spark programme has funded 38 partnerships between UK higher education institutions (HEI's) and seven countries with 12 more planned in year two bringing the total to 50.
Natasha Triay, Enterprise Manager at London Metropolitan University, said: "The Big Idea Challenge is now one of the biggest and most successful entrepreneurial competitions for young people in England. It has been fantastic to partner with the British Council on an international edition. We were extremely impressed with the quality of the presentations and the innovative thinking shown by the students."
Sprint to the end
A week before the Creative Spark conference, the country winners were invited to a special Startup Sprint organised and hosted by the Accelerator at their Shoreditch HQ earlier this month. The Sprint closed with pitches from each team to a panel of judges who chose the category winners and Grand Champion.
Tamara Ustenko, from Kyiv National University of Technologies and Design (KNUTD), won the people's choice award for her business which creates designer products from recycled textile waste. The online vote attracted more than 40,000 unique votes.
Find out more about PiPillow and the category winners on Accelerator's website.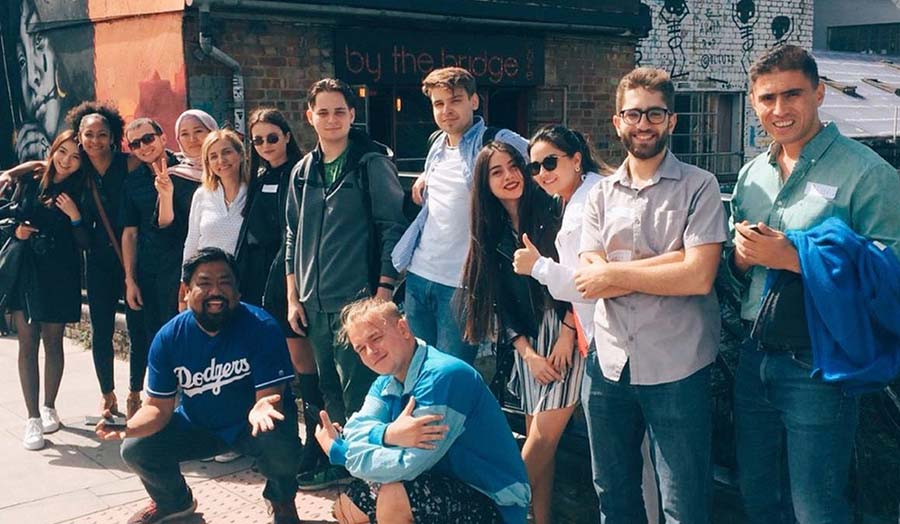 Pic: Big Idea Creative Spark winner 2019.