Architecture grad set to transform Finsbury Circus Gardens and Pavilion
Studio Weave, an architecture practice co-founded by London Met alum Je Ahn, together with firm Architecture00 won a competition to deliver the £2.8 million restoration.
Date: 27 October 2020
An architecture practice co-founded by London Met grad Je Ahn has won a significant competition to rehabilitate Finsbury Circus Gardens and Pavilion.
Ahn's practice, Studio Weave, in partnership with firm Architecture00 were chosen by the City of London Corporation for the endeavour, which will see them restore and rethink the Grade II-listed green space. The space formerly hosted a bowling green but has more recently been used as a Crossrail construction site.
The winning design features a one-storey garden pavilion constructed from natural materials such as stone and terrazzo, capable of seating up to 100 people in its café and hosting events. It focuses on how the 2,200m² circus and its gardens and former pavilion can be restored to create a new 'creative and sustainable' multifunctional public space with a pavilion close to the City's emerging Culture Mile district.
The pavilion will feature an openable frontage and terrace overlooking a large lawn, alongside an 'urban forest' created in the shaded west of the park, and a new oval-shaped pathway situated inside an existing Yorkstone-paved outer ring.
Ahn, who graduated from the University with a Master's of Architecture, said: "We are excited to be working on this historic site, which is the largest and oldest public open space in the City. Our proposal builds on the existing history of the garden and is influenced by the magnificent architectural context of its surroundings.
"Working with the dedicated client team and an engaged multidisciplinary design team, we will deliver a holistically sustainable project that complements its setting and our shared vision of the 21st-century city."
Oliver Sells, chair of the City of London Corporation's Open Spaces and City Gardens Committee, said: "The winning bid very successfully captured our vision for a biodiverse, 21st-century park which respects the historic nature of the site and complements the buildings that surround it.
"The redesign will restore the park to what it has been in the past: the jewel in the crown of our City Gardens and an urban oasis accessible to all, where people can come to exercise, socialise and relax."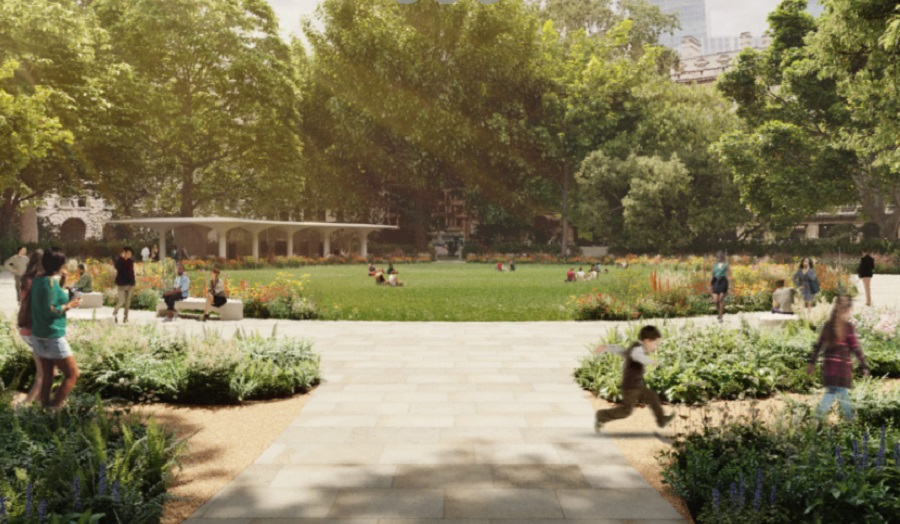 Pictured: the winning design by Architecture00 and Studio Weave