After London
The Cass presents an exhibition of the Thames Estuary by Simon Fowler and David George, coinciding with a new publication by Rachel Lichtenstein.
The East End Archive at The Cass presents After London, an exhibition running from 4-15 October of photography that focuses on the Thames Estuary for London Photomonth.
The exhibition coincides with the publication of Estuary: Out from London to the Sea (Hamish Hamilton September 2016) by Rachel Lichtenstein, which includes commissioned photographs by Essex-based artist Simon Fowler and is on public display for the first time.
Estuary: Out From London to the Sea is an intimate portrait of the Thames Estuary community and the environment, examining how each has – and continues to – shape each other. Simon Fowler travelled the territory with Lichtenstein as she gathered the extraordinary chorus of voices included in the book to document the journey. Selected images from Fowler's many other Thames Estuary projects will also be displayed.
Also at the photography exhibition is Estuary English by David George. His photographic and psychogeographic exploration of the Thames Estuary has a particular focus on the gothic associations with the region and broader notions of this area east of London as a literal and metaphoric badland. The project was developed in collaboration with the East End Archive at The Cass and was a recipient of the NCM/Foyle Commission in 2015. These images are accompanied by photographs of the Estuary from George's Enclosures, Badlands & Borders series (2011).
Simon Fowler is an internationally renowned photographer who lives in Leigh-on-sea, Essex, beside the Thames Estuary. This geographically important stretch of water has been the subject of his photography for nearly a decade, resulting in a substantial body of work both from the shoreline and on the water itself. He captures the river and the people who live and work there, and his images of the Estuary have been published in both the national and local press.
David George is an award-winning photographer and co-founder of the acclaimed lens-based, artist-led project Uncertain States. His many projects exploring the contemporary British topography and its representation have included Shadows of Doubt (2011), Backwater (2012) and Albedo (2013). His most recent book Hackney by Night was published by Hoxton Mini Press in November 2015.
The exhibition is curated by Michael Upton, Academic Leader at The Cass and Mentor of the East End Archive.
Image: Chimney from Two Tree Island by Simon Fowler.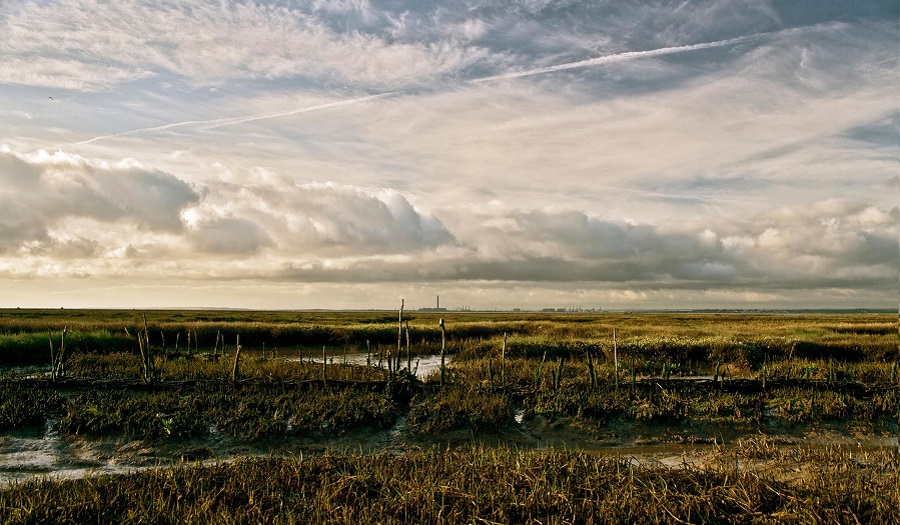 News details
Dates
4-15 October 2016
Times

Mon-Fri 11am-6pm
Sat 11am-5pm

Location
The Cass Bank Gallery
Please note: there is a late opening on Thursday 6 October from 6pm to 8pm.