Why study this course?
If you intend to study at the Shanghai University of Traditional Chinese Medicine, this course will help you turn your final qualification into a double award. You'll study additional London Metropolitan modules during your time at SUTCM, and then complete an additional fourth year at London Met, after which you'll receive your bachelor's degree.
London Met's state-of-the-art Superlab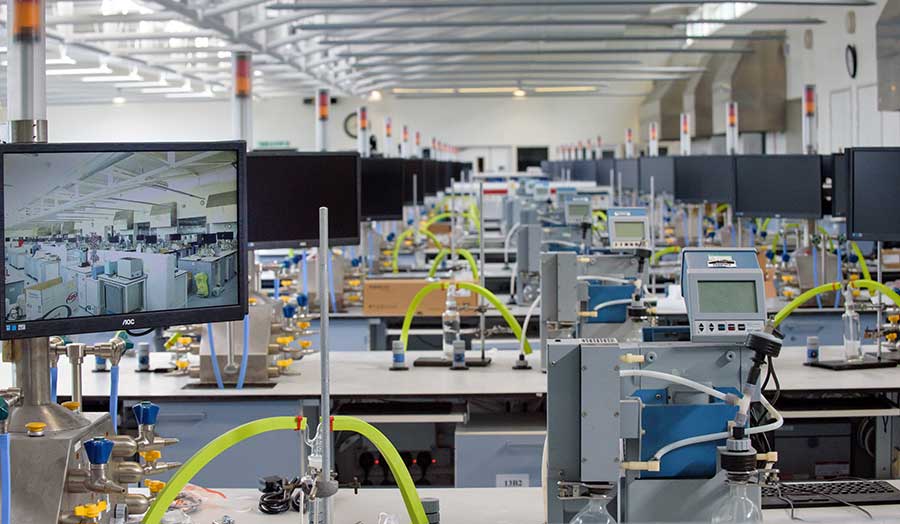 More about this course
This course is a partnership between London Metropolitan University and Shanghai University of Traditional Chinese Medicine (SUTCM). To participate in this course, you must first complete the SUTCM programme, with additional London Met modules. Provided you achieve the necessary grades, you'll then progress onto this course – which you can choose to study either at SUTCM in Shanghai, or at London Metropolitan University in the UK.
Herbal medicine takes a holistic approach to wellness, and uses natural products to treat patients. On the top-up course, you'll expand on your knowledge of traditional medicines and learn about the ways they are developing with the aid of technology. You'll look at the way in which plant-derived drugs can be created through chemistry and pharmacology, and study related areas of science, including cell biology, bioanalytical science, medicinal chemistry and toxicology.
You'll also have the opportunity to undertake a work-based placement year, during which you'll gain exposure to the industry and get valuable hands-on experience.
Assessment
Aggregate scores for Level 5 and Level 6 will be used to determine your final grade.
You'll be assessed through progress tests, summative examinations, and coursework in the form of detailed laboratory reports.
In your final year, you'll write a detailed report based on an investigative project carried out through the academic year. This will be assessed through a presentation and oral examination as well as through the quality of the written report.
Professional accreditation
On graduation, you'll be eligible to apply for Associate Membership of the Royal Society of Chemistry (AMRSC).
Entry requirements
In addition to meeting the University's standard entry requirements, Government quota and non-quota students get on to the programme through the Chinese University Matriculation exams:
this programme is only available for Shanghai students studying on the BSc (Hons) Chinese Medicinal Science / BSc (Hons) Herbal Medicinal Science (Dual Award), which is delivered by us in collaboration with Shanghai University of Traditional Chinese Medicine (SUTCM)
no other students are eligible for this programme, and therefore will not be offered to UK/EU or other candidates
Accreditation of Prior Learning
Any university-level qualifications or relevant experience you gain prior to starting university could count towards your course at London Met. Find out more about applying for Accreditation of Prior Learning (APL).
English language requirements
To study a degree at London Met, you must be able to demonstrate proficiency in the English language. If you require a Student visa you may need to provide the results of a Secure English Language Test (SELT) such as Academic IELTS. For more information about English qualifications please see our English language requirements.
If you need (or wish) to improve your English before starting your degree, the University offers a Pre-sessional Academic English course to help you build your confidence and reach the level of English you require.
Modular structure
The modules listed below are for the academic year 2021/22 and represent the course modules at this time. Modules and module details (including, but not limited to, location and time) are subject to change over time.
Year 3 modules include:
Where this course can take you
On graduating, you'll be well equipped to pursue a career in herbal medicinal product development, quality control and assurance work.
You'll find career opportunities throughout the science-based industries, particularly the pharmaceutical, natural product, biotechnology, food and agricultural sectors.
The programme is also excellent preparation for advanced postgraduate study.
Placements
If you're studying full-time, you can choose to study either at London Met or at Shanghai University of Traditional Chinese Medicine (SUTCM), where all teaching is in English. If you choose the latter, you'll receive a Certificate of Completion from SUTCM on graduation.
You'll also have the chance to complete a placement year working in the industry.
Additional costs
Please note, in addition to the tuition fee there may be additional costs for things like equipment, materials, printing, textbooks, trips or professional body fees.
Additionally, there may be other activities that are not formally part of your course and not required to complete your course, but which you may find helpful (for example, optional field trips). The costs of these are additional to your tuition fee and the fees set out above and will be notified when the activity is being arranged.
If you're a UK applicant wanting to study full-time starting in September, you must apply via UCAS unless otherwise specified. If you're an international applicant wanting to study full-time, you can choose to apply via UCAS or directly to the University.
If you're applying for part-time study, you should apply directly to the University. If you require a Student visa, please be aware that you will not be able to study as a part-time student at undergraduate level.
If you're applying for a degree starting in January/February, you can apply directly to the University.
When to apply
The University and Colleges Admissions Service (UCAS) accepts applications for full-time courses starting in September from one year before the start of the course. Our UCAS institution code is L68.
If you will be applying direct to the University you are advised to apply as early as possible as we will only be able to consider your application if there are places available on the course.
To find out when teaching for this degree will begin, as well as welcome week and any induction activities,
view our academic term dates
.