Year 12 Summer School 2023
Are you in Year 12?
Our free summer schools give you a great chance to explore university life and discover what your course will really be like.
What you'll get up to
You'll attend a range of lectures, seminars and hands-on workshops taught by our leading academics, giving you an in-depth taste of studying at degree level. You'll also get lots of tips and advice on applying to university, student finance, personal statements and much more.
How it works
Our Summer School is usually held at our campus in Holloway for week one and Aldgate for week two. We will have a range of fantastic courses available and you'll have the opportunity to join us at London Met for a week of interactive and intriguing activities. Our Summer School is completely free! Please note that all courses are non-residential and we cannot provide accommodation.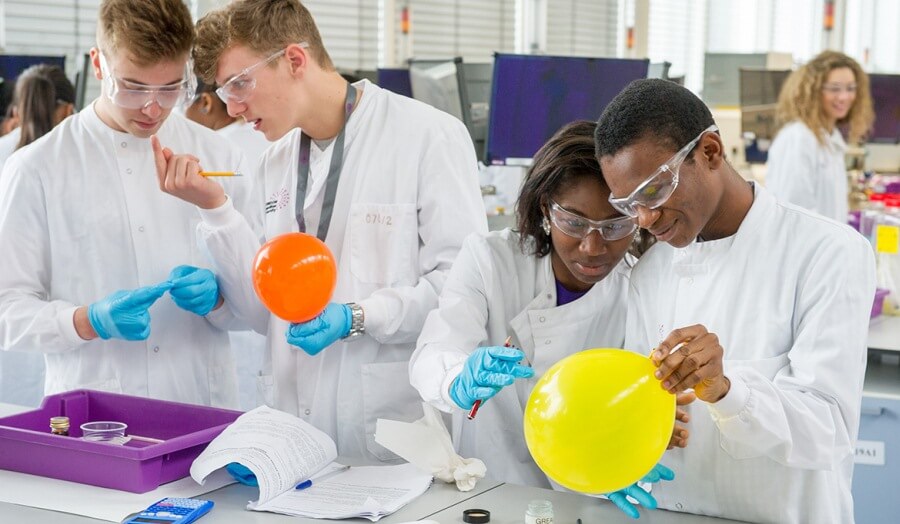 Summer School subject areas
Week one:

Monday 3 – Friday 7 July 2023

Holloway campus

Academic school

Areas covered

Course information

Law

We'll introduce you to the fascinating world of the British legal system. You'll learn how law is relevant to what sometimes might appear to be the most mundane aspects of our lives. Plus how law has developed over hundreds of years and continues to develop today in response to increasingly rapid social, political and technical change. You can even participate in a debate in our mock courtroom.

School of Social Sciences and Professions

Equality and social justice

The Summer School will provide a week of activities focused on exploring the key social question of race equity. Each day, a range of expert professors and lecturers will lead sessions in which the question is considered from different perspectives including culture, gender, history, politics, migration, education, housing and health. This summer school will be of interest if you're considering a career in international relations, politics, social work, youth and community work, central and local government, probation services, health and social care, psychology, criminology and education.

Chemical and pharmaceutical sciences

Join us for a week exploring disciplines linking chemistry and pharmaceutical science. This year sessions will include extraction of natural products, separation of compounds and analysis via thin layer chromatography, nuclear magnetic resonance and infra-red spectroscopy. Sessions will take place in the University's £30m Science Centre. We'll also be investigating fingerprints and why they're used in forensic science.

Robotics

You'll have an introduction to robotics and engineering with a focus on flow chart programming through robotic (MoWay) cars. We'll also look at 3D modelling and 3D printing.

Week two:
Monday 17 – Friday 21 July 2023

Aldgate campus

Academic school

Areas covered

Course information

Photography

You'll be learning how to shoot street photography. The activity includes learning how to use cameras, shooting in daylight and framing images in camera. This project will take place in the photography workshops and off-site in the inspiring urban landscape around London Met's Aldgate campus site. You'll also be shown how to use your photographs  in our specialist print workshops, where you get to work alongside the print tutor, learning and experimenting with the print techniques of lino cut and Riso printing.

School of Art, Architecture and Design

Architecture

Our academics are renowned practitioners who will provide you with technical expertise and insight into industry best practice within a constantly evolving arena. You'll learn a combination of traditional and contemporary practices as well as basic principles and new innovations. Teaching staff come from some of London's most exciting architectural practices and combine experimentation and research with extensive practical experience.

Design

In the Summer School you'll look at 3D in particular, the design and production of objects. You'll explore your creativity through research-active practical projects, in which final objects are informed by the both the requirements of industry, plus your ambition and talents as a designer and maker.
For further information please email Kevin Simpson, Schools and Colleges Outreach Officer: summerschool@londonmet.ac.uk
"Very informative, not only in subject area but also about general university life. Definitely a worthwhile experience."
"The Summer School has allowed me to experience new things out of my comfort zone and has helped my decision to go to university greatly. Can't thank you enough."
"Very interactive and informative, with a chance to meet friendly students and make new friends."
"This Summer School has made me feel confident with going to university as now I know what life as a student will be like."
"A very good experience which will help you to gain key skills, learn more about university life and help you make a decision."
95% said it was useful for their current school/college studies
90% said they felt more prepared to attend university
94% said they would recommend the summer school to future students