Rehabilitator of elite athletes for FIFA and Arsenal Academy, Sports Therapy BSc (Hons) alumna Sharon Heidaripour discusses why she chose London Met for her degree.
Sharon's career path started when she secured a placement as a sports therapist at Chelsea Football Club (FC) Academy (Boys U9 to U16) while she was studying towards her Sports Therapy degree at London Metropolitan University. She was with the Academy for four seasons, providing injury treatments and functional rehabilitation to the team and first aid cover on match days. Since then, she has been working at the Arsenal FC Academy (Boys U9 to U11) providing effective Sports Therapy to support upcoming talented footballers towards building a successful career.
Sharon has also been working as the main tournament therapist for the Fédération Internationale de Football Association (FIFA) female referees. This role is mainly focused on injury prevention and promoting recovery whilst at tournaments, but also involves the management and treatment of injuries. So far, she has worked at numerous major sporting events with the FIFA female referees, including the London Olympics (2012), U17 Women's World Cup in Costa Rica (2014), U20 Women's World Cup in Canada (2014), Women's World Cup in Canada (2015), as well as tournaments for the Algarve Cup (2013 and 2015) and a seminar event in Zurich (2015). Sharon has recently been selected to work as the main therapist for referees at the Under 17s Football World Cup in Jordan.
Sharon, you've been working non-stop since you graduated from London Met – tell us what you've been up to…
I've been pursuing my dreams, working in football as a sports therapist and fitness coach, mainly in men's football, with under 7s to under 18s, as well as with senior players ranging from grassroots level, through non-league and premier league academy clubs such as Arsenal FC and Chelsea FC, all the way up to international level. I have also been working in international settings, with roles at the Caribbean Cup, Women's Euro, Women's World Cups and the 2012 London Olympics. I've also completed a master's in football rehabilitation and have been working as a personal trainer, training the non-football population, mainly for weight loss and injury rehabilitation.
You also set up your own business, OneLife Performance. What inspired you to go it alone?
I always wanted my own business and to be my own boss, so it was just a matter of time. I have been self-employed during most of my sports therapy career and it made sense to take it to the next level. At the moment I am in the process of expanding it, so it's exciting times!
Can you describe a typical working day at FIFA tournaments?
A typical working day would start around 7am and go on till 11pm, sometimes it starts earlier and finishes later. During this time I do a mixture of work depending on the individual needs, there's a lot of tapings, strappings, injury treatments, recovery sessions, yoga therapy, mentoring, writing reports etc. I also assist with the daily training sessions, fitness assessments and overall mental and physical support. Although it's non-stop, it's such a great positive working environment, I love it!
You've also been involved in a sports therapy project in Costa Rica. How did that differ to working in the UK?
I absolutely loved Costa Rica, it's such a beautiful place with amazing people! To be honest the work didn't differ, I was there with FIFA for the Under-17 Women's World Cup and it was business as usual, 15-16 hours work a day for four weeks, buzzing atmosphere and great surroundings.
The football industry tends to be quite male-dominated. Have you ever found it a difficult area to work in as a woman?
Of course it's been difficult at times, usually I've been the only woman, especially working in men's football. Some males really try to make it hard for you, but I've used it to my advantage. My motto is what doesn't break you, will make you.
Can you tell us a little bit about your background?
I was born in Iran, but brought up in Sweden from a young age. I moved to London at the age of 20 to study English for six months, but fell in love with London and 15 years on I am still here.
My biggest passion in life is football. I played as a youth and was on a scholarship at an academy in Sweden and my biggest dream was to become a professional player but my career and dream ended due to severe knee injuries.
What made you choose to study at London Met?
Years later I decided to follow up on my dream – I realised I could still reach the top by working with professional players. I appreciated that helping them to achieve their goals would also allow me to reach my 'old' dream. It was a no-brainer – I looked up courses and found sports therapy.
It really appealed to me since it was a sport-specific course, all the modules sounded very interesting and London Met seemed like a very good university. I loved the course, there were an equal number of males and females and I made many good friends for life. The facilities were great and there were lots of opportunities to do work experience. I also enjoyed social nights at The Rocket, the sports days (I used to coach the ladies football team) and all the fantastic people I met. I really had the best time of my life while I was studying at London Met, I still miss those days!
What were the sports therapy facilities like at the university?
The (sports therapy) clinic was great because we could practise hands-on work such as injury assessments, manual and electro therapy, gym based exercises, and in the big sports hall we used to go through all the functional rehab exercises and other creative practical work.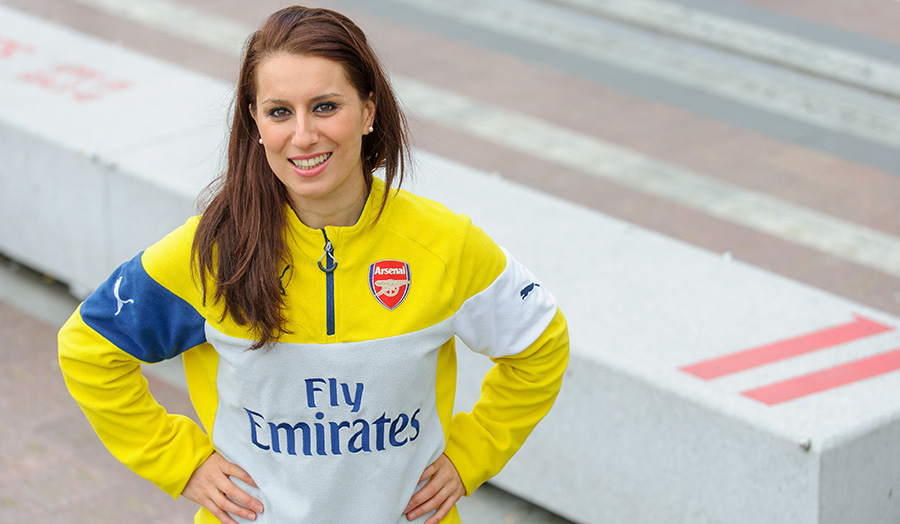 Sports Therapy courses offered at London Met