Natalie Lewkowicz graduated with a BA in Advertising, Marketing Communications and Public Relations from London Met. She talks about her time here and her current role as a Marketing Assistant at London Met through the University's graduate intern scheme.
Tell us about why you chose London Met and what you were studying at college/school before?
My A-level choices were: English Literature, Psychology, Art & Design, and Photography. I was originally aiming to do Animation at the University of Lincoln with a gap year. However, I had a change of mind and Advertising was where I wanted to be. Therefore, after a long, hard search, London Met appealed to me – a decision I have never regretted.
What did you study at London Met and how enjoyable and rewarding did you find your course?
I studied Advertising, Marketing Communications and Public Relations. All of the modules were very rewarding and I found them extremely enjoyable. During the course of my degree I found myself revelling in marketing and the creative side but, saying this, I still thoroughly enjoyed all modules. My dissertation was extremely rewarding for me and something I really enjoyed, and still show off wherever possible.
How have you been supported through your studies and what services does the University offer to help you?
I feel as though I have had the right balance of support and independence given to me throughout my studies. Having an academic tutor to help me over the years, plus access to Weblearn, was very helpful at all times. Weblearn is where all leaders' notes and class presentations are regularly updated and accessible before lectures or seminars. This was amazing for class preparation and studying for exams.
How did you find your role interning as a Marketing Assistant at the University?
I found the post through London Metropolitan's employment service, which I signed up for after graduating: London Met Careers itself is very successful and extremely helpful — full of opportunities inside and outside of the University.

The intern program is a new initiative which is enabling graduates like me to get their foot in the door and really experience what it's like to work for a big organisation. The competition is huge, I was even competing against my friends!

There are many experiences and skills that I'm gaining throughout my internship, from improving my organisational skills to increasing my creativity. I'm working closely with the University's brand guidelines and maintaining the University website, therefore I am gaining various IT skills across different types of software. I am working very closely with the marketing team as a whole, alongside my individual role, so there's a lot of experience to take on board and get involved with.
What are you future career aspirations and how do you think the University has helped you to get on the right path?
Four months in, and the internship already feels like an amazing stepping stone for me. I am already thinking about where I want to be in the future and keenly applying for positions.
With amazing hands-on experience, working so well with the team and enjoying what I do, marketing is where I want to be. In just two months I feel like I have learned so much already and there are plenty of chances to take advantage of extra training, such as advanced content management system training – which I have just completed. The internship is helping me to build an incredibly strong CV – alongside all the projects I am working on, I am sure that the experiences that I am being afforded will be extremely valuable in the near future.
What's it like studying in the capital? How is your social life? What kinds of things do you enjoy doing in your spare time?
I think everything about London is amazing and truly has made my time at university better, and I feel it may have been very different from others' experiences. I'm from South Yorkshire so I very much appreciate living in the capital, and it has become something I'm also known for now. My friend and I both moved down four years ago and we now live together, so my social life is very busy and exciting, with our to-do list forever growing even after all this time. I enjoy being busy and being out of the house, exploring and seeing things. Sometimes London is a lot more than cocktails and shopping.
Is there any advice you would give to our readers (16-17 year olds) about how to choose the right course and university?
Think long and hard about where you see yourself in three years' time, as well as choosing something you will thoroughly enjoy. Your decision should be carefully considered regarding the course structure, the quality and the kind of support you will get from the university, but the social aspect and location are very important too – as where you are and the people you are surrounded by will quickly become a very large part of you and your life.


This interview was originally published in in Loud Magazine (Issue 50).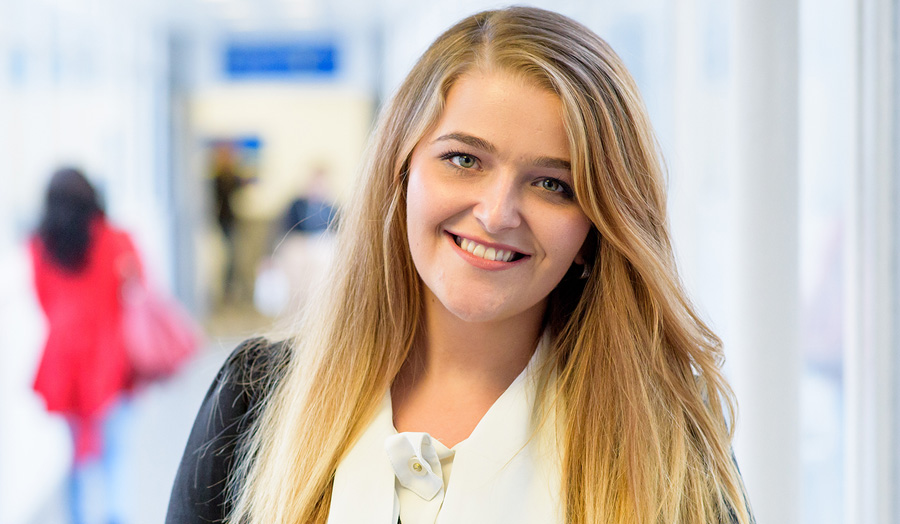 Advertising courses offered at London Met