It's quite a career change to go from working at London and Paris Fashion Week to supporting survivors of sexual violence, but Michaela-Clare Addison made the switch with the help of London Met's Woman and Child Abuse MA. We find out more.
Tell us a little bit about yourself (where you're from, where you grew up)
I am a proud northerner (although living in London for almost nine years, my accent has been somewhat stolen!)
I grew up in Blackpool, in a very working-class family. I've had quite the journey to get to where I am today with a few different career directions – before the fashion world and then subsequently supporting survivors, I actually trained to be a dancer, predominantly classical ballet!
What brought you to London Met and why the career change?
I worked so incredibly hard to get to where I was in the fashion world, harder than some of my peers due to somewhat limited opportunities afforded to me because I was working class.
I spent time working with adidas in Bavaria, Germany, Viktor&Rolf in Amsterdam and smaller luxury brands in London with routine trips to Paris and London fashion weeks. It sounds like the dream to some, but looking back, but it was probably one of the most tiring and unhealthy periods of my life.
I was highly conscious of the exploitation (of largely women) in the fashion world; both in factories and of designers themselves; alongside the realities of producing clothes, which are sold for an extortionate amount of money and the unjust class disparities of the world.
The final push was recognising the impact on my own mental health from being in such a demanding industry and some personal experiences of male violence.
I wanted to do something which actually felt important to me in such an unfair world, so I left the fashion world abruptly to start a new journey. It wasn't easy, and was quite scary to be living in London, without a fixed plan in place – I worked in call centres which allowed me to start volunteering on a rape crisis helpline.
While working on the helpline, and realising I had quite strong feminist beliefs, I wanted to understand the theory behind them. A colleague mentioned the Women and Child Abuse MA at London Met... and let's just say I never looked back!
What did studying at London Met mean to you?
Studying at London Met was life changing for me, both personally and professionally. It has allowed me to gain confidence in myself and provided me with invaluable set of tools to keep pushing my work and views forward.
I remember on my first day coming home and feeling completely overwhelmed. I really didn't think I was going to be able to complete the course because I didn't think I was clever enough; it was all so very new to me. I was used to working with fabrics, not words or data!
I can't thank my tutors enough for how brilliant they were – they were so thorough and calm in their teaching. Pushing for us to understand the importance of data, unpicking, seeing gaps and asking questions; taking theory and seeing how that is then translated into the practical.
I remember the first bit of feedback that I got – "your passion overtakes the statement". I completely agree with that now, and would like to think the course has supported me to be reflective and develop a critical mind. I am still just as angry – I just explain my point in a much calmer manner now!
Tell us about your current role.
I have recently moved back to the North West, as a Senior ISVA (Independent Sexual Violence Advocate). I manage six front-line workers and oversee the triage process into a very busy ISVA service which covers the large area of Lancashire; including my hometown Blackpool.
As ISVAs, we provide both practical and emotional support to all survivors of sexual violence throughout the criminal justice process.
It felt important to me to come back home with the specialist knowledge and experience I had gained within my previous role and the invaluable learning from London Met.
Specialist services are few and far between in Lancashire, unlike London. It's now my goal to continue to push for survivors to have access to the support they need to move forward through the violence and abuse which they have been subjected to.
What is your biggest passion in life and where did that passion come from?
To support the liberation of all women and girls!
Every experience I have had personally has led me to this, each barrier I have pushed through, each battle I have somehow won and each door I have kicked open. All of these combined with finding feminism and sisterhood have set alight a deep burning fire in me and I am not sure that it will ever go out… I am not sure that I could stop pushing for a fairer society.
What drives you?
The drive to make the world a fairer, nicer place to be.
Working directly with survivors of sexual violence; I see firsthand how things can start to feel easier for individuals with the right support in place.
This drives me; to know that things may change, even in the smallest way for someone and make their life a little brighter.
What's the proudest moment in your life?
I have had a couple in the last few years…
I was asked to speak at the Women's Liberation conference in 2020 organised by Women's Place UK and hosted by the UCL Women's Liberation Special Interest Group. It was 50 years on from the first national Women's Liberation conference in the UK and brought together academics and activists for a day of feminist panel discussions and practical campaigning workshops.
I was facilitating a workshop with the incredible anti-FGM (female genital mutilation) campaigner, Hibo Wardere, around the prevention of Violence against Women and Girls. It was an amazing experience I will never forget.
Another proud moment was walking across the stage at my master's graduation a few weeks ago; it made me feel incredibly emotional, which I wasn't expecting. I am so proud of everything I have achieved within the last few years and it made all the hard work and late nights worth it.
Tell us a little bit about your interests outside of uni and why they are important to you.
Rummaging in vintage and charity shops – I love a bargain and to find some treasure to take home.
I am also massively fond of walking, and just being in nature… I have been known to also have a dance amongst the trees from time to time.
Working within a sector where you are hearing about the trauma inflicted on people daily, I need an outlet and to feel calm and grounded and to be reminded of the natural beauty in the world.
How were the other students and the teaching staff on the course? Are you still in touch?
I feel so incredibly privileged to have been taught by some of the leaders in the VAWG (violence against women and girls) sector, I am still in touch and know if I had any questions, I could continue to reach out.
The women I met on the course continue to inspire me and it's very exciting to see what's next for all of us. We largely keep in touch via social media due to lockdowns and all being extremely busy women trying to make a change in the world!
Can you tell us more about your final project?
Throughout completing my master's, I was working full-time as a Young Women and Girls Advocate, and then I became the Senior Advocate for East London Rape Crisis. I supported 11 to 18-year-old females who were 'at risk of', or had been subjected to sexual violence. This was a job I loved very much and really guided me to my dissertation topic.
Some of the young women and girls I supported had been exploited by adults within criminal gangs; so I saw firsthand how they were responded to by other services. This pushed me to use the tools I had and access to training to see what was really going on.
The title of my dissertation was: Overlooking the (in)VISIBLE minority. To what extent are the specific experiences and need of young women and girls addressed in training focussed on criminal gangs?
My dissertation explored the ways in which the specific experiences and needs of young women and girls were addressed within trainings focussed on criminal gangs.
I attended trainings as a front-line practitioner to complete an ethnographic study within a feminist framework. The research findings highlighted that young women and girls' specific experiences and needs were largely missing due to the unhelpful and dangerous gendered focus on criminal gangs. Harmful gendered stereotypes were found to be a key tool used within criminal gangs to position young women and girls.
Young women and girls' specific experiences were at the heart of this dissertation and guided each stage of the study, placing the violence they are subjected to within Kelly's (1988) continuum of violence... Prof. Liz Kelly was also my dissertation tutor providing support throughout the process… pretty amazing right?!
Do you have any advice for anyone else considering studying at London Met?
Do it!
I have already encouraged previous colleagues to join the Women and Child Abuse MA, and will continue to do so.
London Met is a brilliant uni, and anyone thinking of starting or getting back into education should give it a go.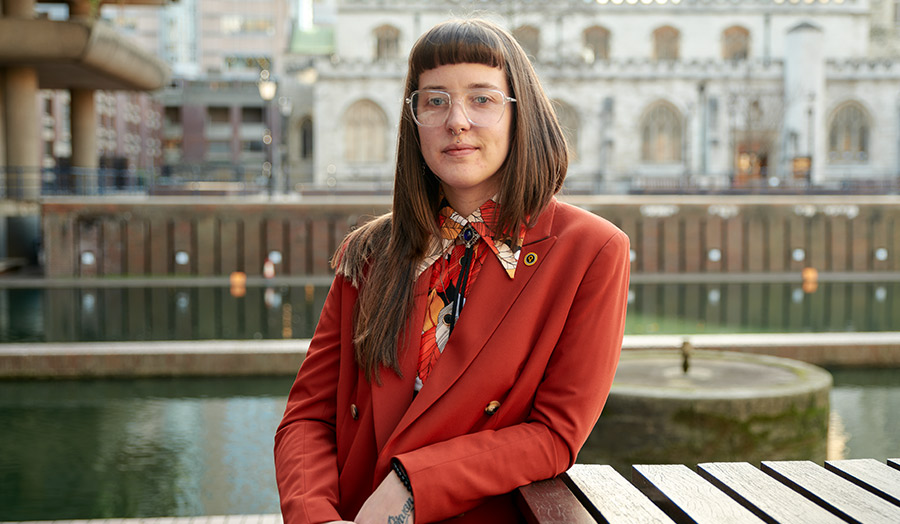 "My biggest passion is to support the liberation of all women and girls. Every experience I have had personally has led me to this, each barrier I have pushed through, each battle I have somehow won and each door I have kicked open."