Having some of his friends from his childhood home in Ghana pass away from Malaria was one of the reasons Dr Anthony Boateng decided to pursue a career in the pharmaceutical industry. He's now the CEO and founder of London-based biotech start-up An & An Global as well as a university lecturer.
Following his first degree in Herbal Medicine at Kwame Nkrumah University of Science and Technology (KNUST), a short course in Chinese medicine in Kenya spurred him on to consider studying abroad – also helped by the fact that London in 2012 would involve the Olympic Games. Anthony chose Pharmaceutical Science (now Pharmaceutical Science and Drug Delivery Systems MSc) at London Met, attracted by the University's £30 million Science Centre and he hasn't looked back since. We caught up with him in 2021 to see how he's been reflecting on his journey.
How did you find the experience of studying abroad?
Coming from Ghana straight to London and being the first time away from Africa, this experience has been so eye-opening for me. I was so grateful for this opportunity to see the diverse communities within London and was honoured to have the chance to be involved in things such as the 2012 London Olympic Games as an NUS student ambassador and the Diamond Jubilee celebrations.
I was also very happy that I was able to encourage young people from certain poorer areas of London to further their education. I told them that if I can come on a plane from Ghana you can get on a bus from up the road for sure!
Since graduating (top of your class) in 2013, you've worked in medical research for a number of years, gaining a PhD in the process. What have been the key highlights for you since your time at London Met?
A key highlight for me has been making use of skills and experiences I derived from my time at London Met to further advance my academic and medical research career here in London by undertaking a PhD in Biomedical Science (I graduated in 2017).
I noticed that you focused particularly on research into malaria – what attracted you to this area in particular?
Growing up in Ghana, I had friends who passed away from malaria, so I developed a passion to conduct more research into malaria and help develop more effective medication against different strains of malaria. My MSc project at London Met which was carried out in the very well-equipped Science Centre was focussed on developing a new and more effective anti-malarial drug range called GDH-inhibitor antimalarials. With help from my supervisory team at London Met, I was successful in synthesising a very pure form of this potential anti-malarial medication. These will eventually need to undergo clinical trials before being used as anti-malarials.
We understand you've recently founded your own business – An & An Global Limited. Can you explain a little more about the business?
We began this London-based biotech start-up An & An Global (short for Anthony and Angelina (wife and co-founder)) with the vision of a world in which medication and treatments would be gene-specific and tailored to the genetic outlook of patients. Our primary aim is to create biotechnology which will help in the design and prescription of medication which are most effective and have reduced side-effects because of being tailored genetically to patients. An & An Global believes in collective global efforts for solving global healthcare problems. We believe that our diversity makes us stronger; so we also help globally in the production of high-quality medicine that's affordable for low-income families through the use of cutting-edge technology, skill and expertise in drug manufacturing which of course I picked up during my study at London Met.
An & An Global is proud to be part of a multi-million-pound project to facilitate the construction of Ghana's first sustainable and eco-friendly pharmaceutical factory powered by 500 acres of solar energy together with our international partners. In 2021 we also signed a joint venture partnership with a pharmaceutical company in Ghana to support them technically and financially to produce high-quality affordable medicines in Ghana and Nigeria.
Was it difficult to set up? What are your top tips for starting your own business?
To be honest setting up your own business can be very scary; and it's okay to be scared because it is normal and shows that you are thinking the whole process through carefully. My top tip is to NEVER GIVE UP! It's okay if you don't get it right. Just learn from your mistakes and do better. Once you give up, that is the end of the dream and the end of the impact which you could've had including jobs which you could have created. Think about all these if you ever feel like giving up on starting your business. My final tip is NEVER STOP DREAMING because that is where it all begins.
Can you tell us about your London's Entrepreneur First (EF) LD12 cohort experience, and how you've also been involved with the National Institute for Health and Care Excellence (NICE)?
In March 2019, I was head-hunted for London's Entrepreneur First (EF) LD12 cohort. I was very excited because EF is one of London's biggest accelerators with a portfolio of over 200 companies worth about £1.5 billion. During EF, I was given a stipend as I thought of and planned new ideas to disrupt the UK's biotech industry. It was during EF that I began working on pharmacogenomic modules for genetic-specific prescriptions. This program gave me the opportunity to ideate with leading authorities in the UK's 100K genomics project, the National Institute of Health and Care Excellence (NICE), and I participated in the pharmacogenomics conference at John Hopkins University, USA in May 2019. My EF experience encouraged and equipped me to start An & An Global Limited.
We understand you're also a visiting lecturer at a London university in life sciences – can you explain more?
I enjoy using my knowledge and skill to help and encourage young scientists in their pursuit of knowledge and academic development. I have now been accredited as a Fellow of the UK's Higher Education Academy, having applied relevant skills derived from pedagogy in imparting knowledge to my students. It is always amazing to see the faces of students light up as they gain a deeper understanding of concepts which they thought were very difficult or impossible to understand.
How has Coronavirus affected you and your work?
This coronavirus pandemic has been very challenging and affected ways in which we carry out our day-to-day life. It has meant teaching students online and carrying out most of our work virtually. In response to the pandemic, my company began working on in-door navigation software to help shoppers to distance socially in-store and locate shop items easily.
Can you tell us about your COVID-19 Charity (1 Million Biographies Project)?
In response to the COVID-19, pandemic, my wife and I through our Foundation (Anthony & Angelina Osei Boateng Foundation) are launching the 1 Million Biographies Project.
Many of the older generation have sadly passed away during this pandemic without having their biographies and life experiences written as a legacy for this younger generation. Our project aims to freely record and publish the biographies of ordinary people in UK and worldwide aged 70 years and above to enable the younger generations to learn from their life experiences.
If you were a student back at London Met, would you do anything differently this time round?
Yes definitely! Time runs very fast when you are having fun so I would've taken time to enjoy the moment more and participate in more events at London Met.
Finally, I remember receiving a citation from the Queen when I was a student at London Met after writing an article during Her Majesty's 2012 Diamond Jubilee celebrations. If I were to return to London Met, I would've written even more articles.
What was your favourite thing about London Met, now you've had a few years to look back on it?
I really enjoyed being a student ambassador at London Met and our open days. It was always nice to meet prospective students and show them around. It also helped to boost my confidence.
Any advice or tips for anyone thinking about coming to London Met to study?
I remember like yesterday when I encountered London Met's international student recruiter in Ghana and was weighing the decision whether to come and study at London Met. Fast forward to 2021 (eight years after completing London Met), I would say it was one of the best decisions ever.
There are lots of wonderful people and great opportunities at London Met, so take full advantage of all these opportunities and become the best you can be. Don't forget to enjoy every moment of your London Met experience.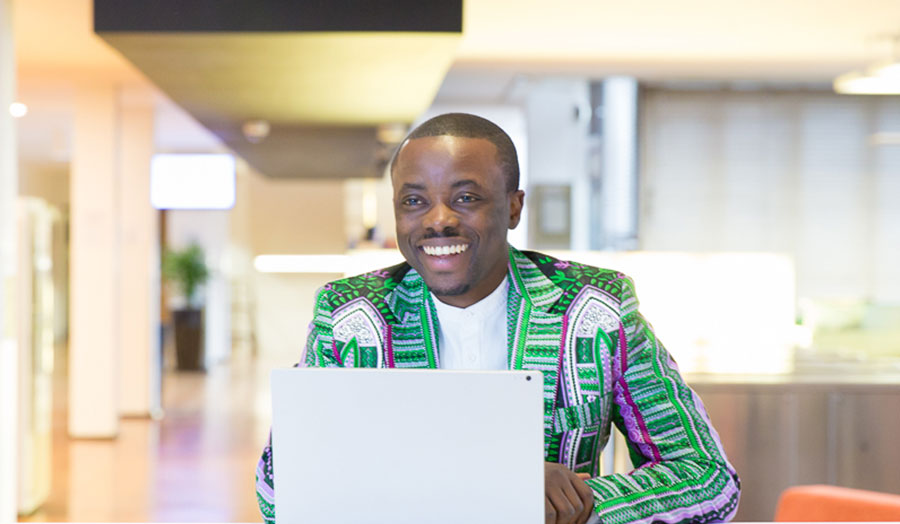 Our company believes that our diversity makes us stronger; so we also help globally in the production of high-quality medicine that's affordable for low-income families through the use of cutting-edge technology, skill and expertise in drug manufacturing which of course I picked up during my study at London Met.