Aleema Iqbal recently completed her Pharmaceutical Science - BSc Hons at London Met. Aleema will be continuing her studies with us on our Pharmaceutical Science and Drug Delivery Systems - MSc in the new academic year. We caught up with Aleema recently to ask a few questions about her time so far at London Met.
Can you tell us a bit about your background and what led you to London Met?
I went to a secondary school in Bradford that was rated 'special measures' by Ofsted. I wasn't sure what I wanted to do in the future but after a school trip to Bradford University where we made paracetamol in a lab, I knew I wanted to do something scientific. I went online to do some research and found this degree on the London Met website, which was perfect for me.
What was your favourite project or work experience on the course – and why?
My favourite research project was: 'A novel rearrangement in the synthesis of plasmodium falciparum GDH inhibitors as potential antimalarial agents'. Working on this project with help from Dr Bhaven Patel and Dr Kevin Devine was an exhilarating, rewarding and memorable experience. I'd been considering a career in the drug development and research industry, and this project gave me a platform to be able to excel in my future career. I also had the support of several people whose efforts and hard work deserve to be appreciated and acknowledged.
Did you gain any work experience or do any work-related learning on your course while at London Met?
We went on a really useful trip to an industry-leading pharmaceutical company called Intertek, who have been around for more than 130 years. Companies from around the world depend on them to ensure the quality and safety of their products, processes and systems. This trip was very rewarding as it gave an insight into the day-to-day running of a pharmaceutical company, where I could learn which specific teams work on certain projects and how certain lab equipment is used. Trips like these show how London Met helps their students with their development by providing unique experiences, not only within the University but also outside of it.
How did you find the facilities at London Met?
The facilities are amazing! My favourite place is the Superlab and I spent a lot of time here throughout my three years at London Met.
Was there anything you found surprising about the University?
I was surprised at just how supportive and helpful the lecturers are, they genuinely want the best for their students and it really shows through their support and efforts. Every few weeks the course leader would have a progress meeting with you to provide tailored guidance on how you could improve and also discuss what you're doing well at. This surprised me because I know it's not the case at some other universities.
Did you feel supported by the lecturers on your course?
I felt very supported by the lecturers on my course, particularly by Dr Bhaven Patel. Not only did he guide me through my research project, but he also had regular meetings with me about my progress and encouraged me to achieve my goals when I was completely lost. He believed in my potential, motivated me when I was stressed and constantly gave his support, encouragement and dedication. I also felt very supported by many other lecturers on my course who hosted chemistry drop-in sessions for individuals who needed help, provided one-to-one meetings for guidance and responded to emails within 48 hours. During Covid-19 lockdown, the lecturers were very supportive and made sure we had everything we needed during these difficult times – they're truly amazing.
Can you tell us about life after London Met, what you are doing now and did London Met help shape your next steps?
I've just graduated with a first-class honours degree in Pharmaceutical Science - BSc (Hons) from London Met and I'm now starting my Pharmaceutical Science and Drug Delivery Systems - MSc here too. I'm looking forward to spending another year at London Met.
Do you have a favourite place in London?
Westfield shopping centre and Leicester Square.
Why did you pick London Met and particularly your course over other institutions/courses?
After I decided I wanted to study pharmaceutical science, I applied to five universities through UCAS and received conditional offers. But on results day, my plans changed slightly so I applied to London Met through Clearing. I have to say, it was by far the best decision I've ever made. During my time here, I've achieved a first-class honours degree, taken part in the Society of Chemical Industry National Undergraduate Competition and received an award from the Academy of Pharmaceutical Sciences. This wouldn't have been possible without the support from the lecturers at London Met. I've grown as a person, become a lot more confident, discovered my passion and met many amazing people. The three years I've spent at London Met have been some of the best years of my life.
What was your favourite thing about your time at London Met?
My favourite thing about London Met is how diverse and multicultural it is. The student body brings everyone together by hosting some great events.
Any tips for new students?
I'd say work hard, show the lecturers you want to achieve and they'll help you as much as they can. They'll never make you feel like you're alone and you can go to them for help whenever you need it. Try your best not to be shy – form bonds with students on your course and other people around you.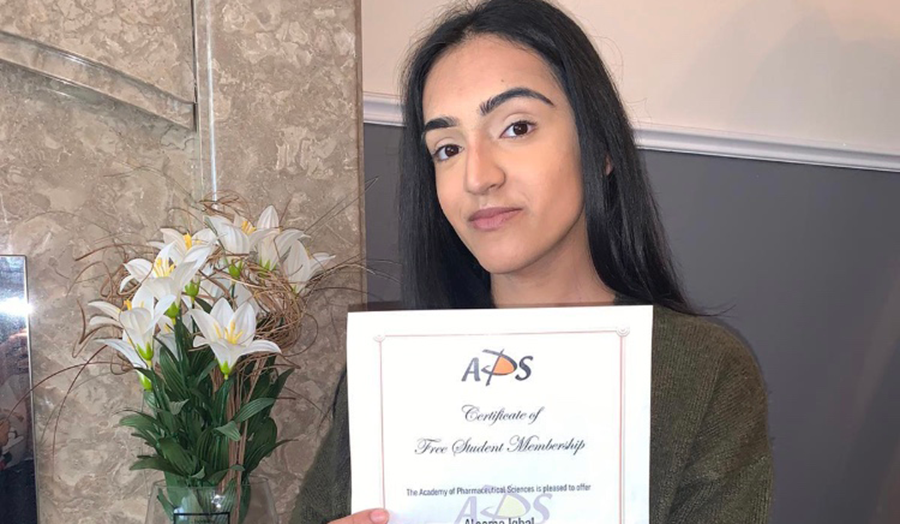 "I've grown as a person, become a lot more confident, discovered my passion and met many amazing people. The three years I've spent at London Met have been some of the best years of my life."