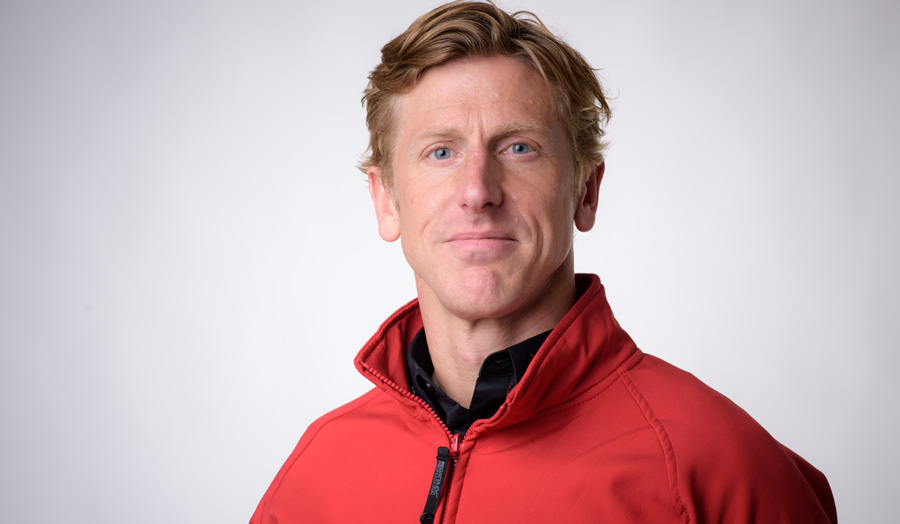 Christopher Chamberlin
Chris Chamberlin has an MPhil Clinical Physiology and an MSc in Sport and Exercise Sciences.
Between 2002 and 2015, Chris has held lecturing posts at Royal Holloway University of London, Middlesex University and Brunel University. Additionally, he has acted as a consultant physiologist, most recently at the Porsche human performance lab at Silverstone GP circuit.
Chris is a former elite triathlete, who is now pre-occupied with breathing, mountains, water, wild swimming, food, music, exploring and coffee.
Membership of professional bodies
Courses
Personal Training with Strength and Conditioning (Top-up) BSc (Hons)
Physical Education and Coaching (Top-up) BSc (Hons)
Sports and Dance Therapy BSc (Hons)
Teaching interests
Exercise physiology: Cardiovascular function, muscle, cardio pulmonary exercise testing (CPET), exercise biochemistry, immunity, fatigue, exercise in hot and high-altitude environments, fat metabolism, endurance, nutrition, high intensity exercise, skin and micro-vascular function
Specific populations: Ageing, spinal cord injury, children, pregnancy, obesity, strength and conditioning in endurance athletes, motor-sport testing and prescription, elite endurance athletes
Research interests
Sudden death in black African athletes
Electrocardiogram (ECG) repolarisation changes and hypertrophic cardiomyopathy
Exercise and fat metabolism
High intensity exercise
Skin blood flow responses to exercise
Exercise capacity following electrically stimulated walking intervention in stroke patients
Physiological measurement experience
Cardiopulmonary exercise testing
ECG
Phlebotomy
Body composition
Laser Doppler fluximetry
Transcutaneous oxygen uptake
Thermal imaging
Clinical functional electrical stimulation
Capillary microscopy
Tissue interface pressure measurement
Published conference papers
Chamberlin, C, and Swain, I D (2002). Investigation into the pressure relieving capacity of a programmable air cell mattress. 3rd Bournemouth University Academic Biomedical Engineering Research Group meeting, (ISBN 1-85899-178-1), Bournemouth, UK.
Chamberlin, C, (2003). Skin blood flow responses to variations in the cycle time and pressure characteristics of alternating pressure mattress overlays. 4th Bournemouth University Academic Biomedical Engineering Research Group meeting, (ISBN 1-85899-1730), pp. 28-30, Salisbury.
Reeves, M A, Chamberlin, C, and Swain, I D (2003). Development of a programmable active pressure mattress. Annual Scientific Meeting of the Institute of Physics and Engineering in Medicine, (ISBN 1-903613-19-1), pp. 33-34, Bath, UK.
Khan, M S, Kairinos, N, Cadier, M (2005). The use of laser Doppler in determining timing for division of cross leg free flaps. British Journal of Plastic Surgery, Vol:58(1), pp. 120-121.