Chiara is an actress, director and movement coach, who also lectures in Theatre Arts for the School of Art, Architecture and Design.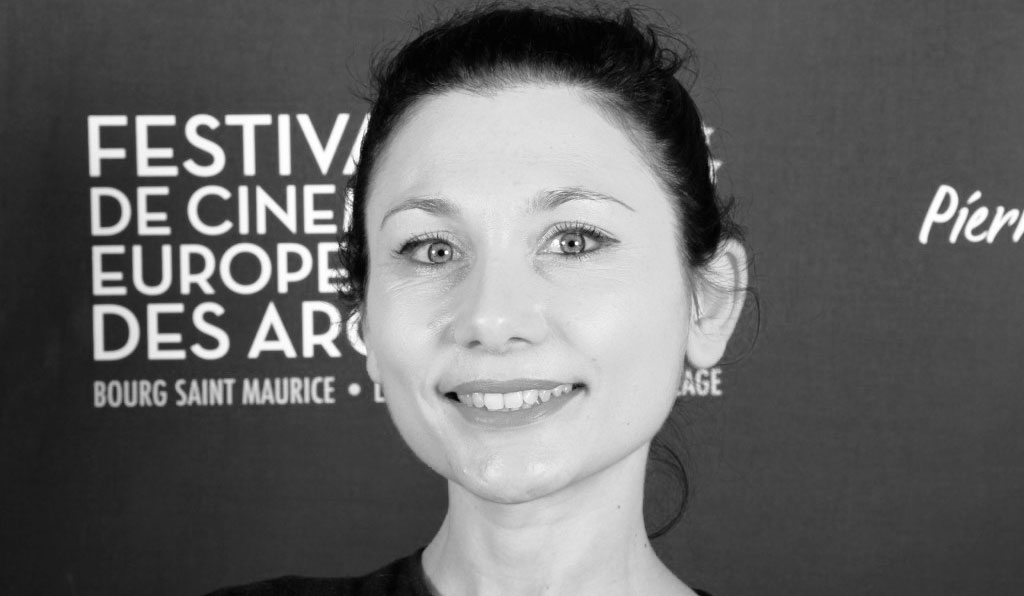 Chiara D'Anna
Chiara is a performer, a director and a physical theatre and Commedia dell'Arte specialist. Her PhD and current research at the School focuses on the legacy of Commedia dell'Arte in post-dramatic theatre with a particular focus on devised and ensemble performance.

Chiara has taught at some of the UK's top educational institutions including Goldsmiths University, Rose Bruford College, RADA, East 15 Acting School, Royal Central School of Speech and Drama, Laban Centre, National Centre of Circus Arts, The Young Vic, Exeter University and the Central School of Ballet. She runs regular workshops and masterclasses on devising, physical theatre, Commedia dell'Arte, movement and screen acting.

As the founding member and artistic director of the award-winning physical theatre company Panta Rei Theatre, Chiara creates visceral, poetic and visionary performances inspired by the Grotesque, the Surreal and the Absurd. Her body of work includes stage productions, multimedia performances, site-specific immersive work, happenings, performance-installations and Commedia dell'Arte shows. She has performed at the Pleasance Theatre, Riverside Studios, Greenwich and Docklands International Festival, Gardzienice Theatre Centre, CrisisArt Festival in Arezzo and at the Teatro Stabile di Torino (National Theatre of Turin, Italy).

As a screen actress Chiara starred opposite Sidse Babett Knudsen in the ward-winning The Duke of Burgundy (2014) after her debut alongside Toby Jones in Berberian Sound Studio (2012) – both directed by Peter Strickland. At the Toronto International Film Festival she won critical acclaims earning a special mention at the TIFF Springboard for the '13 Actors to watch out for' and a place in 'the 50 Best Lead Performances'. Her cinema credits include Native (2016), The Rook (2015), Circe and the Boy (2016) and Stars and Bones (2017) for which she received the Los Angeles Film Award for 'Inspiring Woman in a Film'.
BSc and MSc in Geology from the University of Turin
MA in Physical Theatre from Royal Holloway University, London
PhD in Performing Arts from London Metropolitan University
Physical theatre
Collaborative and devised theatre
Commedia dell'Arte
Methodologies for actor's training
Movement, dance and spirituality
Cinema
Screen acting
Supervisors:
Gian Carlo Rossi, Dr Jacek Ludwig Scarso and Lucy Richardson
Abstract from Dr Chiara D'Anna's full thesis:
This study aims to cast new light on our understanding, interpretation and practical explorations of Commedia dell'Arte's legacy and continuing relevance to contemporary performance. An original contribution to contemporary studies on the Commedia dell'Arte, this research highlights the striking similarities between Commedia's core principles and Lehmann's postdramatic theatre. Rather than a reinterpretation or re-contextualisation, my work can be described as a reinvention of Commedia Masks through a rediscovery of Commedia dell'Arte's principles, as discussed by Flaminio Scala in his prologue to Il Finto Marito (1619); first and foremost, the notion of 'Actor as Creator' that is foundational to my practice.
Utilising the ensemble devised piece, A Floating Caravan Under the Moon, and the solo-piece Home as case studies, this thesis discusses and analyses my work as a tutor, a director and a performer. It explores the efficacy of my physical approach to characterisation; more specifically my use of autobiographical material and Commedia dell'Arte techniques to develop a new Mask for the 21st century: the 'Experiential Mask'. Moving beyond the traditional notion of Mask as fixed-type or stock character, this alive, malleable and adaptable Mask is created by the actors in response to their reality, their world and their culture.
In answering the research question: How to develop a devising methodology drawing from Commedia dell'Arte's techniques and principles without necessarily utilising the traditional types, masks and aesthetic? This thesis evaluates my approach to devising discussing three main areas of practice: my ethos (Chapter 3.1: Artisan Theatre), my dramaturgical approach (Chapter 3.2: Accidental Narratives) and my theatrical language (Chapter 3.3: Stage Resonances). Each chapter provides a contextualisation within postdramatic (devised) theatre, a description and evaluation of practical methodologies and an analysis of my findings. The Conclusions draw on my reflections, emphasising the similarities and differences with existing practices in the field and the originality of my work.