Siân Moxon on rewilding the streets of London
Rewilding the streets of London
Using design research methods, Senior Lecturer in Architecture and Interior Design Siân Moxon reimagines London's streets for the benefits of wildlife and people.
Date: 22 April 2020
In the midst of an ecological crisis, wherein over 40% of species are thought to be in at least moderate decline, what can ordinary people do to help?
For Siân Moxon, Senior Lecturer in Architecture and Interior Design and Sustainability Coordinator at The Cass, part of the solution lies in 'rewilding' urban gardens and green spaces in ways that encourage biological diversity and regulate the environment. An architect by background, Moxon developed the initiative Rewild My Street using design research methods, hoping to show people precisely how they could use their gardens for the benefit of wildlife, the climate, and their own wellbeing.
As she explains, "a whole street of gardens adds up to quite a lot of potential green space. These areas could be a huge benefit to wildlife, and they can also form a wildlife corridor linking to larger green spaces in the neighbourhoods, like allotments, cemeteries, parks, and school playing fields. They have huge potential to act as wildlife habitats, but we're actually making them less hospitable as residents pave over their front gardens for parking spaces, lay artificial back lawns to sanitise things for their children, and remove trees."
In fact, a ten-year study found that London loses the equivalent of two-and-a-half Hyde Parks of green space per year. As part of the efforts to combat this, London was announced as the country's first National Park City in 2019. The mayor has underpinned this with a commitment to increase its green space by 50% by 2050, and its tree cover by 12%.
Rewild My Street started as a winner of a design competition around this initiative, called Imagine London as a National Park City. It seeks to help residents to adapt their homes, gardens, and streets for wildlife. Based around a campaign and a website which uses architectural drawings to show a vision of how a typical London terraced street could be transformed for the benefits of both wildlife and people. It shows different views of this street, reimagined as a green, vibrant environment, with a diverse range of species that are known to be attracted to urban gardens to inspire people with an aspirational vision of how their street could look.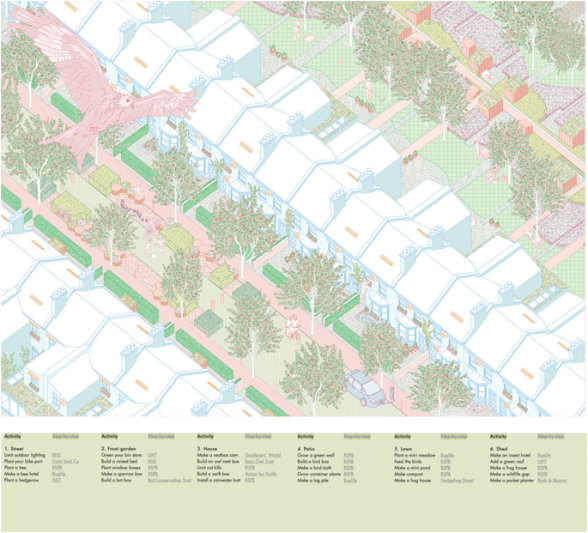 The drawings provide information on types of urban species Londoners could attract, the kinds of mini habitats that could be created in an urban environment, and practical advice on how these things could be implemented - through off-the-shelf solutions, such as an all-in-one container pond, or through DIY activities, like making a log pile.
'Rewilding' London, Moxon says, would have myriad benefits. "Contact with nature and green space dramatically improves our health and wellbeing in terms of both physical and mental health," she explains. "It also helps our regulated environment, helping to reduce things like flood risk or urban overheating that are going to be increasingly problematic with climate change."
The website was launched in 2018 and has been growing in terms of numbers of subscribers and followers on social media. People who subscribe to the website get a free wild makeover guide with five beautifully illustrated tips of how they can get started rewilding their own space, as well as a monthly wild makeover tip which is seasonal and tuned to the kind of things that will work in the urban environment.