Paris Fashion Week: Frolicking and fabulous fashion (and a snail or two)
London Met student journalist Rose Blanchard reports on the London Met Journalism Diversity Network's trip to Paris Fashion Week.
Date: 24 March 2023
Eighteen Fashion Marketing and Journalism BA and Beauty Marketing and Journalism BA students enjoyed four days and three nights in the French capital for Paris Fashion Week, thanks to the London Met Journalism Diversity Network - and a £5,000 grant from Drapers.
"I think it was a once-in-a-lifetime experience," said Amalia Radu, a third year student.
Among the highlights of the trip were a visit to the Flying Solo catwalk fashion show, a guided tour at the Fragonard perfume museum, a walk around the Van Cleef & Arpels jewellery workshop, a visit to a private atelier, and a talk by a luxury fashion journalist at Bloomberg, Angelina Rascouet.
Students tried some excellent french wine, ate amazing food including Boeuf Bourguignon and steak frites, and enjoyed a variety of Parisian desserts including macarons and crème brûlée. Unless they were vegan, of course.
"I loved the trip, honestly. I loved the activities we had planned, especially the catwalk. And I saw the van Cleef & Arpels museum, which I didn't even know existed," said student Bianca Jashnani, who is from India and studies on the Photojournalism BA course.
"This was my first time in Paris and in a way, it was a lot like London to me. The city centre is a lot like Oxford Circus and the Eiffel Tower was like the Tower of London."
Bloomberg: leading by example
The students were active in asking questions and quizzing Rascouet at Bloomberg, especially about her own coverage of recent fashion scandals. She referenced in particular the Balenciaga fiasco, in which the brand last November was accused of using BDSM imagery in a shoot involving children.
"I still have to be careful not to put my personal opinion, remaining neutral,'' she told students.
Said Amalia, who is from Romania: "We got a lot of insight on how the fashion industry actually works. Angelina the fashion reporter was really inspiring to all of us."
L'Ecole Van Cleef & Arpels, the school of jewellery arts, welcomed students to their studios, where they got to see the inner workings of how jewellery is designed and created.
Students also got to experience a real-life catwalk event hosted by Flying Solo, the self-proclaimed "largest platform for independent designers in the USA".
There was a variety of designers who showcased their work from casual streetwear styles to high fashion sweeping gowns, and one of the most stunning displays was an exclusively plus-size collection, designed by New Yorker Renee Cafaro.
Maisy Lily, 19, a PR Assistant said: "I have been to New York, Milan, London and now Paris Fashion Week and I have to say this is by far the best." Her favourite designer was SAK, she added. "I liked how inclusive they were both the designs and models they chose for the show."
Great opportunities
Associate Professor Wendy Sloane, who led the group, said it was a fantastic opportunity for students to see first-hand the careers they might soon be entering. "Some of our students had never been to Paris before, so this trip was a real eye-opener," she said. "We are so grateful to Drapers for the opportunity."
"Fashion journalism is all about experience, and this was a perfect opportunity to networks and cover events that would be difficult to access for students in the beginning of their careers," added lecturer Sasha Raspopina.
Students also had free time to enjoy the city, visiting the Arc de Triomphe, the Eiffel Tower and the Louvre. They also went shopping at Galeries Lafayette, Printemps and Les Puces, the largest flea market in Europe.
A couple of students even tried snails... crêpes were preferred however!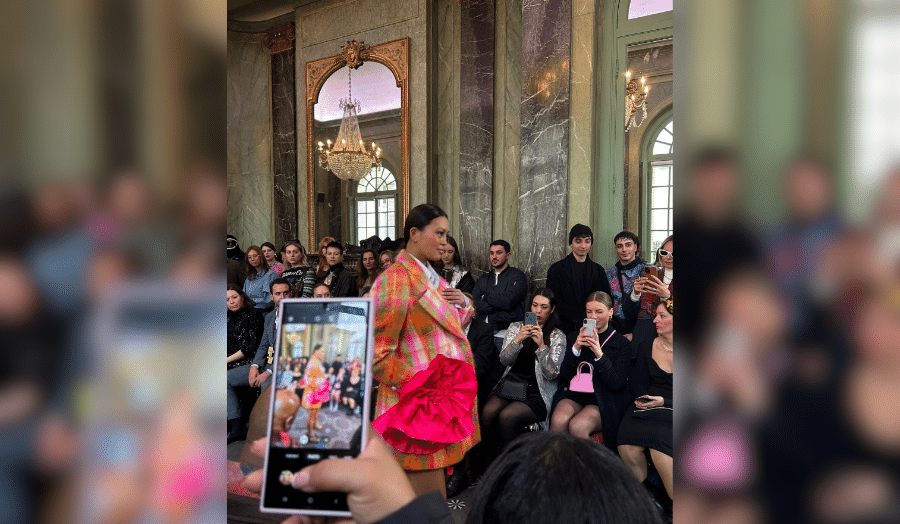 Photo credit: Fiona Vitija