London Met students give back to the city
Clinics offering legal advice, sports injury assessment and rehabilitation, and community art projects are on offer for all Londoners, under the supervision of qualified experts.
Date: 17 May 2021
London Met students are set to give back to their local communities through the provision of free or low-cost clinics in a diverse set of areas.
Launching on 17 May 2021, these clinics include the provision of legal advice; sports injury assessment and rehabilitation; and art, architecture and design community projects, and will all take place under the supervision of qualified experts.
The low-cost Sports Therapy injury and rehabilitation clinic will be run 3 days a week by London Met students, alongside qualified London Met graduates and local NHS partners - all appointments will take place under fully qualified supervision. This will offer a range of services including injury diagnosis with full clinical assessment; treatment and rehabilitation for all stages of injury recovery; and tailored and sports specific services.
Law students will offer a pro-bono legal advice clinic, with each case fully supervised by an expert qualified solicitor. Their services will cover:
housing law, which covers a range of landlord and tenant issues

employment law, which will provide advice for employees on their rights and obligations

consumer law, for example, if you have bought an item that was faulty and the retailer will not help.
Finally, a clinic run by the Aldgate-based School of Art, Architecture and Design will offer a range of free projects to improve local London communities through public art projects, with the support of partners. This may involve students designing unique hoardings for construction projects, reimaging high streets, environmental projects or banners to adorn streets and markets.
Sophie Cloutterbuck, Director of London Engagement said, "After such a difficult year for many Londoners, I am delighted that our students are so enthusiastic about what they can do for their local communities. With the support and guidance of experienced changemakers, I am confident that these clinics will help to tackle some of the big issues facing London."
Leon Beuzeval, a recent Sports Therapy graduate who will be working on the clinics said, "The new injury and rehabilitation clinic will be making links with the communities including NHS partners providing services for those on low incomes to gain access to essential services.
"This is such an important issue that needs to be dealt with in London, especially with the ever-growing waiting lists within the NHS and for many people not having the luxury of affording private treatments. Opening up the new clinic is an amazing, innovative way to help people who need it the most and is a project I am really proud to be a part of.
"Being involved with the start-up of the sports therapy clinic is a great opportunity as it allows me to put into practice everything I have learnt from my degree. Working here has created many possibilities to practice patient assessment and care. The aim is to help those in the surrounding communities have better access to musculoskeletal health services. For me, I hope this will further develop my clinical skills and knowledge as a sports therapist."
Evelyn Endler, a Law student taking part in the legal clinic, said, "Being involved in the legal clinic is a way to develop my legal experience and practice my legal knowledge. I have been working in the business industry for the past eight years, assisting the company in growing equity and handling legal matters.
"For many, a legal clinic is the only way to achieve justice. I have previously volunteered for the London legal walk, where I have learned the importance of legal aid and how ordinary people struggle to access vital legal help. As aspiring solicitors, I think we have a moral duty to give back to the community. I pursued a career as a solicitor to advise and provide clients support to their legal needs regardless of being paid or unpaid."
Vicky Clark, Divisional Director of Growth and Economic Development at Tower Hamlets Council said "I think these clinics are a great initiative and I welcome the work that London Met is doing to connect their students with the wider community in the borough. I'm a big fan of knowledge transfer programmes like these which foster community cohesion and illustrate the real difference that higher learning makes in a range of fields"
For more information about how to sign up for an appointment with one of our clinics, go to the London Met Lab webpage.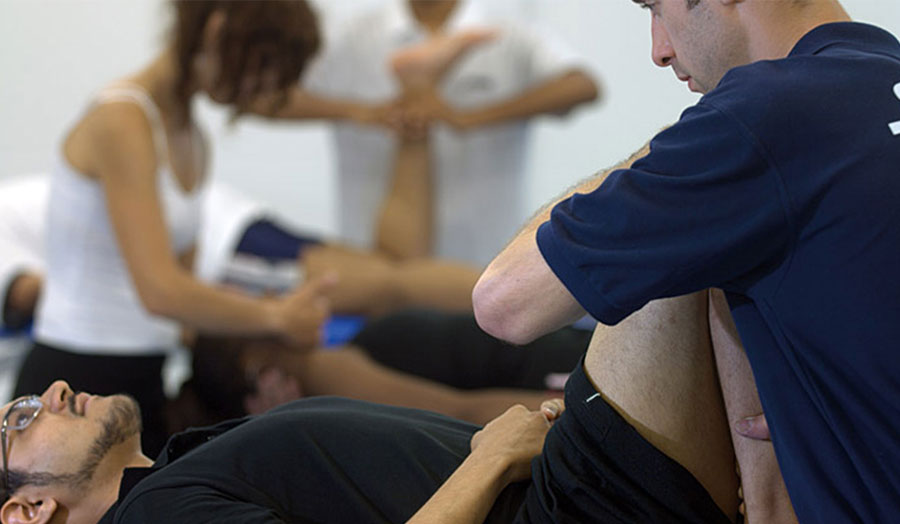 Pictured: a sports therapy practical session