Work of Cass lecturer selected for inclusion in prestigious Aesthetica Future Now Anthology
The exhibition, In Limbo, was designed by Jacek Ludwig Scarso and reflected on the meaning of waiting.
Date: 15 January 2020
An exhibition curated by London Met has been selected for inclusion in the Aesthetica Future Now Anthology, a publication which invites audiences to explore, discover and engage with new ideas.
Entitled In Limbo, the exhibition was designed as a participatory experience and created a unique virtual reality journey which reflected on the meaning of waiting. It was led by Jacek Ludwig Scarso, Reader in Art & Performance, in December 2018, and took place at the Tate Modern.
The anthology encourages its readers to think differently, and to consider how art can help us to convene, understand and change the world. Themes in the anthology range from technology, urbanisation and digitisation to population growth, ecological destruction and climate change.
Jacek, an internationally exhibited artist whose work spans live performance, video, photography and installation alongside his academic career, said: "In Limbo was our first collaboration with Tate Exchange, recently followed by The Pecking Order last December. Working in such an amazing space and being able to engage thousands of spectators in the space of a few days is both exhilarating and artistically challenging.
"It is hugely satisfying to see this project being included in the Aesthetica selection for the Future Now Anthology, alongside a dedicated video exhibit at York Gallery later in the year. This piece, which we hope to tour in Hong Kong next year, for me represents a model of working with the public that I look forward to exploring in our new MA Public Art & Performance, starting in September 2020. We are already mind-mapping ideas for our next piece at Tate Modern at the end of this year."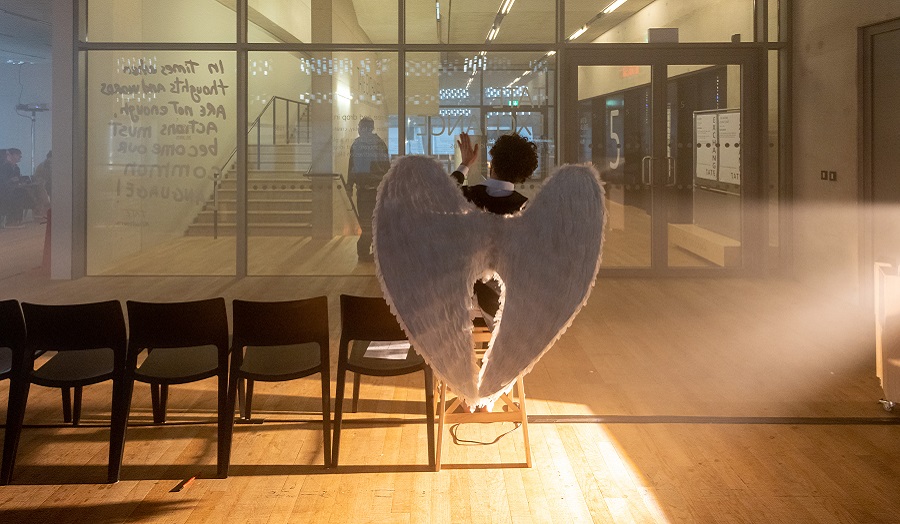 About In Limbo
What are you waiting for? Are you waiting for your next appointment, for your ideal partner, for social change or for life's meaning to be revealed?
In Limbo invited people to be impatient in a week-long experience on waiting, to ponder with us what we are there for and whether it is worth the wait. Waiting is more than an action. It is, in many ways, a condition of our lived experience. As the speed of the world at large increases, it is not so much that we spend more time waiting, but that we are obsessively conscious of it. The relentless drive forward makes our experience of the now one of anticipation and of slightly irritated longing.
In Limbo featured a special series of talks and a VR experience, in a unique partnership with Felix Dodd, A-VR and Anise Gallery, as well as informal "waiting lounge chats" curated by Jacek Ludwig Scarso.