Former members of the US Congress visit London Met
London Metropolitan University welcomed two former US Congresspeople to speak about their first-hand experience of working in Congress under President Trump's leadership.
Date: 05 March 2019
Two former US Congresspeople visited London Metropolitan University on Monday 4 March to offer a unique insight into their experience of American politics.
Dr Charles Boustany (Republican – LA, 2005-2017) and Donna Edwards (Democratic – Maryland, 2007-2017) discussed the current American presidency and touched on their own experiences in Congress in front of over 100 London Met students, staff and Sacred Heart Catholic School students, a partner school the University works with to make higher education more accessible.
"It was an honour to host Charles Boustany and Donna Edwards at this year's Congress to Campus event," commented Dr Andrew Moran, Associate Professor and Head of Politics at London Metropolitan University.
"It is always a pleasure and delight to host this kind of event for our students who really benefit from this. Our students are great and asking meaningful questions about topics which really have an impact on society."
The theme of the discussion centred on the Trump presidency with both speakers giving their viewpoint on the actions and headlines created by President Trump since his inauguration in 2017.
Donna Edwards, who was the first in her family to go to university and was a mature law student, served in the Senate for ten years. She is the first African-American woman to serve on Congress. "I never would have thought as a freshman that I would end up in the US Congress," she told the audience.
Commenting on the current US presidency, she said: "It's a challenge but this isn't the worst time in US politics. It's a challenge to serve under a leader who is not as predictable as we'd like him to be.
"I'm not sure what's recoverable in this presidency but there will be another opportunity for the US to get it right."
Donna's counterpart was Charles Boustany, who's four grandparents emigrated to America to start a new life for their family. Charles explained his family built themselves up from scratch. Charles explained that his 12 years serving Congress has often led to disputes between him and his wife but explained that his passion for politics and doing what he feels is right is what spurs him on. Commenting on the current US political state, Charles said: "What's desperately needed is for US leaders to step forward and solve problems."
A hot topic at the discussion was Trump's treatment of women. Charles commented: "I have a daughter who I love very much. I was raised to be respectful so Trump's behaviour, to me, is a line crossed. I think it's despicable."
Opening up the floor
Attendees at the event were given the chance to ask their own questions to the Congresspeople. London Met proudly welcomed students from Sacred Heart Catholic School in Southwark to participate in the session. One student from the school asked the Congresspeople their opinion about Trump's "childish behaviour" and whether the current president will have an impact on UK-US relations.
Both questions were met with a round of applause from the audience and the Congresspeople diplomatically answered that UK-US relations will always be strong and that Trump's behaviour cannot be controlled or changed at this point.
Valerie Graham-Dunkley, an International Relations and Politics BA student, said: "I was happy to be part of Congress to Campus with the two visitors from USA.
"It's very important that students like me can hear and meet first-hand the thoughts and ideas of those in power, and the importance of putting their country first rather than the party first when making important decisions. As Liberal Democratic countries, it's also important that leadership takes into account diversity and equality when leading and lead with integrity."
The panel was chaired by Professor Peter McCaffery, Emeritus Professor of Politics at London Met, and Dr Andrew Moran, Associate Professor and Head of Politics at London Met.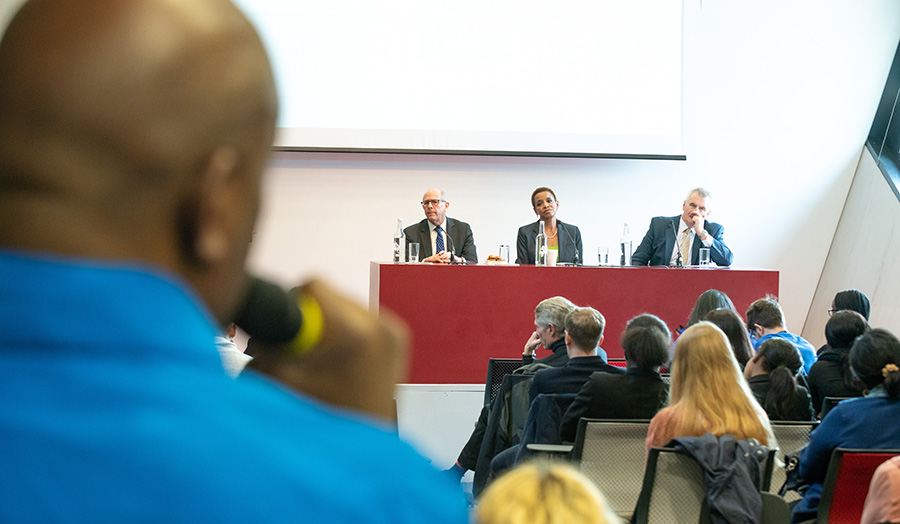 Image: a student asking a question. L-R, Dr Charles Boustany, Donna Edwards and Professor Peter McCaffery.
About Congress to Campus

Congress to Campus brings together former Members of Congress and today's youth to increase civic literacy and participation. A bipartisan pair of former Members are sent to college, university and community college campuses for two-day visits. During the visit, former Members conduct classes, hold community forums, meet informally with students and faculty, visit high schools and civic organisations, and do interviews and talk show appearances with local press and media. This setting allows students to discover, on a more personal basis, what participation in a democracy entails.

The aim of Congress to Campus is to engage students and provide inspiration that will lead to greater democratic participation; whether it is in the arena of public service or something as simple as voting.

Congress to Campus is run by FMC in partnership with the Stennis Center for Public Service.