Congratulations to our new graduates
We caught up with a few of our newest alumni following their graduation ceremonies at the Barbican last week.
Date: 17 January 2022
London Met is delighted to welcome nearly 500 new graduates to its international alumni community, following a series of graduation ceremonies last week.
Held at the Barbican Centre in central London, the ceremonies saw graduates from the School of Art, Architecture and Design, and the Guildhall School of Business and Law collect their qualifications.
We caught up with some of the new graduates to find out what the day meant to them.
Faith Beswick, Fine Art BA graduate said "It feels really good that we finally got there! There's definitely a huge sense of achievement," while Shelly McOwen, who studied Interior Architecture and Design, said the feeling was "indescribable. Just such a feeling of elation and I couldn't be happier!"
Asked about her highlights of her studies, Zainab Bah, Economics and Finance BSc graduate said, "The best thing about studying at London Met is the people, honestly the support and guidance from enrolment onwards, it was truly fantastic." For Events Management BA graduate Katy Flaherty, the best thing was "broadening my knowledge of my chosen industry which has provided me with the skills and confidence to enter a career in the field."
Shelly McOwen also spoke about the challenges that Covid had posed to her studies. She said, "Covid has been difficult for everyone but the lectures and staff at London Met have made it so easy despite the challenges of being online. They have been supportive and compassionate and I managed to achieve my a first in my degree!"
Shelly took part in the London Met's enterprise and entrepreneurship competition, the Big Idea Challenge, during her time at the University with her idea reaching the top 40 entries. She described the project, saying, "Our big idea challenge was about building shelters for the homeless. It stemmed from project work we were doing and we did further research into the incredibly high numbers of homeless people in London.
"The support was great and they really taught us amazing techniques on how to pitch which I thought was impossible before."
Finally, Cassa Lowe, graduating from the Legal Practice Course (LPC) gave her advice to new students. She said, "Be open to learning, never be afraid to make mistakes because life is about making mistakes and making new choices based on your experiences. And make sure to enjoy the campus!"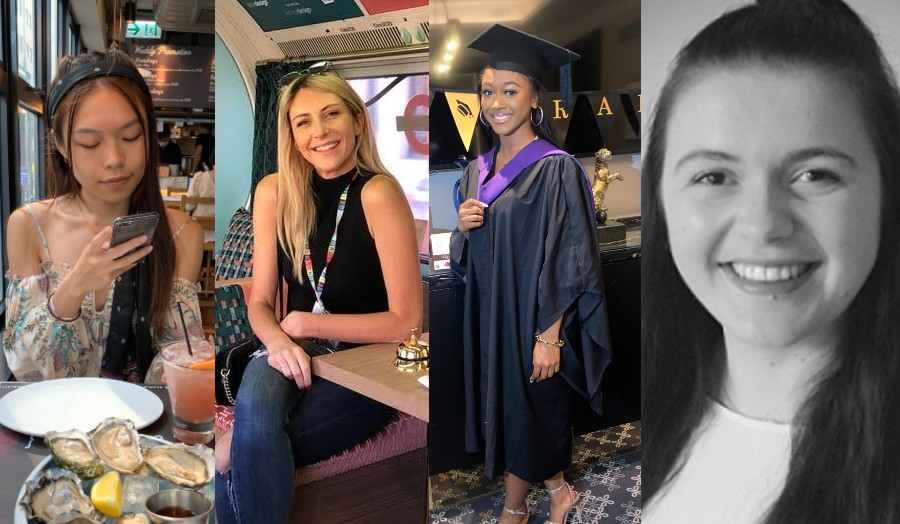 L-R: Cassa Lowe, Shelly McOwen, Zainab Bah, Katy Flaherty