Architecture graduates premiere new documentary at the Barbican
'Nubia Way: A Story of Black-led Self Building' tells the story of London's first black-led housing co-operative. The premiere takes place at 7pm on 20 July.
Date: 21 June 2022
A new documentary exploring a black-led self-build project in Lewisham is set to premiere at the Barbican Centre.
Nubia Way: A Story of Black-led Self Building, was developed by a creative team including London Met Architecture alumni James Thormod and Rosine (Rosie) Gibbs-Stevenson. The production of the film was supported by the Architecture Foundation, Adjaye Associates and crowdfunding.
James began researching Nubia Way in 2020 as part of his essay Home Building as Black Resistance for the module Histories at London Met, taught by Ektoras Arkomanis, within the RIBA Part 2 Architecture course. He currently works as a Project Lead at MAP Architecture, and was published as part of the 'Now You Know' publication by Sound Advice in 2021, which challenges discrimination in the built environment.
Rosie completed her MA Architecture with a dissertation entitled Lost and Found: Disorientating Cities, supervised by Matthew Barac. She sought to address the urban subjectivity and sense of belonging of diasporic communities - of refugees caught up in recent global disturbances, as well as those whose histories narrate migration dynamics stretching back decades or more. Her legacy at London Met is the pivotal role she played in establishing our student architecture society MASS: Metropolitan Architecture Student Society.
Nubia Way is an unassuming cul-de-sac of thirteen timber-framed houses in the Downham area of Lewisham, London, built in 1997 following the principles of Walter Segal. The scheme was built by Fusions Jameen, London's first black-led housing co-operative, who gave priority to applicants in housing need and those of African and Caribbean descent. The co-operative provided social housing for those who found themselves excluded from the housing market and other co-operatives.
Experimenting with a new economic housing model, they offered self-builders long-term discounted rents in return for building the homes. All thirteen houses remain socially rented and were designed using pioneering low-carbon environmental technology, including recycled insulation and sedum grass roofs.
Through interviews with the original self-builders, historians, architects and economists, the documentary celebrates the legacy of Nubia Way and examines self-building as an act of resistance against the housing discrimination faced by Black British Communities.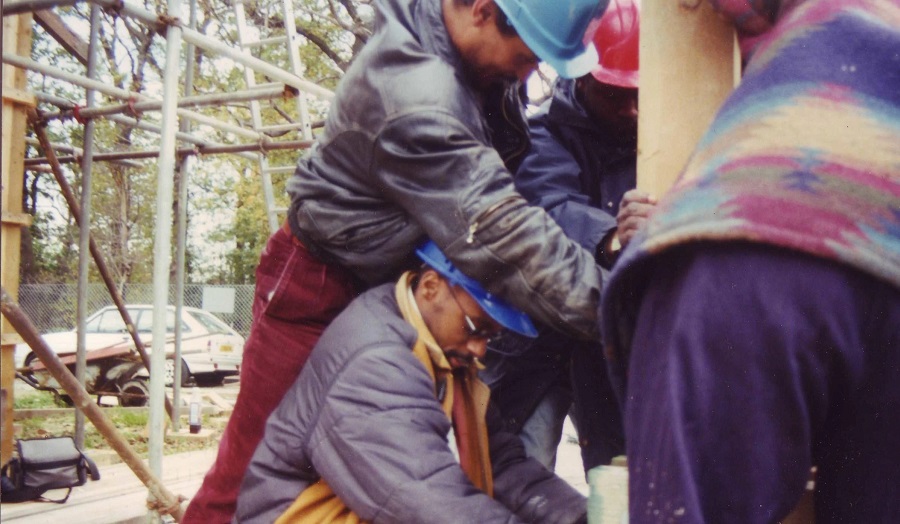 The premiere will take place at the Barbican on Wednesday 20 July, 7pm. Buy tickets online here.
The screening is 20 minutes long, and will be followed by a panel discussion with architect and former housing officer David Ogunmuyiwa.