A Very Special Tuesday – Music Business Gala
Twelve hours of Music Management and Digital Music from 9am-9pm!
Date: 11/03/2015
On Tuesday 3 March Guildhall hosted an amazing day of music business training plus industry leader insights in a twelve hour music management and digital music extravaganza.
Special thanks to our renown industry partners, MMF and The Orchard, and our Visiting Professors Erik Nielsen, Rocket Music , Wingnut Music and Scott Cohen.
Held in our flagship venues – the Graduate Building and Moorgate.
The order of events were:
Music Managers Forum (MMF) Induction day 9-5 - intensive industry training exclusive to our students and MMF Members. An exciting intro to artist management in the digital age, from essential toolkits to cutting-edge strategy. Delivered by industry leaders including the CEO of MMF, and renown music business professionals (management, accounting and law).
Visiting Professor Erik Nielsen made this happen.
Evening gala with Scott Cohen vice president international and co-founder, The Orchard. A leading voice in the digital sector, Scott Cohen has steered The Orchard from strength to strength. Founder of the world's first and biggest independent digital distributor shared his vast experience with students of all years from BA to PhD. This gala was attended by our other industry partners (Erik Nielsen) and was a perfect conclusion to an excellent day.
Applicants - Book now to avoid disappointment – the next MMF Induction Day will be held on 16 June.
Look out for further announcements for the Orchard Lab Grand Plenary – seating is limited (TBA, April 2015).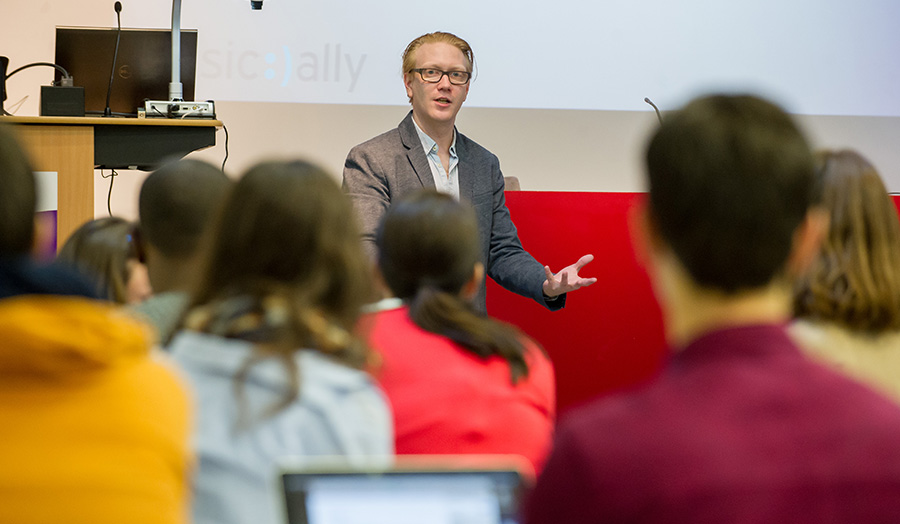 MMF