The University's chosen platform for listing events online is Eventbrite. The platform integrates with our website and allows us to brand event listings appropriately.
The University has previously been recognised for its excellent use of Eventbrite customisation in Eventbrite's own list of great examples of customised content. If your area of the University is using Eventbrite to publicise events please follow the guidelines here so that all University events are presented consistently.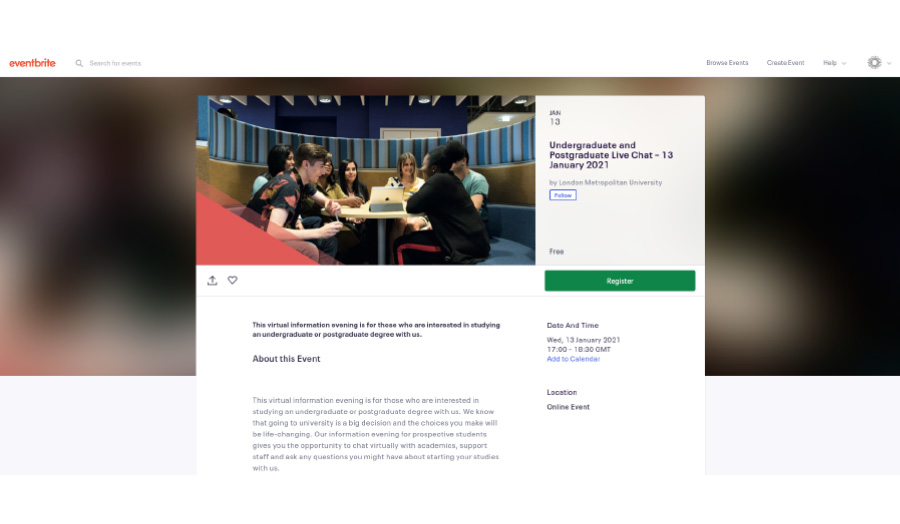 To gain access to the University's Eventbrite account you will need to request an account from the Marketing team. Please email marketing@londonmet.ac.uk to set up your account.
All users of the University Eventbrite account should use a standard template in brand colours.
Event title: Give your event an appealing title, and avoid including the date in the title. If you do, the date is duplicated when it pulls through to the website and other platforms.
Event copy/description: It needs to be clear whether your event is open to the public, open to students only, or whether alumni are welcome. If the event is open to an external audience, explain in your copy how they will gain entry to the building. Avoid unexplained acronyms and only refer to the University as London Metropolitan University or London Met (avoiding LMU, LondonMet or other variations on the name).
Main event image: Event listings look best when they use a photograph that reflects the event, for example, it could be an image of people enjoying a similar event; this should not include a logo. The marketing team provides some images that have already been cropped for Eventbrite, which you can use (staff login required). If you'd like to use your own image, please make sure you have permission to it. Please contact the marketing team on marketing@londonmet.ac.uk if you require any further guidance. If you're unsure what image to use, or are struggling to find an image to depict your event, consider using an abstract shot of one of our University buildings – some are included in the images provided.
Please minimise the use of text on Eventbrite images – these images are used in a wide range of settings on the Eventbrite platform and often have overlays that could chop text off and make it unreadable. In addition, text on images can't be read by screen readers that are used by visually impaired people so should also be avoided for accessibility reasons. Get more advice on imagery, including image sizes, through Eventbrite.
Forthcoming events created in the University Eventbrite account can be pulled through to the University website as long as they are not set to private.
Users of the University's Content Management System (T4) can read our guidelines on how to use the Eventbrite modules. These use words in the copy for the event (or codes in white text, so as to be invisible to the user, at the bottom) to list relevant events.
What you need to do in Eventbrite to make your event show on the London Met website
The website searches all Eventbrite listings (on the main London Met account) for certain codes. Each code links to a different part of the website. The most commonly used codes are as follows:
Current students: XX050
Staff: XX051
Sustainability: XX052
Guildhall School of Business and Law: XX004
School of Computing and Digital Media: XX017
School of Human Sciences: XX003
School of Social Sciences: XX002
School of Social Professions: XX018
The School of Art, Architecture and Design: XX005
To add a code to your event you will need to add a section at the end of your event description. This should look like:
For internal reference only:
XX0050
If you need your event to pull through to any other areas of the website please get in touch with us at marketing@londonmet.ac.uk.