Wally Shannon Mbassi Elong
Manchester United Football Club is the focus of an unofficial Twitter account with 70,000+ followers – and growing. Cameroonian PhD student Wally MBassi Elong is determined to find out what makes this account so popular amongst West Africans and Nigerians – his thesis, Football Fandom, Glocalisation and Man United in Pidgin, tackles the subject head-on.
Can you tell us a bit about your life and your background?
I was born and grew up in Cameroon. I graduated from high school in 2008 and enrolled at the Advanced School of Mass Communication (ASMAC) after passing a national competitive entrance examination. Three years later, I graduated with a degree in advertising. I took some advanced English classes (IELTS), and then worked in an advertising and PR firm for a year or so before deciding that I wouldn't mind studying a bit more.
I thought about doing a master's abroad and with that IELTS of mine, I started applying to UK universities and all my applications were successful. My parents were thrilled and adhered to my new project (and funded it). That's how I landed in London in 2014 to study a Media and Communications MA.
What were the highlights of the MA course?
The experience was different to what I was used to back home. When I attended ASMAC, I had classes from 7.30am Monday to Saturday. I was very surprised to find out that I would only attend classes for a total of nine hours a week on my first semester at London Met; and that I wouldn't be required to write exams and submit assignments nearly every week.
The modules on the course were extremely fascinating. My favourite modules were: Globalisation and The Media; Digital Cultures; and Digital Media Strategy and Consultancy. I also did very well in all the modules and got my MA with Distinction. During the MA, I also met great people who are now my friends.
What was your favourite project or work experience on the MA?
My favourite project was my MA dissertation. A few months before receiving my MA, I was thinking that there was no way I could go any further; that after this, I would be over and done with studies. The truth is, I was exhausted. I felt overwhelmed with pressure: being a young black male from Cameroon studying in London who has no other choice than to do great (that extra pressure you have on your shoulders when your parents are paying a huge amount of money for you to study abroad and expect excellent results).
But when I received the feedback and grade for it, I was proud of myself. I realised that I liked researching and that I was quite good at it. My lecturers (who are now my PhD supervisors) encouraged me to embark on a research programme. We are in 2020 now and if everything goes right, I will be defending my PhD thesis in a little less than a year. I honestly never would have thought I would go that far.
For any football fans out there, can you explain what your PhD research is all about, and what is it about the topic that interested you?
My PhD research is about a social media account called Man United in Pidgin (MUIP). It provides readers with Manchester United Football Club's (MUFC) news and commentaries in Pidgin English (a lingua franca spoken in West Africa). It started as a Twitter account but now MUIP has invaded Facebook, Instagram, the blogosphere and the mobile apps market. It has more than 70,000 followers on Twitter.
The research covers four major areas of analysis: sports fandom, social media, globalisation and cultural identity. It addresses two questions: which discursive resources are used in MUIP's tweets? And how do these assist the construction of a West African online identity among its followers?
Through the investigation of the ways in which football discussions and news are conveyed in MUIP, I assess how the glocalisation (blend of global and localisation: adaptation of a global brand to accommodate local users/consumers in local markets) of MUFC meets the needs and expectations of its Nigerian and West African audience on Twitter. I study how MUIP constitutes an acute tool of active fandom, enabling Nigerians and West Africans to establish a counterpoint to mainstream coverage of Premier League Football.
This research investigates the idea that discursive resources that are used to connect West Africans in leisure activities, such as football and football discussions, penetrate social media via accounts like MUIP and hence unite West Africans from various backgrounds, thereby building a West African online identity.
I have always been quite eccentric in my research interests. My MA dissertation for example investigated codes and languages used in Ndemdutakesh Facebook page's stories and their role in the establishment of a Cameroonian online identity.
As soon as I was over with this fascinating research project, I discovered MUIP and instantly thought that if I ever do a PhD, I would work on that account. Here we are. I guess that I can now be called Mr African Lingua Francas-Social Media. These are the sorts of topics that are interesting to me.
What did you learn when you were interviewing the founder of MUIP?
During my interview with the creator of MUIP, we discussed various aspects of his identity. He also mentioned his name but I offered him anonymity so I will not reveal it. I will use his initials (IU) instead.
IU is from Anambra State in Nigeria and lives in Lagos. Talking about his profession, IU stated that he is "into a lot of things" – he is a banker, a blogger and a vlogger. He speaks Pidgin English fluently as well but does not classify it as a type of language. He thought he could create a Pidgin English handle because many people in Africa speak that lingua franca. The reception was encouraging so he decided to take it seriously. At the time there was no handle in Pidgin English on the continent. It was mostly sport news in English – now, many have followed his path in creating digital platforms in Pidgin and accepting Pidgin English (in sports).
He began on Twitter but decided to expand on other platforms (Facebook, Instagram, YouTube, Blog, mobile app). More tweets on match days, less tweets on non-match days. He follows specific guidelines: no insult, little to no retweets. IU feels happy with what MUIP has achieved and happy to see that other platforms are going into Pidgin English.
IU has produced and released a few music tracks and videos about Manchester United Football Club. He also created a Man United in Pidgin Fantasy Premier League (MUIPFPL). The MUIPFPL is in its third year of existence and is open to external sponsors. IU mentioned having a couple of interactions with some of MUFC players but that it was just on a personal level. He is not sure if MUFC is aware of his social media handle.
IU thinks that the main followers of his Twitter account mostly come from Nigeria and Ghana. Some followers are from South Africa and that it's also spread across a couple of other African countries. He added that some non-Africans follow it because it is a language they are not used to. IU claims that MUIP's tweets allow fans to laugh about the misfortune their favourite club may face.
What have been the most interesting/exciting findings of your research so far and what real-world applications might they have?
There is not a huge amount of literature addressing the question of sport fandom in West Africa. The study of Nigerian and West African football fandom on the internet and social media has until now been glossed over. My research fits into that gap.
MUIP has created a real sense of identity within a cyber-community. It has formed an environment similar to a Football Viewing Centre (bars where European leagues football matches are tele-mediated, thereby creating virtual stadiums) – and MUIP provides entertainment and socialising platforms to Nigerian and West African MUFC's fans and Pidgin English speakers.
How do you think your study at London Met is preparing you for work?
I want to be a lecturer and a researcher in media, communications and cultural studies, and so far, London Met has provided me with support and opportunities in order to achieve these goals. I have been a research assistant a couple of times since I started my research degree and I am also a PASS Facilitator (assisting final year undergraduate students in creative technologies and digital media courses with their final projects and dissertations). These roles are building my skills as well as my CV.
What's your favourite spot or piece of equipment at the University and why?
My favourite spot at the university is the Computing and Digital Media PhD Room (T6-01). It's because it's my office and I share it with two incredible and lovely individuals.
Can you tell us about any extra-curricular activities you do?
I go to the gym (a lot) and I play tennis (a lot). Other than that, I am a bit of a nerd when it comes to my extra-curricular activities. I visit bookshops, galleries, museums and libraries. I go to the pub every now and again because I want to watch the Premier League or a European League or the Champions League. I can sometimes be found singing 'redemption song' at The Rocket's Karaoke Night. I am involved in some volunteering as well.
How would you describe the research culture and support for research students at London Met?
I would say that there has been a substantial improvement compared to when I started. Thanks to the Pro Vice-Chancellor Research and Knowledge Exchange; the Head of Research Policy and Implementation; the Graduate School; and the Research and Postgraduate Office. In about a year, they've not only equipped research students with skills and knowledge through weekly workshops but they've also promoted interdisciplinary research and knowledge exchange. They've also organised a well-attended online research conference (in July 2020). Through the Postgraduate Research Society, many PhD candidates have also been able to assist and support one another on and off campus. This is quite valuable as a PhD can be a very lonely adventure.
Any tips for students thinking about a research degree here?
I would say three things. Firstly, work on a research project you are passionate about (that goes beyond ordinary interest). Secondly, work hard (possibly without the play hard bit, or just a little). Finally, be resilient (it's going to be hard, very hard at times, but keep going, hard work always pays off).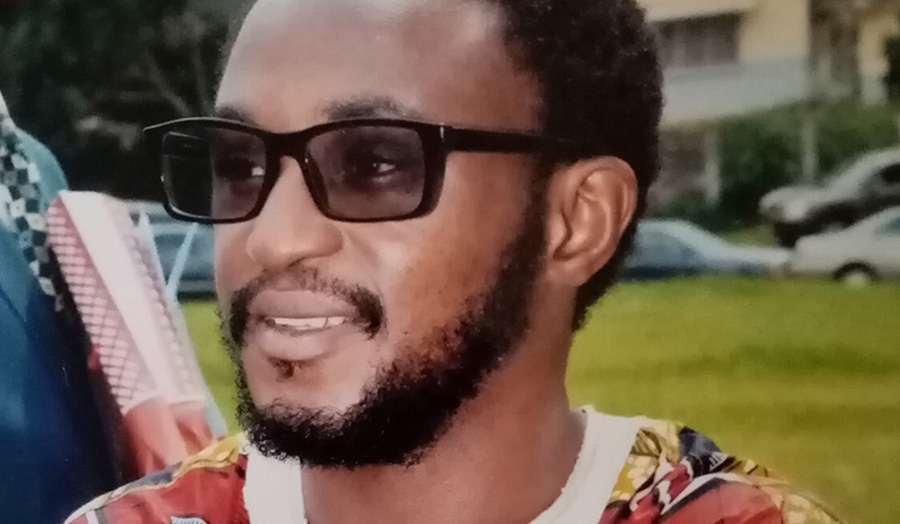 "Through the Postgraduate Research Society, many PhD candidates have also been able to assist and support one another on and off campus. This is quite valuable as a PhD can be a very lonely adventure."