Seeing your forensic reports helping to put away criminals must be incredibly satisfying – that's exactly what Forensic Science BSc graduate Abdulahi Sharif does now, for specialist company Eurofins Forensic Services (EFS). And it all began in London Met's superlab...
Tell us a little bit about yourself.
I'm from a small town called Afgoye in Somalia, about 30km from Mogadishu, the capital city. I was born in Mogadishu, but I spent the first 10 years of my childhood in Afgoye, where I was brought up by my grandmother, who taught me the value of education. Even though I did not speak a word of English when I came to the UK, I knew one day I was going to be a forensic scientist and I was prepared to work, however long it took, towards that dream.
A little over a decade later, that dream is now my reality.
What brought you to London Met?
I made the choice to study at London Met simply because of the way I was welcomed and how one of the forensic science course leads gave me extensive details about the forensic science modules that the University offered at the time during my open day visit. I was sold the moment he mentioned Evidence and Inference and Criminalistics. He explained that I would be handling exhibits, examining the contents of these exhibits, taking notes and then generating a streamlined forensic report based on the outcome of your analysis. He also explained that the University would give us the chance to experience cross-examination. This is when a forensic scientist/expert witness gets to be on the stand to testify in court about the results of their investigation. I did not think twice, when I heard that at the London Met Open Day.
Oh, wait, did I mention the superlab?! I loved it when I visited the Science Centre. We were shown one of the largest teaching laboratories in the UK with state-of-the-art equipment fitted. I loved the fact that I saw close to 300 individual workstations plus separate rooms that were designed to have more advanced equipment such as HPLC (high-performance liquid chromatography), GC (gas chromatography) and a Nanodrop-Spectrophotometer (which I used in my final year science project) and many more.
What did studying at London Met mean to you?
Studying here meant a lot to me because it shaped me and gave me the tools I need to pursue my long-term dream. Here at the University, I learnt various analytical techniques which I currently use as a forensic scientist. Not only did the University offer the theoretical work, but almost every technique I have learnt. As well as theory, the University gave me the opportunity to carry out practicals. This is what has really sharpened me for my current job, as it's more hands-on and requires a lot of practical examinations and interpreting the results. London Met has played a fundamental role in my journey to become a forensic scientist.
Tell us about your current role at Eurofins.
I work as a forensic scientist at Eurofins Forensic Services (EFS), in the Drugs and Toxicology division there. My current role is to analyse compounds that are suspected to be drugs of abuse and/or are controlled under the Misuse of Drugs Act as well as the Psychoactive Substance Act. I interpret the results and generate a forensic report and we get called to court to provide expert witness statements.
How is your degree at London Met helping you with your job?
Almost everything I do here at EFS, I had exposure to either by theory or by practice at London Met. For example, learning about 'chain of evidence', 'expert witness' and 'Forensic Code of Conduct', thanks to my lecturers (Masuma and Dan). They gave me a taste of one of the most important tasks I currently have as a forensic scientist during my 'Expert Witness Training' at London Met. As a result, when I did my actual training at EFS, it was as if I had been doing this for years.
The University also provided me with a chance to take part in a scheme that was designed to give us work experience in a laboratory environment. It really enhanced our competency in working in labs.
What's your favourite piece of Uni equipment or your favourite space at London Met and why?
The SUPER LAB! Simply because of the advanced facilities it has (eg the magnetic resonance room) and the fact that you don't have share your workstation with any other students when working independently.
What is your biggest passion in life and where did that passion come from?
My biggest passion in life is my work – because from an early age, I had always dreamt of becoming a forensic scientist and now that I'm living my dream, I am enjoying every aspect of my work life and how it allows me to discover new techniques and share them with the world.
What drives you?
From an early age, my grandmother and my mother have been an inspiration and have sacrificed a lot for me to have the opportunities to be where I am today. And so, my goal is to inspire someone as much as they have inspired me.
What's the proudest moment in your life?
When I got the phonecall from Eurofins to inform me that I was going to be an actual forensic scientist before I officially graduated from London Met.
Tell us a little bit about your interests outside of uni and why they are important to you.
My interests outside of University included watching Arsenal play at home at the Emirates Stadium, which is so close to the University. I also met a lot of wonderful people at London Met, some of whom I have formed lasting friendships with.
Were you in any clubs or societies at Uni?
Yes, I actually formed a society which we called The London Met Circle Society, where we helped each other with ideas and collaborated on group projects, attended scientific talks together and even did fun activities together both in and out of the campus.
What's next in your career?
I want to further my forensic expertise, both in my current field as well as other disciplines within the industry.
Do you have any advice for anyone else considering studying at London Met?
Yes – just do it! You will not regret it. It will be the best decision you have made. I certainly believe that London Met was the best decision I have ever made.
Is there anything else we didn't ask about that you'd like to mention?
Yes, you have not asked about my favourite London Met staff member of all time, Masuma Ahmed-Ali. Just how she gave me tough love, taught me the values of forensic science codes of conduct and how, unto this day, I still remember when she taught the importance of not taking anything out of my contemporaneous notes. Instead of removing them, she taught me to keep them in the record but to strikethrough and initial and date (this is one of the most important aspects of my current role). She has done so much for me; I can't thank her enough.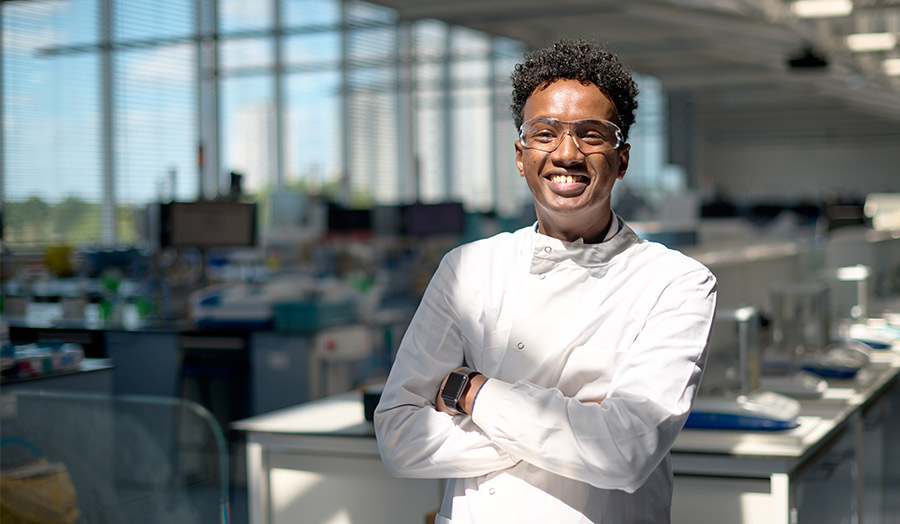 "London Met has played a fundamental role in my journey to become a forensic scientist at Eurofins Forensic Services. My current role is to analyse compounds that are suspected to be drugs... I interpret the results and generate a forensic report and we get called to court to provide expert witness statements."