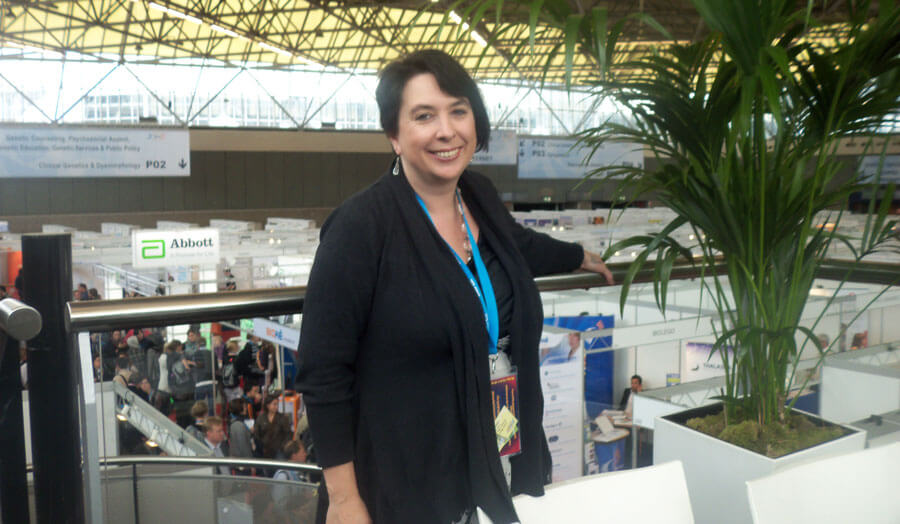 Dr Una Fairbrother
Dr Una Fairbrother is currently a Reader in Molecular Genomics and has been at London Metropolitan University since 2006. In this time, she has been a senior lecturer, a head of subject, an interim head of school and now has a University wide role. Dr Fairbrother has recently been invited to chair the University's Ethics Committee and leads Researcher Development, bringing her energy, enthusiasm and ideas to Prof MacRaild's Research Office.
In this role, she works hard so that all staff are given the opportunity and are in the best possible position to meet Professor Lynn Dobbs' University research goals. Before joining the School of Human Sciences, Dr Fairbrother studied her degree at Kings College, her PhD at the MRC and went on to carry out post doctoral research in UCL, The Institute of Child Health and at Imperial College, London. Initially trained in biochemistry, she developed an interest in molecular biology, genetics and genomics, specifically applied to human complex disease.
Membership of professional bodies
Qualifications
PhD: 'DMDL, an autosomal homologue of X linked dystrophin; gene expression and cDNA cloning' Human Biochemical Genetics Unit / UCL (1989-1993)
BSc Biochemistry, King's College, University of London (1984-1987)
Dr Fairbrother delivers specialist teaching in Metabolic Biochemistry, Genetics and Genomics at undergraduate and postgraduate level and is supervising undergraduate projects and PhD students in the School of Human Sciences.
Currently, Dr Fairbrother's research work is focussing on telomeres and their role in health and disease.
Research awards
£12,000 award from London Met to purchase Agilent qPCR machine (2018)
£2,500 award from London Met to present at the ESHG Milan (2018)
£3,000 award from London Met for collaboration with FOSCAL: Colombian Children's hospital "Obesity and children" DNA collection (2012)
£3,000 award from London Met for collaboration with UCL and St Georges "Telomere length in health and disease of Colombian children" (2014)
Funding
Rescaling Fund, London Metropolitan University: £5,000 for research using new technology in the form of an XDrop instrument to facilitate out enrichment.
Kidd E, Meimaridou E, Buxton JL, Blakemore AIF, Walley AJ, Fairbrother UL, DNA Extraction Methods for Accurate Telomere length (TL) Measurement. 2020 Nature Methods (in preparation)

Kidd E, Pender J, Buxton JL, Meimaridou E, Williams J, Blakemore AIF, Gatt MJ, Walley AJ, Fairbrother UL Telomere length (TL) and oxidation in C57BL/6J mice ESHG 2020 poster presentation

Fairbrother U, Kidd ED, Malagamuwa T, Walley A, (2018): Genetics of Severe Obesity. Current Diabetes Reports https://doi.org/10.1007/s11892-018-1053

Fairbrother U, Kidd ED, Buxton JL, Le Page-Pezet J, Cohen DD, P. Lopez-Jaramillo P, Blakemore AIF, Walley A (2018) 'Blood glucose, BMI and telomere length in a cohort of Colombian schoolchildren' (Control No. 2018-A-737-ESHG)

Kidd ED, Walley A, Buxton JL, Le Page-Pezet J, Cohen DD, Lopez-Jaramillo P, Blakemore AIF, Fairbrother U, Impact of diet, household income and stress on telomere length in a cohort of Colombian schoolchildren.' (Control No. 2018-A-746-ESHG)

Inal JM, Fairbrother U, Heugh S (2013) Microvesiculation and disease Biochem SocTrans 41:237-240

Laura K Towns, Marlene Attard, Dr Andrew J Walley, Dr Una L Fairbrother (2011) HHEX is associated with T2D in a South Asian Population. ESHG

Laura K Towns, Marlene Attard, Dr Andrew J Walley, Dr Una L Fairbrother (2010) HHEX-IDE genotype is associated with birth weight in South Asians ESHG

De Smith, A, Walters, R, Ellis, R, Holder, S, Van Haelst, M, Brady, A, Fairbrother, U,Dattani, M, Keogh, J, Henning, E, Yeo, G, O'Rahilly, S, Froguel, P, Farooqi, I. S, Blakemore, A. (2009) A Deletion of the HBII-85 Class of Small Nucleolar RNAs (snoRNAs) is Associated with Hyperphagia, Obesity and Hypogonadism. Hum Mol Genet. 2009 18:3257-65

Laura K Towns, Marlene Attard, Dr Andrew J Walley, Dr Una L Fairbrother (2009)HHEX-IDE genotype is a risk factor for IUGR in South Asians. BSHG

De Smith A, Purmann C, Walters RG, Ellis RJ, Holder SE, Van Haelst MM, Brady AF, Fairbrother UL, Dattani M, Keogh JM, Henning E, Yeo GH, O'Rahilly S, Froguel P, Farooqi SI, F. Blakemore AIF (2009) Elucidating the aetiology of Prader-Willi syndrome – deletion of the HBII-85 class of snoRNA is associated with hyperphagia, obesity and hypogonadism BSHG

Fairbrother UL; Tankó LB, Walley AJ, Christiansen C, Froguel P, BlakemoreAIF (2007) Leptin Receptor Genotype at Gln223Arg is Associated with Body Composition, Bone Mineral Density and Vertebral Fracture in Postmenopausal Danish Women JBMR 22:544-50.

Gender Specific Modulation of Extremely Obese French Caucasian Phenotype by LEPR Coding Variants (2005) Fairbrother U L, Walley AJ, Boyle C, Tauber M, Jouret B, Jaquet D, Levy-Marchal C, Charles MA, Weill J, Froguel P, Blakemore AIF, BSHG

Coding SNPs in the human leptin receptor gene contribute to severe obesity inFrench Caucasian adults (2005) Fairbrother U; Walley AJ; Boyle C; Tauber M; Jouret B; Jaquet D; Levy-Marchal C; Charles MA; Weill J; Froguel P, Blakemore AIF, J MED GENET. 42: S116-S116

Investigation of UBE3A and MECP2 in Angelman syndrome (AS) and patients with features of AS. (2004), Hitchins MP, Rickard SJ, Dhalla F, Fairbrother UL, de Vries BBA, Winter R, Pembrey ME, Malcolm S Am.J.Med. Genet. 125A:167-172

Novel COL6AI variants and congenital heart defects (CHD) in Down Syndrome (DS) (2003) Fairbrother UL, Baptista MJ, Davies GE, Trikka D, Kessling AM. Am Soc Hum Genet

Familial Bell's palsy in a large Pakistani kindred (2002) Bhat M, Becker K, Fairbrother UL, Brady AF. 10th Manchester Birthdefect Conference.

Variations In COL6AI Coding Region And Congenital Heart Defects In Down Syndrome (Oct. 2001) Fairbrother UL, Baptista MJ, Davies GE, Trikka D, Kessling AM. Am. Soc. Hum. Genet

Heterotrisomy, A Significant Contributing Factor To VSD Associated With Down Syndrome? (2000) Baptista MJ, Fairbrother UL, Howard CM, Farrer MJ, Davies GE, Trikka D, Maratou K, Redington A, Greve G, Njolstadt PR, Kessling AM Hum. Genet.107, 476-482

Multiple functional variations in COL6A1 coding region modulate risk of congenital heart defects in Down syndrome (Oct. 1999). Fairbrother UL, Baptista MJ, Davies GE, Trikka D, Davis T, Baldock C, Kielty CM, Kessling AM. Am. Soc. Hum. Genet.

A significant contributing factor to VSD associated with Down syndrome (May 1999) Baptista MJ, Howard CM, Farrer MJ, Davies GE, Trikka D, Fairbrother UL, Kessling AM. European Soc. Hum. Genet.

Characterisation of a novel transcript: a potential candidate for congenital heart defects in Down syndrome. (Nov. 1998) Fairbrother UL, Baptista MJ, Trikka D, Kessling AM. Am. Soc. Hum. Genet

Mutations in UBE3A (E6AP) associated with Angelman syndrome: (1997) Fairbrother UL, Buxton JL, Hitchins MP, Rickard SJ, Pembrey ME, Malcolm S: European Soc. Hum. Genet.

Heridetary Demyelinating Neurapathy of infancy- a genetically complex syndrome. (1997) Tyson J, Ellis D, Fairbrother UL, King RHM, Muntoni F, Jacobs J, Malcolm S, Harding AE, Thomas PK. Brain 120:47-63

Cloning of cyclin A and B in the sea urchin L.pictus: (1995) Fairbrother UL, Whitaker M.9th Annual Sea Urchin Conference, Boston, USA

Linkage studies in tuberous sclerosis: (1993) Burley MW, Attwood J, Benham F, Fairbrother UL, Gillett G, Hunt D, Jeremiah S, Nahmias J, Edwards YH, Kwiakowski D, Tippett P, Webb D, Fryer A, Soper M, Mueller R, Osbourne J, Povey S. Cytogenet Cell Genet 64:110

New data and the provisional CEPH consortium Map of Chromosome 9: (1993) Attwood J, Hahmias J, Jeremiah S, Fairbrother UL, Wolfe J, Chiano M, Falk C, Goudie D, Haines J, Kwiakowski D, Lathorp M, Morton N, Pericakvance M, Shields S, Slaugenhaupt S, Yates J, Povey S. Cytogenet. Cell Genet. 64:107-109

Tissue distribution of the dystrophin related gene product and expression in the mdx mouse: (1991) Love DR, Morris GE, Ellis JM, Fairbrother UL, Marsden RF, Bloomfield JF, Edwards YH, Slater CP, Parry DJ, Davies KE, Proc. Nat. Acad. Sci. 88:3243-3247

Primary structure of dystrophin like protein:(1992) Tinsley JM, Blake DJ, Roche A, Fairbrother U, Riss J, Byth BC, Knight AE, Kendrick-Jones J, Suthers GK, Love DR, Edwards YH and Davies KE Nature 360:591-593

Sequence evolution and tissue expression of the DMD Like locus (DMDL) on chromosome 6. (1991) Suthers GK, Bythe BC, Love DR, Morris GE, Edwards YH, Fairbrother UL, Slater CP, Davies KE. Am. J. Hum. Genet . 49:420-423